Hardware Manuals
PADS - CUSTOM MODE
Hold the
PAD MODE
mode button down and then press the
8th Pad
twice
(or once if already selected) to set the PADs to Custom mode Release both buttons.
The
Custom page
will be then selected and displayed on the Pads section of both VirtualDJ and Touch screen GUI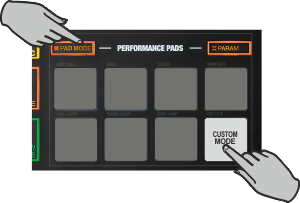 Custom mode selection

TOUCH GUI view
This mode offers the ability to easily customize the behavior of the Pads and assign VirtualDJ script actions via the Pad Editor.
Read further details in
VirtualDJ Manual -
Pad Editor
By default, the Pads have no functionality in this mode.