The company
Atomix Productions was founded in France in 2000 by
Stephane Clavel
, former student from the French "Ecole Polytechnique" who had worked both in the computer sector (founder and CEO of the Internet start-up Alchinet) and in the leisure sector (consultant for Club Méditerranée for the conception of the new club concept OYYO).
Atomix Productions will then grow up in 2002 with Atomix Productions USA, created to supervise the North American market, and then again in 2007 with VolnaTech (Ukraine), created to handle additional development.
In 2001, Atomix Productions partnered with eJay AG then Empire Interactive for the distribution of its general consumer software, in 2003 with ColorSonic / SES Giraudon for the installation of its professional systems, and in 2006 with Numark Industries for the distribution of its pro DJ softwares.
The products
The head product of Atomix Productions is Virtual DJ, a computer software that lets the DJs mix by using a computer instead of traditional turntables.
This software, used as much by professional DJs in their work than by teenagers for pleasure, is built on a technology invented by
Stephane Clavel
in 1997, which makes it possible for the computer to automatically synchronize two pieces of music together.
On top of this technology, some new technologies have since then been created, letting one create 'loops' automatically, adding samples and gimmicks in live, playing and smoothly scratching videos, etc...
Virtual DJ can thus today largely outperform the traditional DJ interfaces.
Professional DJs will find there a way to greatly improve the quality and creativity of their mixes, while beginners will find a way to "play DJ" in a very realistic way without any preliminary knowledge.

In parallel to its mixing softwares, Atomix Productions has developed a technology that lets a computer mix a whole playlist perfectly without any human intervention. The algorithm knows how to find the genre of the music just by listening to it, and can adapt its mix accordingly (beatmatch for house music, cut for hip-hop, fade for rock, etc...).
DJ-Box is a system built upon this technology, and used to equip leisure venues, bars, hotels, shops, etc...
A similar algorithm has been developed to be embeded in portable music players or cell phones.


An important and very active community

Around Atomix Productions' mixing softwares, a real community has gathered, and the virtualdj.com website serves today as a meeting point for all this community of DJs who use a computer to mix.

This site gets indeed more than 5.000.000 pages viewed per month, and more than 15.000 messages posted on the forums per month.
More than 1.000.000 forum users are registered, and they represent the early-adopters of this targeted market that is computer DJing.
As for the software, more than 50 millions uses are recorded from computers connected to the Internet (and without firewall) per year.


Distribution

Available at Wal-Mart, Mediamarkt, Carrefour, Virgin, Fnac, Auchan, Corra, etc..., our consumer softwares are largely distributed in the supermarket networks in most countries.
The professional version is available under the brand "Numark CUE" and "Numark VirutalVinyl" in most MI stores around the world (Guitar Center, ...), using Numark's distribution network.


Marketing operations

In order to promote computer DJing in general and our products in particular, Atomix Productions organizes numerous marketing operations.
Promotional parties have thus been held in places like le Queen in France (VirtualDJ release party with Benny Bennassi in November 2003), the Pacha in Ibiza (closing party for the Ministry of Sound contest in August 2002), the Techno Parade of Paris (September 2003, 2004, 2005, 2006 and 2007), "Fuck me I'm famous" in Ibiza with David Guetta in July 2005, etc...
DJs like Carl Cox have accepted to give their name as guarantee of our products quality ("DJMixStation, endorsed by Carl Cox").
Many promotional events are held in local retail stores.
And of course, traditional advertisement is also conducted through regular channels (subway campaign in December 2003 in France, TV spots on MCM, radio spots on FG, NRJ, Fun Radio, SunShine, full page ads in Trax, Playguide, Only for DJ's, SonoMag, etc...)
Services offer

Beside its activity of software editor, Atomix Productions also offers its services to brands willing to reinforce their image with the "young and trendy" target.
Such operations go from the simple inclusion of free and customized "striped-down" mixing softwares within the products of our partners (nestlé, packard bell, ...), to the organisation of complete mixing contests aiming at promoting a brand (nescafé live contest).


An international market
Atomix Productions' products reach today a worldwide audience, with products sold in over 100 diferent countries.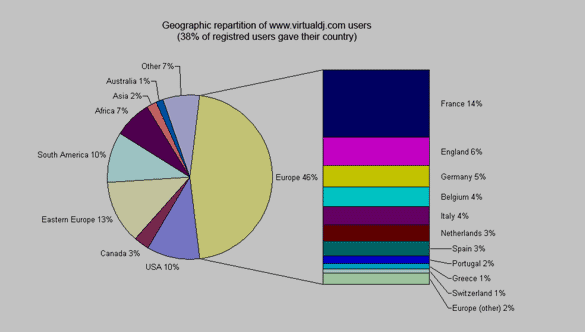 Contact
Atomix Productions Inc.
Los Angeles CA 90036, USA
Tel: (323) 446 2221 (international: +1-323-446-2221)
For technical support go here