Hardware
All-in-one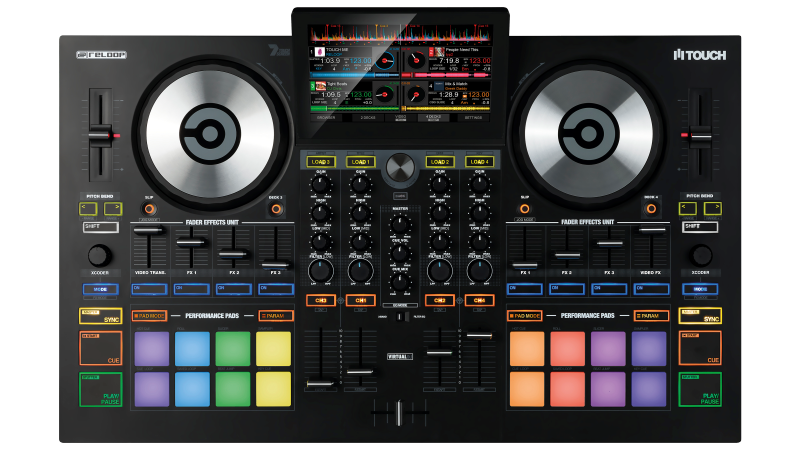 VirtualDJ PRO OEM included
TOUCH









Reloop TOUCH is the world's first DJ controller with an integrated 7"-touchscreen. TOUCH was developed in co-operation with VirtualDJ. Comes with VirtualDJ 8 PRO included. Display of waveform and track information, real-time control of effects, comfortable track browsing, and more. Video mixing can be played back in full screen mode. 4-channel club mixer layout and with a combined EQ/filter section, high-resolution jog wheels, fader-FX units etc. RGB performance pads, offer 16 customized modes. All performance modes can be adjusted extensively via the PARAM button. Built-in audio interface with high-retention USB port, balanced and unbalanced master outs, headphones out and mic input.
Featured | Pioneer DDJ-SZ
Featured | Pioneer DDJ-ERGO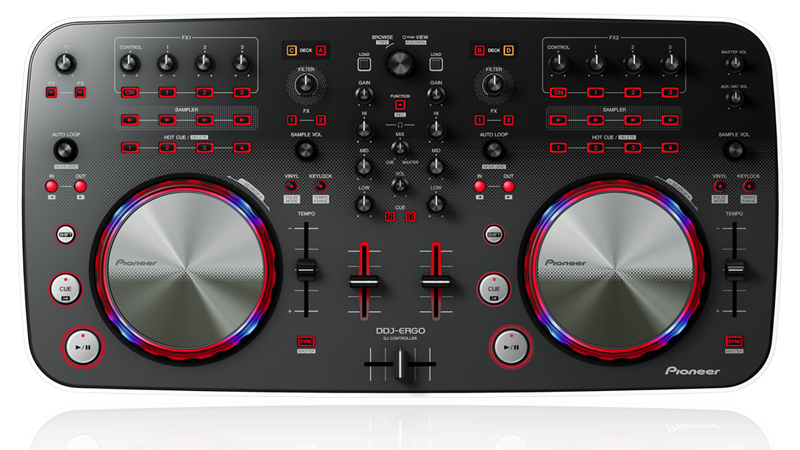 DDJ-ERGO








This ultra-compact controller gives any music enthusiast the ability to make their own unique music mixes. Bundled with the Virtual DJ Limited Edition, the DDJ-ERGO controller enables the DJ to be creative with their music collection as soon as they take the unit out of the box. The stylish controller is designed using contoured edges with black, white and gradient colors and a large 115 mm platter for increased operability. The system also features Pulse Control that illuminates various areas of the controller to assist in the mixing process.
Featured | Pioneer DDJ-WEGO3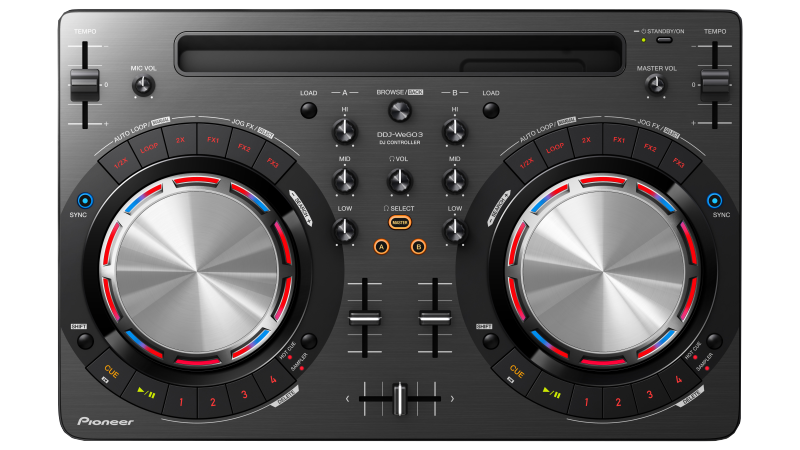 DDJ-WEGO3








The DDJ-WeGO3 gives you unlimited musical choice. Connect to a PC/Mac and mix with the included Virtual DJ 8 Limited Edition. The controller was designed with beginners in mind, with Pulse Control lights to guide you through your performance. Yet it's packed with advanced features that would keep pro-DJs entertained, including Beat Sync, loops and dedicated buttons for sound FX and samples.
Featured | Numark MIXTRACK 3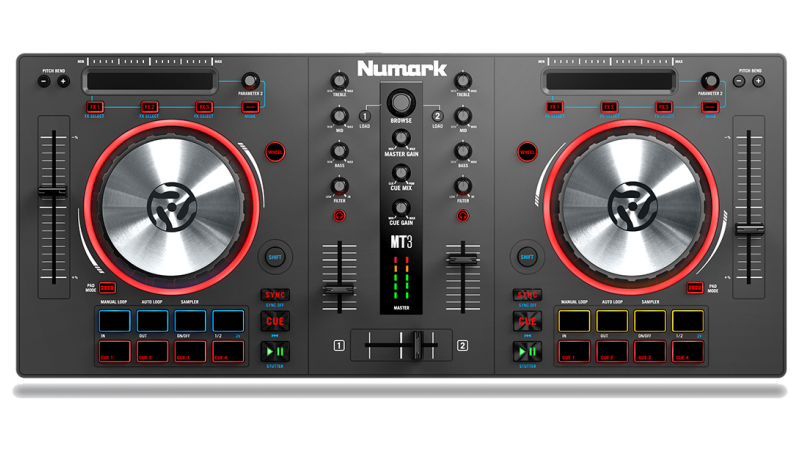 MIXTRACK 3






DJ controller designed with the skilled, professionally-aspiring DJ in mind. This controller offers a whole host of features and performance that sets it way above conventional DJ controllers, yet it offers great bang-for-the-buck and it's a snap to take anywhere.
Featured | Numark PartyMix Pro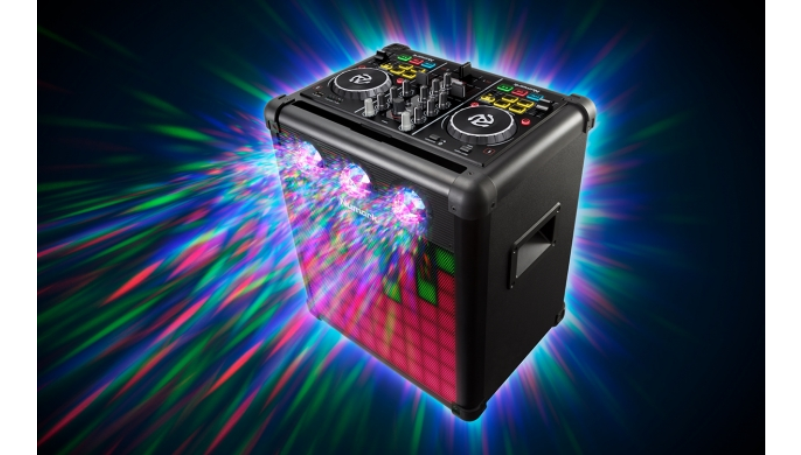 PartyMix Pro







The fun never stops with the Party Mix Pro! Now you can be the superstar DJ and play at home, in your backyard, at the beach or at a sun-setting barbecue. Party Mix Pro is the ultimate party system with sound-reactive lights that move to the beat and light up your space with excitement! Party Mix Pro is the all-in-one DJ solution to play your favorite music with a powerful speaker, beat-synched lights, and full DJ control. Instantly plug in your preferred device (iPhone, iPad, iPod touch, or laptop) and install the included software to start the party! Play your favorite music anywhere with its long-lasting rechargeable battery.
Featured | Numark PARTY MIX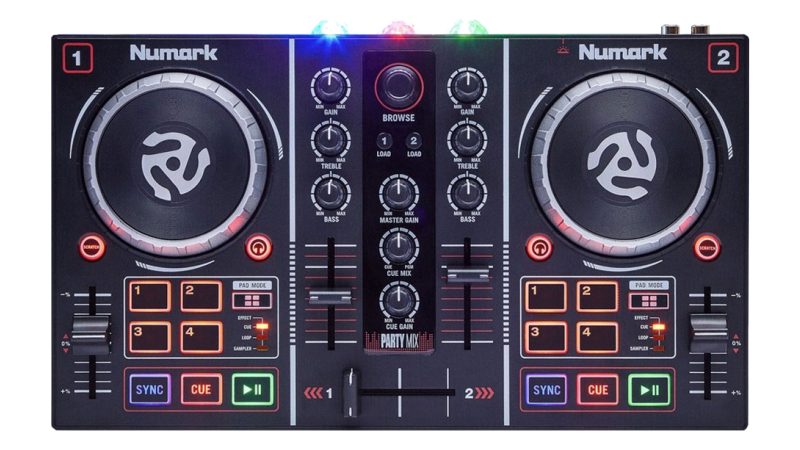 PARTY MIX







Let's get this party started! No matter what your skill level you can get any party started with the Party Mix! This is an amazing DJ Controller that connects directly to your laptop and lets you play and mix all of your favorite songs and videos with the included VirtualDJ DJ software. Mix, blend and create just the right mood with this 2-channel DJ controller that empowers you to rock the house. Preview your mix in your headphones before you crossfade the music to your speakers—like a pro! With Party Mix, you can manually sync the beat (or auto sync) and blend your songs with your playlist.
Featured | Americanaudio VMS5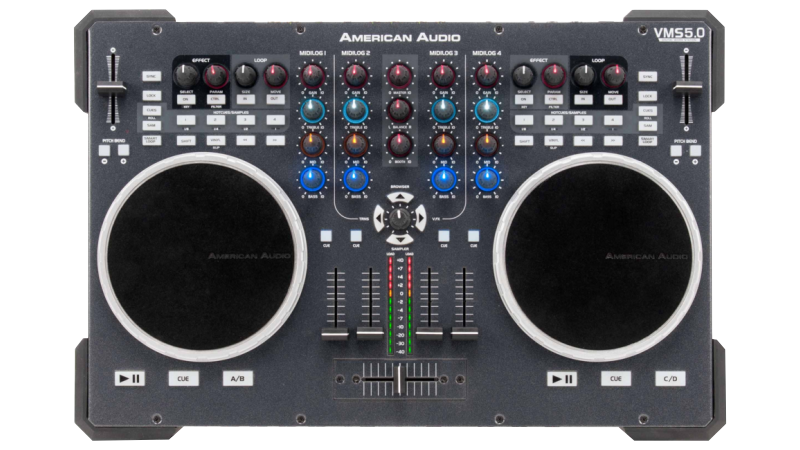 VMS5









Comprehensive DJ Controller designed for performance minded DJs. Solid, all-in-one controller (4 Deck and 2 Deck DVS!), plus have option to use the stand alone mixer as a tradition analog mixer. In addition, some general features include 4 USB / Analog selectable Midilog (Midi & Analog) channels, gain/treble/mid/bass EQ on all MIDILOG channels.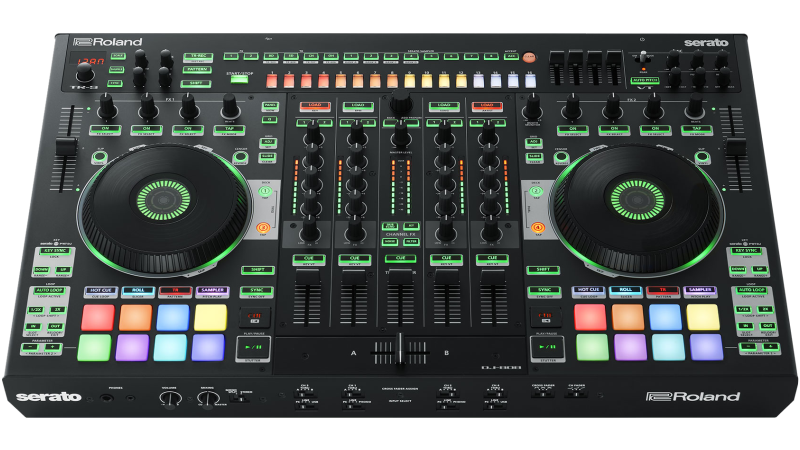 DJ-808










The DJ-808 is a state-of-the-art DJ controller with a 4-channel mixer, built-in drum sequencing, vocal processing, and deep software integration. Going way beyond a typical DJ controller, the DJ-808 is an instrument, with a Roland "TR-S" drum machine that contains the world's most iconic drum sounds. The VT Voice Transformer can pitch your voice to match the key of your tracks, while two AIRA Link ports let you connect compatible synths and electronic gadgets, and produce a live remix, with just a simple USB cable. Sound quality is high-end and the hardware is built tough yet easy to carry—ready for inspired sets that push the boundaries of what it means to DJ.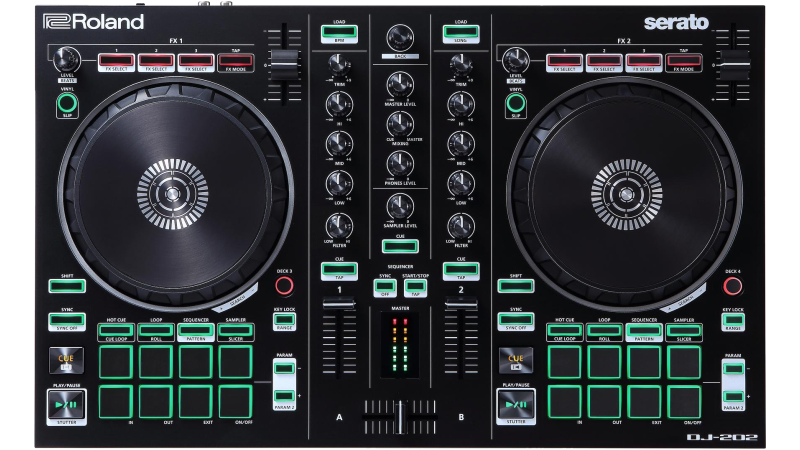 DJ-202









The Roland DJ-202 is a forward-thinking controller that gives DJs the features and layout of a full-size professional controller in a rugged and portable unit. The compact DJ-202 preserves the concept of the flagship DJ-808 and streamlined DJ-505, allowing unparalleled flexibility to DJ, remix, and produce beats on the fly while performing live or creating in the studio. With its large, low-latency platters, dedicated pad and transport controls, onboard sequencer, and mic input with professional vocal FX, the DJ-202 packs in the most features of any controller in its class.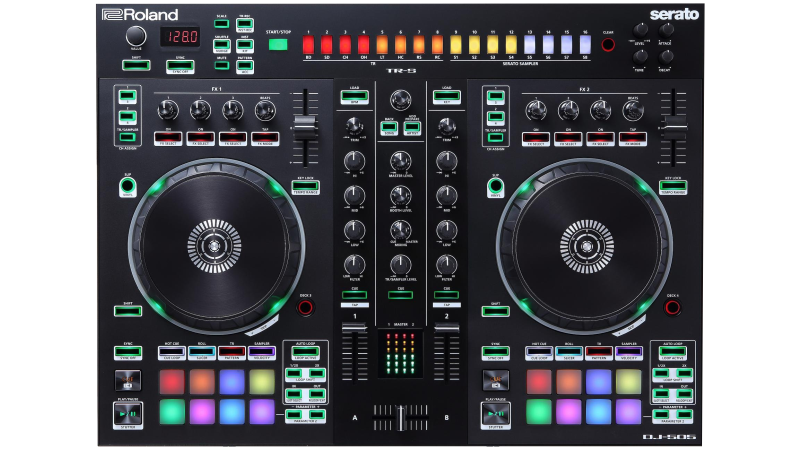 DJ-505










he Roland DJ-505 is a two-channel, four-deck controller that blends performance, sound, and sequencing of Roland's TR-909, TR-808, TR-707, and TR-606 drum machines. The DJ-505 gives you the tools to move beyond mixing music to creating beats and rhythms on the fly, enabling the creation of unique transitions, live remixes, beefed-up classic tracks, or your own original music. Like the flagship DJ-808 and compact DJ-202 controllers, the DJ-505 is a powerful and inspiring instrument that allows unparalleled flexibility to DJ, remix, and produce, empowering exciting new approaches to music performance. And with its standalone mixer functionality and narrow footprint, the DJ-505 is an ideal controller to pair with turntables or CD players.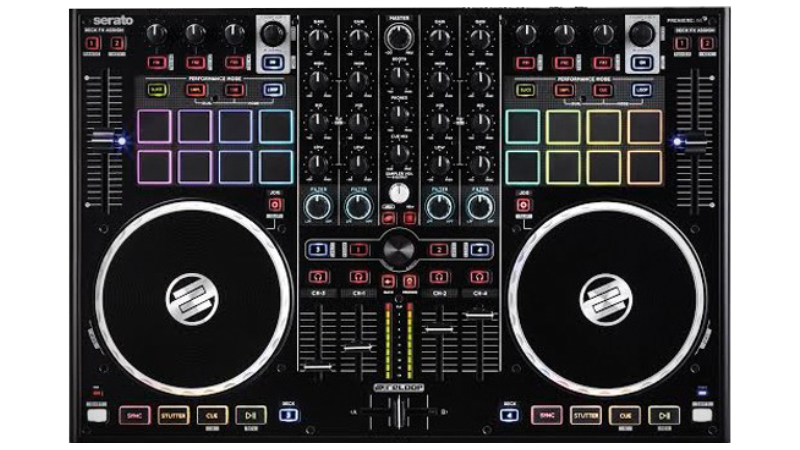 TERMINAL MIX 8









Reloop has developed a 4-deck pad-based performance controller which responds to the requirements of professional club DJs who want to offer spectacular live performances with creative effect manipulation and unique controllerist possibilities. Endorsed with the same premium features and build that have made Terminal Mix controllers instantly recognizable around the world, but expanding on its forbears thanks to a sophisticated performance section with touch-sensitive multi-colour drum pads, the Terminal Mix 8 is a true whiz kid.
BEATMIX 4









The Reloop Beatmix 4 is a performance-oriented 4-channel pad controller Offers an ergonomically designed 4-channel mixer layout, optimized for the club allowing you to work intuitively: Dedicated equalizer and gain dials, high-quality line-faders, an extremely smooth-running crossfader, 16 multi-colour drum pads, as well as two extensive FX units are the foundation for your creativity.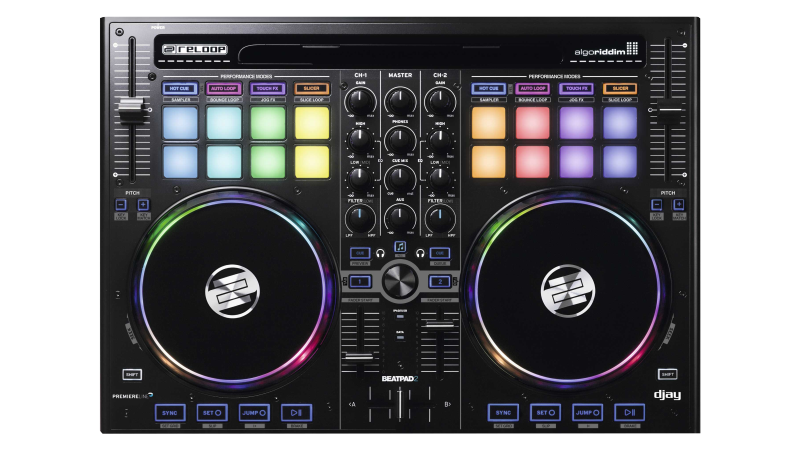 BEATPAD 2









The BeatPad 2 from Reloop is the only professional and truly reliable cross-platform controller. Slicer, loop, sampler and dynamic multi-effect control are just a few of the new, exciting remixing possibilities that can now be controlled directly via the BeatPad 2.The touch-sensitive drum pads with smart RGB illumination give you visual feedback for the selected mode so you know exactly what you're doing.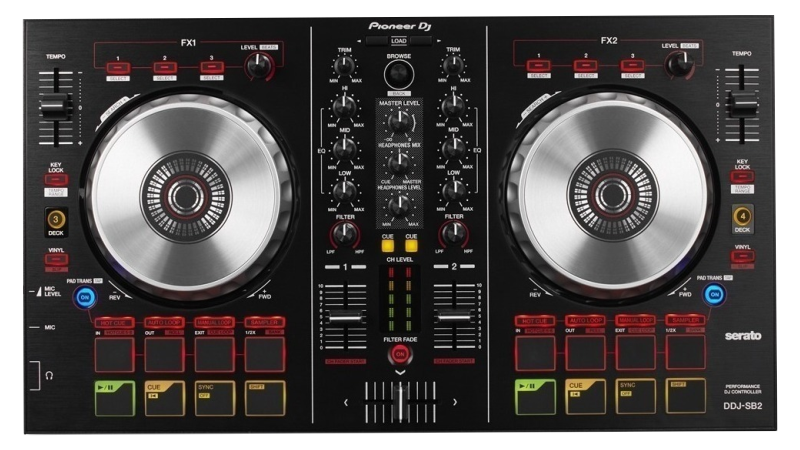 DDJ-SB2








Hitting the decks has never been easier and more intuitive - even for first-time DJs. Not only does it boast all popular features from the DDJ-SB – such as Filter Fade and Performance Pads – but it now boasts features not usually found at this price point, including trim pots, level meters, the Pad Trans beat effect and 4-deck control.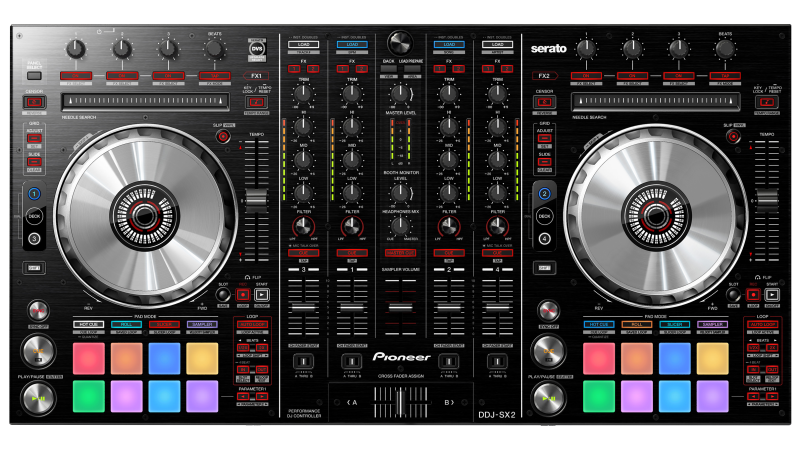 DDJ-SX2










The 4-channel DDJ-SX2 controller builds on the success of its predecessor but inherits two must-have features from the top-flight DDJ-SZ: Performance Pads with multi-coloured cue point LEDs and an on-jog cue countdown. Improved jog wheel latency, making it the scratch DJ's ultimate companion.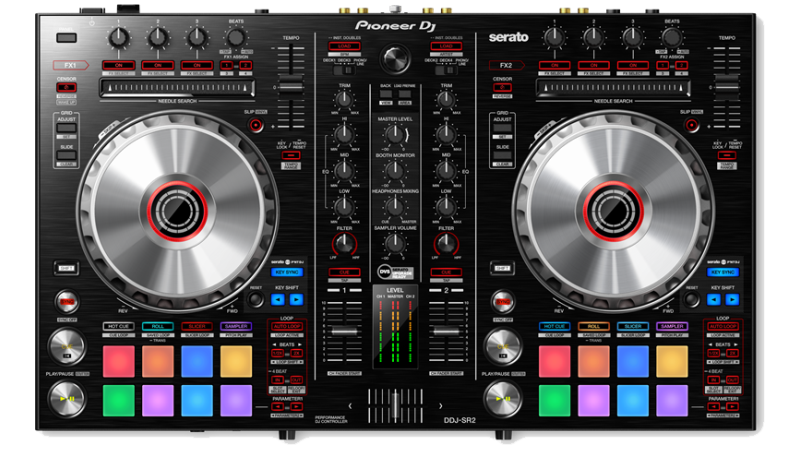 DDJ-SR2










The DDJ-SR2 has dedicated controls allowing you to control the software features with the push of a button. This 2-channel controller takes after Pioneer's professional DJ gear with multicoloured Performance Pads and a spacious layout. Being compact and 18% lighter than the DDJ-SR, the DDJ-SR2 is easy to transport to any gig.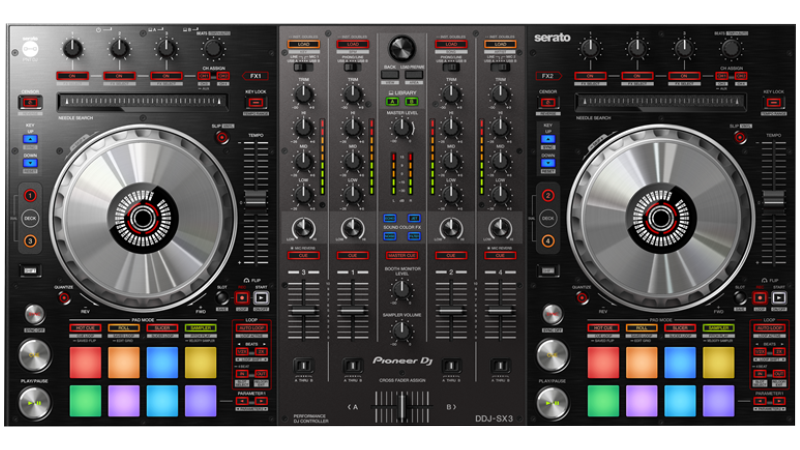 DDJ-SX3











Expanding on the features of our popular DDJ-SX2 controller, the DDJ-SX3 is strong yet portable with a familiar layout and lower latency jog wheels. Loaded with advanced features, this controller is ideal for professional mobile DJs performing at club nights, parties, weddings and corporate events. Collaborate with MCs, rappers or singers by plugging in 3 different microphones at once via the 3 Mic inputs. Connect 2 computers at the same time for easy DJ changeovers via the dual USB ports.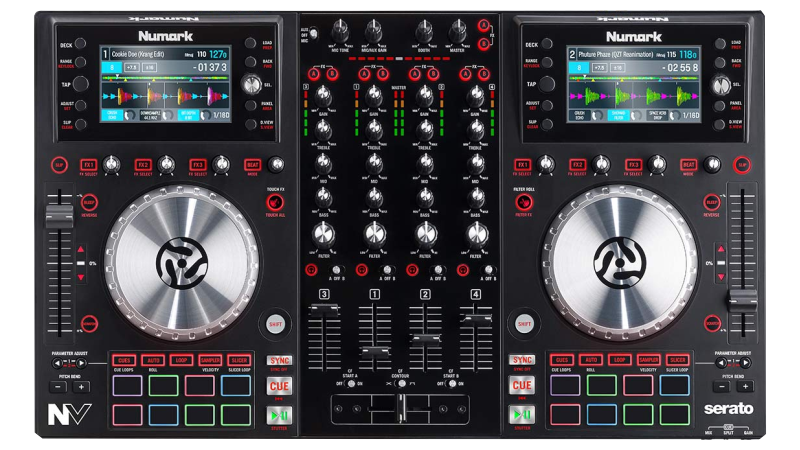 NV










NV reimagines the hardware-software experience for the professional DJ. Set of 4.3-inch full-color screens that provide real-time feedback of VirtualDJ, complete with spinning Virtual Decks, effects , Cue points, waveforms and more. DJs can perform with the laptop closed or out of sight without sacrificing functionality.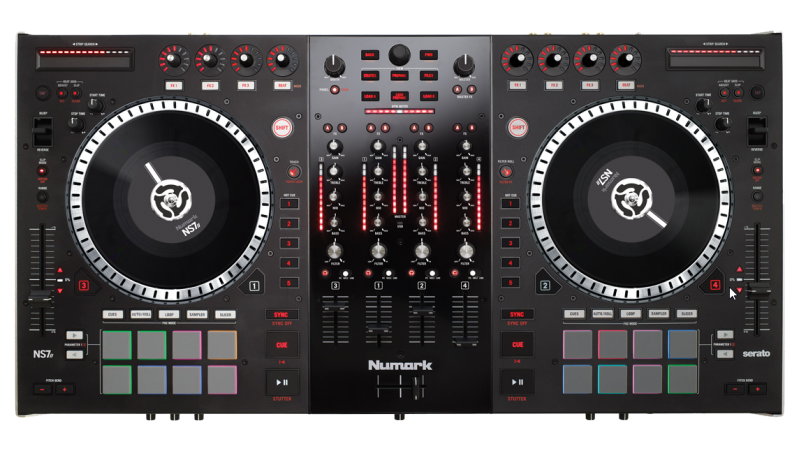 NS7 II









Four channels mixer, real slip mats and vinyl, motorized turntables, and a full array of touch-activated knobs and filters and velocity-sensitive performance pads. Nearly every inch is filled with controls, visual feedback, high-resolution MIDI, and comprehensive integration with VirtualDJ. Powerful, cutting-edge technologies blend together perfectly to give you unmatched mixing capability in a rugged, all-metal design that's born to perform.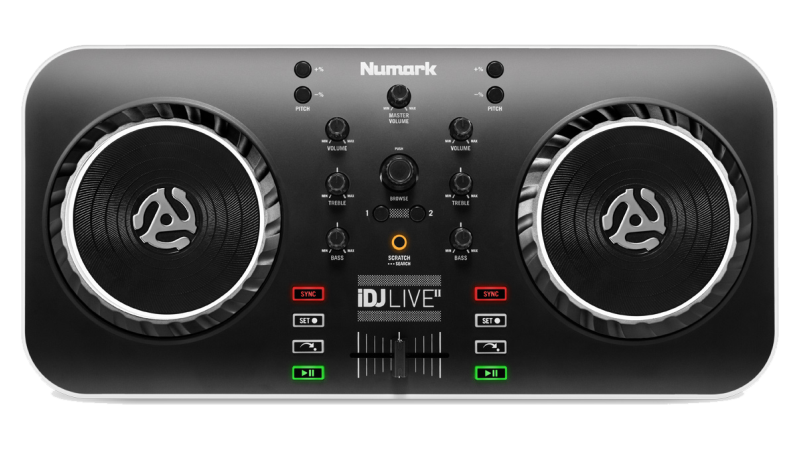 IDJ LIVE II




iDJ Live II gives you real DJ controls so you can mix your music with precision. Featuring an updated low-profile design and USB connectivity, iDJ Live II lets you perform your way. Connect to any iOS device or to your laptop computer and use it with your favorite DJ app and software. Work the smooth crossfader, tweak the EQ knobs, spin the capacitive touch-activated platters, and hang on for the ride.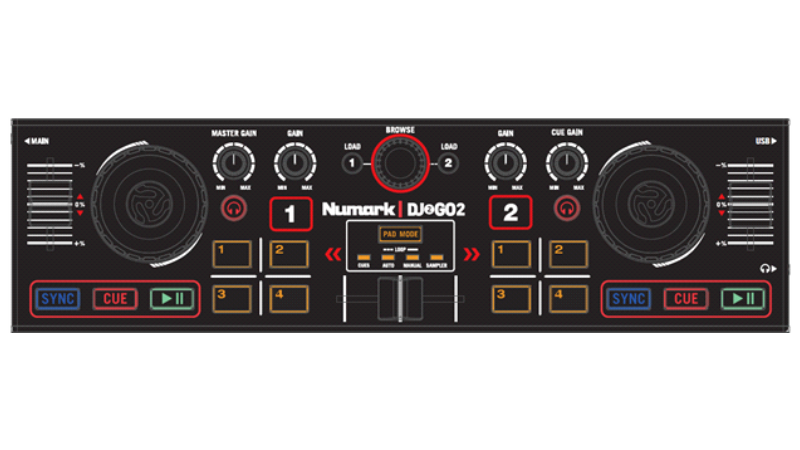 DJ2GO2






DJ2GO2 is a portable, pocket-sized DJ controller that goes with you everywhere. It's equipped with a built-in sound card which makes this the smallest DJ controller around. It fits on top of your laptop so you're ready for action in no time, without taking up any unnecessary space. It's perfect for using for small gigs, prepping your gigs, and a great backup for those "just in case" moments. There are endless possibilities, but most importantly, you can go anywhere with DJ2GO2.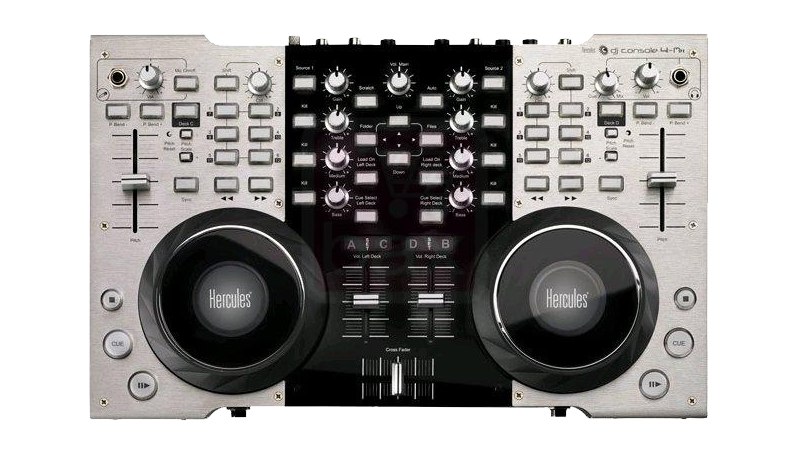 DJCONSOLE 4-Mx








A controller tailored for DJing for easy connection with existing analog gear, and control over 2 and 4 virtual decks. Built for mixing performance with intuitive and sturdy steel and aluminium crafted body with a wide variety of high-performance controls. Providing a portable solution for mobile and radio Pro DJs on the go, the edgy console fits easily into the club scene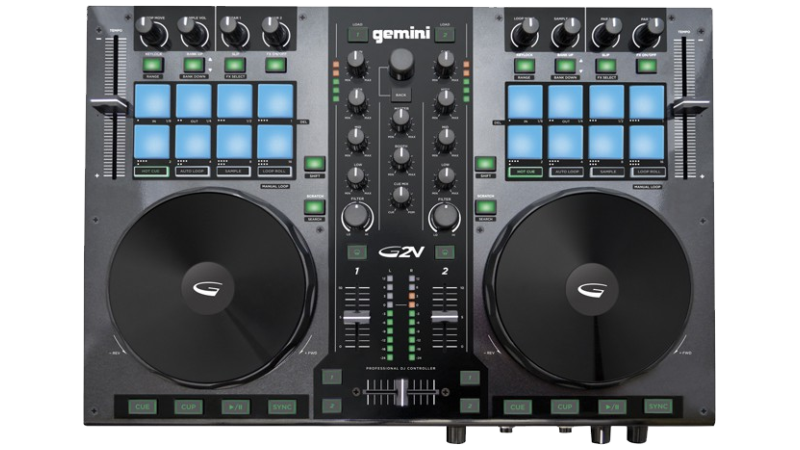 G2V









Two full-featured decks, two channels of mixing, and two rows of large performance pads, all in a fully metal enclosure makes the G2V a dynamic and reliable controller with the power to toggle, tap, and twist your tracks into an exhilarating and unique performance. Pitch fader, key-lock, cue controls, advanced sampling controls, on-the-fly loop move, and auto loop and loop roll modes, Gain, EQ, and dedicated Filter controls. A balanced XLR master output, master and booth RCA outputs, and microphone and auxiliary inputs.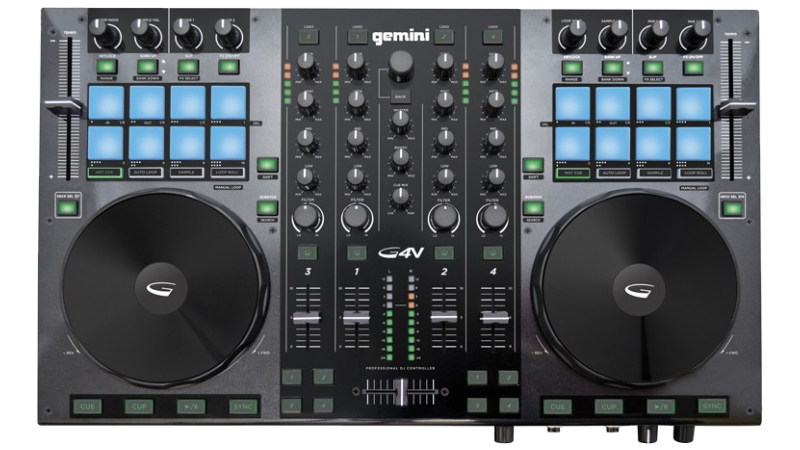 G4V









Performance controller with metal enclosure and 2 full-featured physical DJ decks that allow complete control of 4 virtual software decks. Performance pads and numerous assignable rotary encoders.The full 4-channel mixer gives you constant access to the Gain, EQ, and dedicated Filter controls on each software deck. A balanced XLR master output, master and booth RCA outputs, and microphone and auxiliary inputs give you all that you could want in when it comes to I/Os.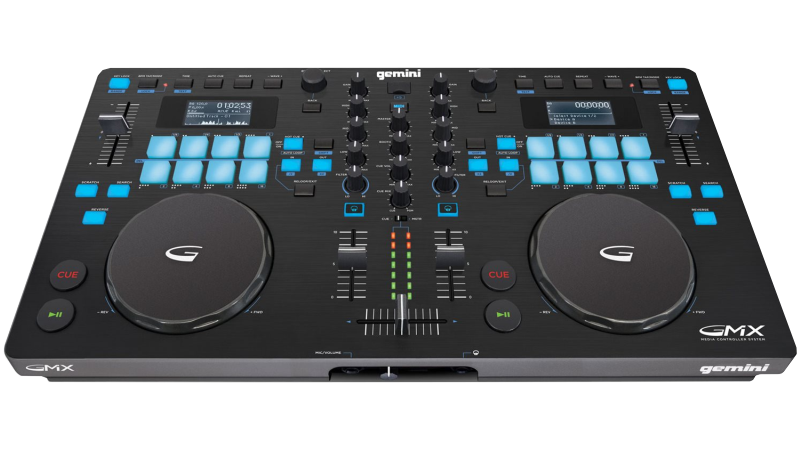 GMX









Versatile multi-format media controller for the DJ who desires portability and multi-functionality. DJ's can playback tracks from a single USB drive or from a laptop as a versatile software controller for Virtual DJ . Eight large performance pads on each deck and touch-sensitive mechanical jog wheels.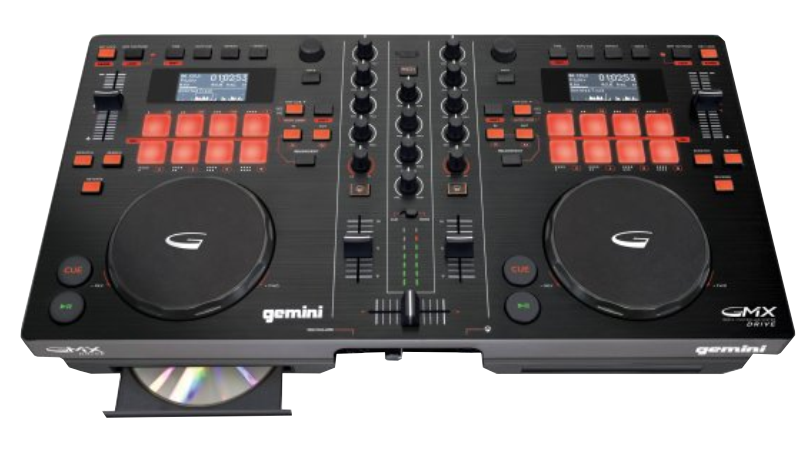 GMX DRIVE









The GMX DRIVE is a multi-format media controller for the DJ who desires the ability to playback all forms of digital music. DJ's can playback tracks from a single USB drive, from either of the two slot-in CD drives, or from a laptop as a versatile MIDI software controller for Virtual DJ. The eight large performance pads per deck and the newly designed touch-sensitive mechanical jog wheel ensure inspired and intuitive control, while the sleek brushed top, high-contrast screens, and backlit function buttons give the GMX DRIVE a no-nonsense professional look.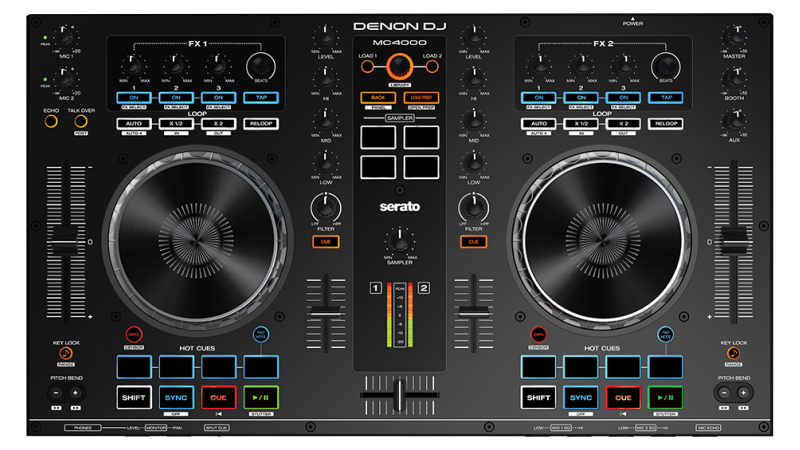 MC4000







Featuring a sleek new design and inviting appearance, innovative features, dependability, hq sound quality and peerless value. 2-deck controller for the professional entertainer in a robust steel chassis for rugged durability. In addition to precision touch-activated jog wheels, dedicated hot cue and sample pads for on-the-fly creativity.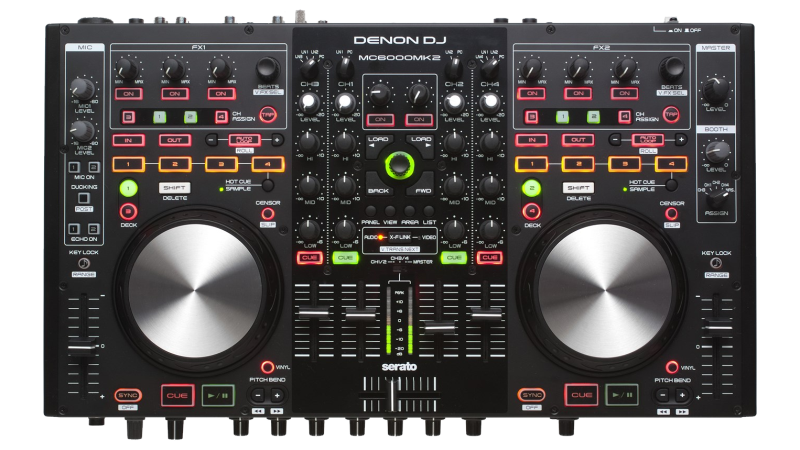 MC6000 MKII









Professional DJ controller and digital mixer. For club and mobile DJ's - slimline, table-top steel chassis unit blends a 4 channel digital mixer with digital and analog audio interface. 4-deck functionality, all important transport, pitch, EQ, loop, hot-cue/sample, navigation and FX controls ergonomically positioned to ensure optimal, error free live performance.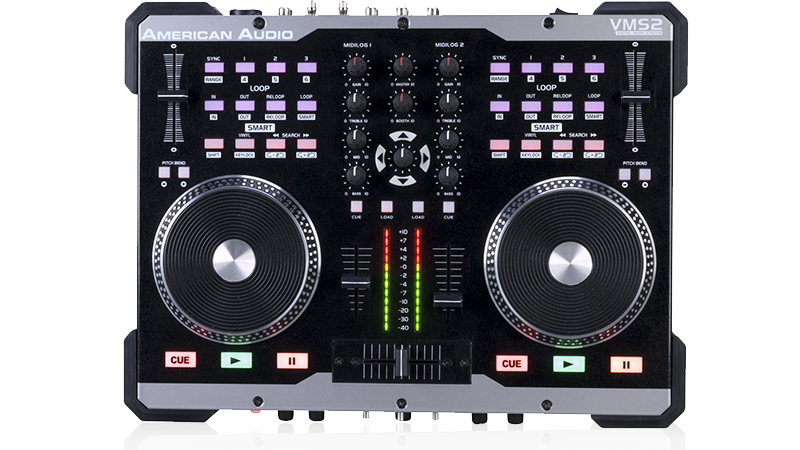 VMS2









Fuses both MIDI and analog audio control into one unit. The solid workmanship of the VMS2 makes it durable for the demanding mobile or club professional. This all-in-one unit has all the features found on top-of-the-line professional mixer as well, such as: Balanced XLR outputs and more.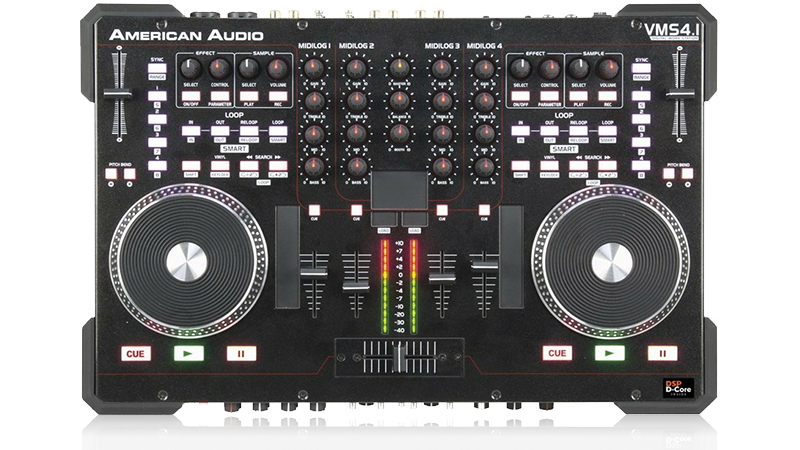 VMS4.1









A controller that fuses both MIDI and analog audio control into one unit. Durable for the demanding mobile or club professional. This all-in-one unit has all the features found on top-of-the-line professional mixer as well, such as: Balanced XLR outputs, 2 Microphone Inputs and more.