Drivers
Download and install the latest drivers and firmware from the Pioneer website:
Both PC & Mac
http://pioneerdj.com/support/product.php?lang=en&p=DDJ-SZ&t=294

Version 7
The unit is not natively supported in the latest available version 7.4.1. Therefore you will need to install the following mapping files

Mapper files
Download and install the mapping files from : http://www.virtualdj.com/addons/16669/Pioneer_DDJ-SZ.html

Sound Setup

Set your sound settings in CONFIG -> Sound Setup as per the following image (depending on your Operating system and the decks you need to use). The Advanced Sound Config is available as an option in the Outputs list.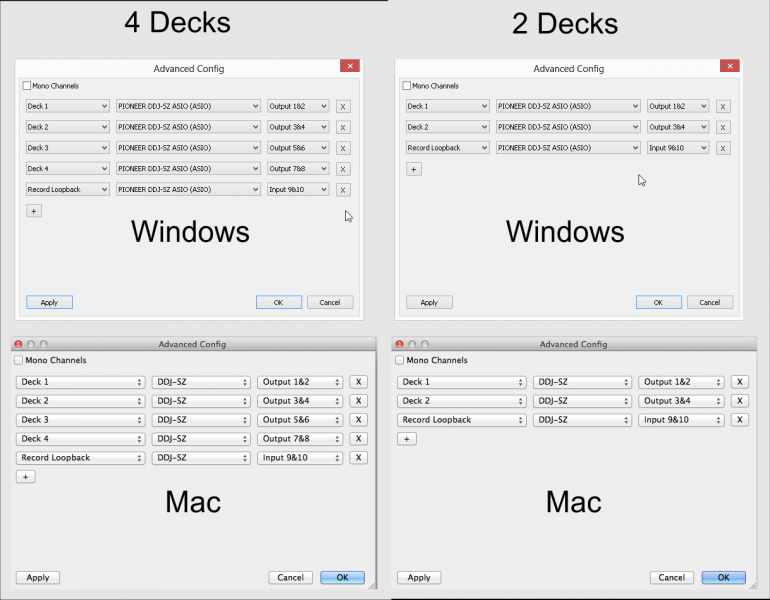 Recording
The unit works as an analogue mixer, so recording requires a RecordLoopBack as above


Version 8
the unit is natively supported in version 8, so no special mapping files need to be installed.
An Operation Guide for version 8 is available here.. http://www.virtualdj.com/documents/Pioneer%20DDJ-SZ%20-%20VirtualDJ%20Operation%20Guide.pdf


Other Links
Operation Manual : http://pioneerdj.com/support/product.php?lang=en&p=DDJ-SZ&t=man

Troubleshooting:
- To avoid lag on the crossfader, increase the value of the MIDI Jog Interval. See the manual of the unit at page 25





Return to Controller Config & Troubleshooting...]