Add-On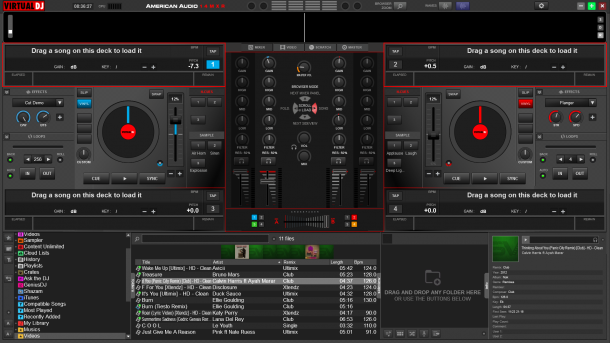 No full screen previews
Downloads this month: 384
Total downloads : 4 302
Popularity: 437
Rating: 4.4

Tailored skin for American Audio 14MXR (installed with VirtualDJ 8 LE)
Date added: Thu 01 Dec 16 @ 6:41 am
Last update: Thu 01 Dec 16 @ 6:41 am
1.0
Comments
Downloads this month: 2 893
Total downloads : 22 572
Popularity: 6 252
Rating: 4.4

The new "Controller HD by DennYo" Skin with VDJ 8.2 Support. (PADs, New Scratchwaves, ...) For more informations visit the Skin Forum. Please write questions only in the Skin Forum. You can find a Manual in the Skin.ZIP and on my Blog.
Date added: Tue 25 Oct 16 @ 1:32 pm
Last update: Thu 17 Aug 17 @ 4:55 pm
2.0.0
Comments
Downloads this month: 910
Total downloads : 5 522
Popularity: 1 124
Rating: 4.4

Tailored skin for the Numark PartyMix Pro. The same skin is installed with the VirtualDJ Limited Edition.
Date added: Tue 19 Sep 17 @ 2:30 pm
Last update: Tue 19 Sep 17 @ 2:30 pm
1.0
Comments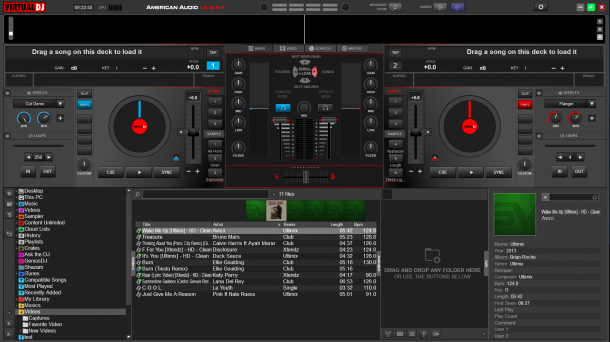 No full screen previews
Downloads this month: 522
Total downloads : 5 417
Popularity: 641
Rating: 4.4

Tailored skin for American Audio 19MXR (installed with VirtualDJ 8 LE)
Date added: Thu 01 Dec 16 @ 7:25 am
Last update: Thu 01 Dec 16 @ 7:25 am
1.0
Comments
Pioneer DDJ-WeGo3 Pro By DJ Zaik
Downloads this month: 764
Total downloads : 10 548
Popularity: 1 198
Rating: 4.4

Skin for Pioneer DDJ-WeGO3
Date added: Mon 21 Dec 15 @ 9:11 pm
Last update: Mon 28 Dec 15 @ 11:53 pm
1.0
Comments
LE&PLUS&PRO
Downloads this month: 67
Total downloads : 2 295
Popularity: 97
Rating: 4.3

Skin for Stanton DJC-4 and version 8
Date added: Wed 17 Dec 14 @ 2:34 pm
Last update: Wed 17 Dec 14 @ 2:34 pm
1.0
Comments
Pioneer CDJ2000 DJM900 NEXUS