Forum: Addons
Topic: SilverSleek2 - Page: 1
Discussion about SilverSleek2

Original Skin Forums topic is HERE

Changelog:
2015-04-29 Version 2.11:
Initial Release
2015-05-09 Version 2.12:
Fixed bug on clock and other text zones not rendering correctly on MAC
Fixed bug on Master VU-meter in top bar view. VU-meter will not be visible with external mixer setup anymore.
Added "Auto Cover/Digital" and "Auto Cover/Custom" options on jogs
Added Support for Pioneer DDJ-SP1 and DDJ-SR
Added option to always force 2nd HOTCUE layer to be hotcues 9-16
2015-05-21 Version 2.13:
Fixed bug when forcing Hotcues 9-16
Added second browser "Command Bar" toolbox alongside the custom buttons toolbox. The "search" actions require software build 2276 or greater.
2015-09-07 Version 2.15:
Added new 2 Decks Layout: "Essentials". Mainly for use with a controller connected.
Redesigned "Full Audio Mixer" central panel
Added Beat or Bars counter on scratch waveforms (optional)
Added 32 or 64 beat markers on progress waveforms
LCD font for decks is now included inside the zip in case it's missing from your system and you want to instal it
Minor bug fixes
2015-09-09 Version 2.16:
Added BeatKeeper on all views
Added 4 Decks Full Audio Mixer
Fixed an issue when selecting effects on slots
2016-02-11 Version 2.18:
Added optional Freestyler8 DMX control interface on top bar
Added cue and loop colors on pads
Added colored markers on progress waveforms
Fixed a few bugs with some padmodes
2016-02-24 Version 2.19:
Added new 2 decks layout "Phantom"
---
Posted Wed 29 Apr 15 @ 3:07 pm
Great Skin. But can it have "Deck Swap"? I use my SX in 2 deck mode 99% of the time (because Browser landscape is important to me), but cant see decks 3 and 4.
---
Posted Thu 21 May 15 @ 2:36 am
So, you need the 2 decks view but with "LEFT" and "RIGHT" decks instead of 1 & 2, right ?

PS: You can toggle 2 decks view with 4 decks view on the fly if you wish, but I know that's another story! ;)
---
Posted Thu 21 May 15 @ 2:48 am
I've been using the Pads skin for my SX. in 2 deck mode, if I hit deck 3 that appears. Was just hoping SilverSleek could do the same thing.

Maybe I missed it, but is there a TXT file to show all the features of the Skin?
---
Posted Thu 21 May 15 @ 8:30 am
---
Posted Thu 21 May 15 @ 10:45 am
Hi,

I´m trying this skin, and it is wonderfull! Great Job!

I have trouble with the Covers. I set the Option Cover to Yes and And the Jogs to Custom/Cover but neither i get covers showed left to the title nor on the jogs. I Tryed a lot of Songs, and all have covers, so what i´m doing wrong?
Could it be that my screen resolution is not enough? (1280x800)

thanks
Timo
---
Posted Sat 30 May 15 @ 12:31 pm
Gr8 Skin
Nice Work Bro
Tried A Dozen Of Skins For My Pioneer SZ And This It The Most Suitable One Of All
Really Gr8 Work And A Big Thx To You
PS: Can You Make The Jog-wheel Bigger As It Looks A Bit Small On Laptop Screen
---
Posted Mon 01 Jun 15 @ 12:57 am
The smaller the jog wheel the better as far as I'm concerned.
---
Posted Mon 22 Jun 15 @ 1:58 am
maybe in your own opinion but a bigger jog wheel is better if the bpm and the tempo of the track is shown inside it
it will be gr8 idea
---
Posted Tue 23 Jun 15 @ 6:41 am
The option to have the window pop up asking "are you sure you want to load this song while it's still playing?" doesn't work, it flashes up but goes away and song just loads.
---
Posted Thu 25 Jun 15 @ 1:30 pm
Hi, i just tried out your Skin with my Numark NS7. I like it, but would it be possible to have the "scratch-Wave" only for the selected decks and not for all four?
Regards, Thomas
---
Posted Sun 05 Jul 15 @ 7:19 am
George what's new in this update of your skin?

---
Posted Thu 03 Sep 15 @ 6:54 pm
See changelog on top of this thread
---
Posted Mon 07 Sep 15 @ 5:51 am
Would love to see a daylight version of this skin.
---
Posted Sun 27 Sep 15 @ 4:38 pm
hi, how can we add our custom logo to the jog wheels?
---
Posted Wed 30 Sep 15 @ 12:54 pm
---
Posted Mon 30 Nov 15 @ 2:34 am
I'm enjoying playing around with the new Silver Sleek skin. I think it has everything I want in a skin.

Here are a couple of questions:

1. When not using a controller, is there a way to stop the TAB key from cycling through all 4 deck PFLs when in 2 deck mode? I know that there is a workaround script but I'm wondering if this can be a default setting where TAB functions as 2deck and 4 deck when in respective panels?

2. How do I activate the GROUP 1-4 Buttons in the center panel of the skin? Is this something I need to program or is there a Turn/ON/OFF feature I haven't found yet?

3. How do I saved a loop? I see where I can recall a loop but don't see an option to SAVE a loop.

Thank you for all of your work.
---
Posted Sun 26 Jun 16 @ 4:46 am
I forgot to mention that the following screen a happened after coming out Settings. The only way I could get everything back was to exit the program a resart.
---
Posted Sun 26 Jun 16 @ 4:51 am
ProfLee wrote :
I forgot to mention that the following screen a happened after coming out Settings. The only way I could get everything back was to exit the program a resart.
---
Posted Sun 26 Jun 16 @ 4:55 am
Hi ...great Skin , but i miss my special Mappingfunction swap from NormalBrowser to BigBrowser with small Playerlayout like this in the OrangeJuice-Skin 3.1


OJ_Skin Normal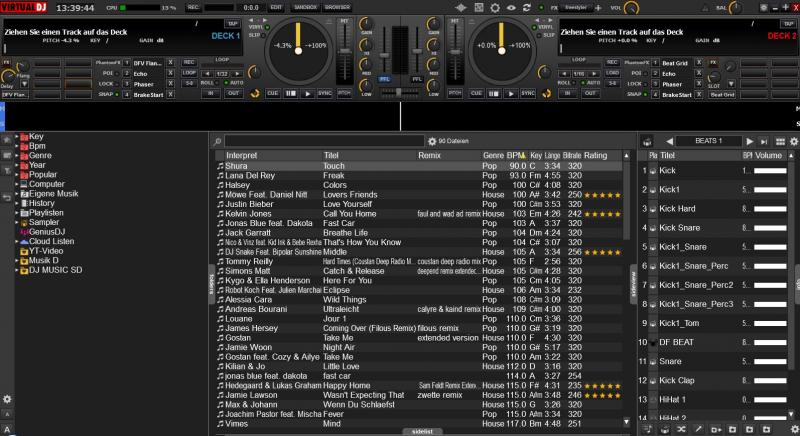 the same with BigBrowser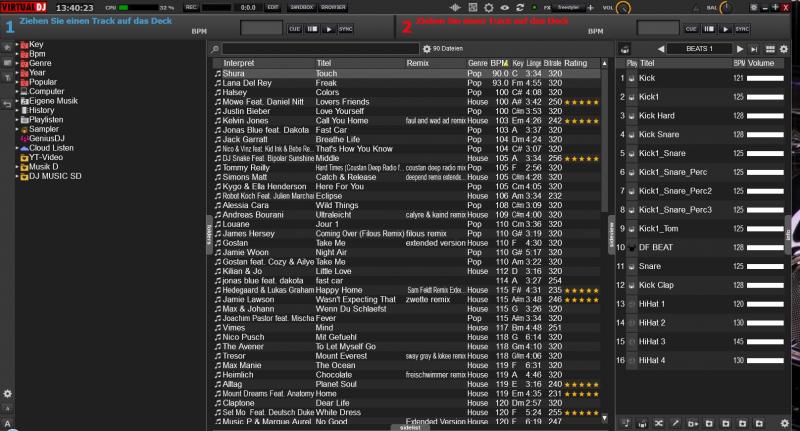 and i like to change the SkinColour from dark to lightdark or grey .
Do you can help ?

thx
greats from Germany
DJ Gerry
---
Posted Mon 27 Jun 16 @ 11:44 am