Add-On
Pioneer DDJ-WeGo3 Pro By DJ Zaik
Downloads this month: 264
Total downloads : 7 992
Popularity: 960
Rating: 4.4

Skin for Pioneer DDJ-WeGO3
Date added: Mon 21 Dec 15 @ 9:11 pm
Last update: Mon 28 Dec 15 @ 11:53 pm
1.0
Comments
Downloads this month: 249
Total downloads : 14 552
Popularity: 552
Rating: 4.3

Skin for the Numark iDJLive II (bundled with ver7 LE).
Date added: Fri 29 Aug 14 @ 12:31 am
Last update: Fri 29 Aug 14 @ 12:31 am
1.0
Comments
LE&PLUS&PRO
Downloads this month: 226
Total downloads : 5 571
Popularity: 418
Rating: 4.2

this skin based on 'Controller by DennYo' and supports VDJ 8.2. It brings new gfx, new additional features and the brand new browser split mode. You are able to show browserparts as sampler, automix, playlist, karaoke.... separatly above the main browser.
8.2
2Deck
4Deck
Video
waitlist
splitmode
Date added: Wed 07 Jan 15 @ 8:27 am
Last update: Wed 28 Feb 18 @ 2:10 am
3.7
Comments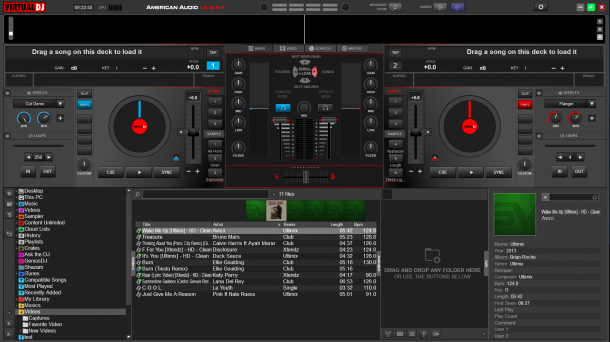 No full screen previews
Downloads this month: 224
Total downloads : 3 685
Popularity: 476
Rating: 4.4

Tailored skin for American Audio 19MXR (installed with VirtualDJ 8 LE)
Date added: Thu 01 Dec 16 @ 7:25 am
Last update: Thu 01 Dec 16 @ 7:25 am
1.0
Comments
Downloads this month: 214
Total downloads : 14 317
Popularity: 28
Rating: 4.2

Old school & new school collide. This Skin Is designed to mimic the new PLX 1000 turntables and other hardware i.e Novation Dicers & pioneer DJM-800 mixer.Also includes the option of changing the records on the turntables.Also has album art on the records
Date added: Sat 06 Dec 14 @ 8:24 am
Last update: Mon 25 May 15 @ 9:06 am
5.0
Comments