Forum: VirtualDJ Skins
Topic: [Complement Skin Set] DN-MC6000 Pro+ - Page: 1
This part of topic is old and might contain outdated or incorrect information
With DJ Lunatico's authorization I am posting the following complementing skins to his awesome DN-MC6000 Pro Skin Set: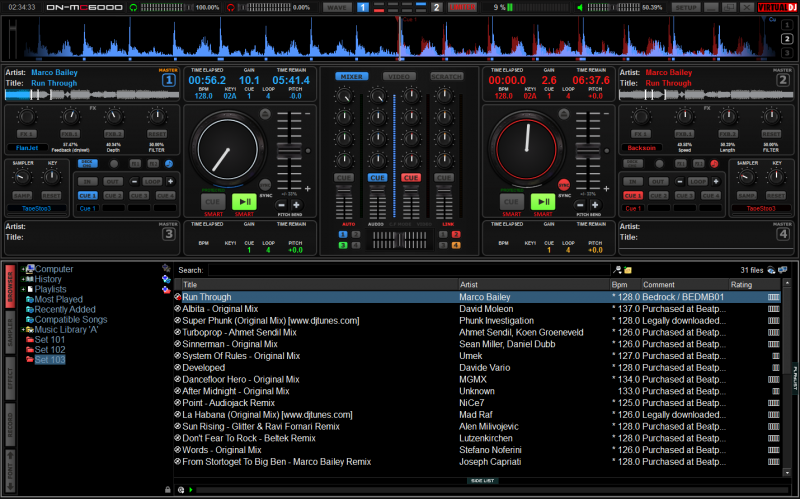 DN-MC6000 Pro+ (3-1L|R2-4) v1.1a

This is DJ Lunatico's DN-MC6000 Pro (3-1L-R2-4) skin set with additional upscaled resolutions, additional features and some minor issues fixed. You will need the available (3-1L-R2-4) controller MAPPER file for all features to work correctly, see below.

Included Resolutions:*
- 1366x768 [16:9]
- 1600x900 [16:9]
- 1920x1080 [16:9]
- 1440x900 [16:10]
- 1680x1050 [16:10]

Features:
- True "Controller-to-Skin" (3-1L-R2-4) mixer channel configuration with the use of the available controller mapper file, see below.
- Indicators for Smart Play, Smart Cue, Slip Mode, Protected Cue, Master Channel Active Limiter
- Synchronized transport control lighting with the use of the controller MAPPER file
- You can use the controller's "Shift + Deck Chg." to toggle among the different FX panels for each deck

Additional notes:
- Required controller Mapper file is available in the CONTROLLERS section:
http://www.virtualdj.com/addons/12744/DN-MC6000_Ch_3_1_L-R_2_4_Mapper.html
- Only the primary "Main FX Panel" offers Controller operated controls, all others are soft funtions, meaning you need to use the GUI/mouse.
- See MAPPER readme file for additional controller activated functions.
- Bug reports or feedback would be greatly appreciated :)

-------------------------------------------------------------------------------------------------

*** Revision history ***

Version 1.1a changes:
- Alternated CBG types among the different types of waveforms, cycle through them to see which one best fits you.
- Fixed several minor cosmetic issues including:
- Fixed Waveforms (patterns, sizing, alignment, CUE marks)
- Fixed Buttons (some buttons not being displayed correctly, missing or out of place)
- Fixed other minor skin blemishes
- VU Meters presentation is uniform across all resolutions
- Swappable FX Panels now default to the "Main FX Panel" on startup
- Controller activated CUE & SAMPLER panels now switch correctly
- Controller activated "Reloop" function works correctly
- Skin's "Deck Unload" now works correctly for all decks
- Skin's "Pitch Reset" now works correctly for all decks. Added Right Click: Instant Reset.
- Disabled skin's "Deck Change" function as to avoid inverting the active decks from the controller's point of view, instead...
- Skin's "Deck Change" button now reflects the status of the controller's "DECK CHG." button, Blue for A/B, Red for C/D
- Updated "mouse over" help hints for some functions to make them easier to understand
- Added "FONT CHANGE" button for some resolutions that were missing it
- Widened the fontsize range among the different skin resolutions
- Added "Smart Cue" and "Smart Play" selectors/indicators
- Added SLIP mode indicator (Jog Wheel Touch LED on skin will FASTBLINK when active)
- Added PROTECTED CUE mode indicator
- Added LIMITER ON indicator

Version 1.0, 1.1 & 1.2 changes:
- Original release with different CBGs by DJ Lunatico
http://www.virtualdj.com/forums/166848/VirtualDJ_Skins/_NEW__DN-MC-6000_4Deck_Swap_.html

*Due to recent changes in Skin Upload limits, some resolutions have been removed. I apologize for the serious inconvenience this causes. Hopefully Atomix can realize just how serious this "inconvenience" is.

---
Posted Tue 11 Dec 12 @ 1:08 am
Is this skin waiting for approval? You've posted no link and I can't find it in the skin-section.
Anyway: Thanks for your afforts! Using the previous skin for some time now and it does everything I need. (Especially the effects-section, where other skins don't show what the effect-pots do)
---
Posted Tue 11 Dec 12 @ 7:38 am
---
Posted Tue 11 Dec 12 @ 11:36 am
---
Posted Mon 17 Dec 12 @ 9:16 am
yup, fully aware of that, I've asked Ruben (DJ Lunatico) to please re-acknowledge my request on this thread but unfortunately he is not a very active user here. Below is his original approval. If this is sufficient great, otherwise no choice until Ruben responds on this specific thread.

______________________________________________________________________________________________________

From: djlunatico
Sent: Tue 04 Dec 12 @ 8:46 pm
Subject: Re: DN-MC6000 Pro
Message:

Hi, Erik

No Problem! mate..

at the moment I'm busy on another project
well, no time for higher resolution, at this time,

if you already have it ready to upload ..
and if the team of virtual dj approves,
for me! there is no problem ..

I agree with you to share your work with the rest of the cumunidad ..

and thank you for your interest in this skin ..
for me! was personal
but decides to share this wonderful community of virtual dj ..

maybe in the future I decide to update my skin ..
for higher resolution

apologize for my English is not my native language ..
I'm from mexico,

best regards
Ruben ..

---
Posted Mon 17 Dec 12 @ 1:12 pm
---
Posted Thu 20 Dec 12 @ 2:59 pm
Good Job!!..(Getting past the Red Tape IMO)
---
Posted Fri 21 Dec 12 @ 12:11 am
great job on the skin but why cant i get the mapper? its says i dont have an license but i can download the skin?

thanks,
---
Posted Wed 02 Jan 13 @ 7:13 pm
---
Posted Thu 03 Jan 13 @ 4:01 am
i download the skin but dont have the 1600 x 900 resolution size, i really like it the skin, but i need that size, thanks,
---
Posted Fri 04 Jan 13 @ 1:24 am
finally bought the pro version!!!! this skin is sick!!!! thanks to all that bought it. The resize tool works great with this skin as well.
---
Posted Fri 04 Jan 13 @ 9:38 am
memososa1 wrote :

i download the skin but dont have the 1600 x 900 resolution size, i really like it the skin, but i need that size, thanks,



yeah, sorry about that, unfortunately I was not able to upload all common resolutions, Atomix has put some sort of restrictions to non-Atomix personnel and we can apparently only upload 3 skins per ZIP with a max total size of 6MB. Pretty 1990's if you ask me.

Try the skin resizer on the 1366x768 skin (upsize) or the 1920x1080 skin (downsize) to obtain a 1600x900 skin, one of those will look good.
---
Posted Sat 05 Jan 13 @ 1:27 am
Nice skin. I downloaded to get the 1600x900 also :-(
---
Posted Tue 08 Jan 13 @ 5:11 pm
still loving this skin. will this skin get an update now that 7.4 is out? can the slip and loop roll be incorporated with this skin?

Thanks
---
Posted Sun 24 Mar 13 @ 9:33 am
The mapper for the DN-MC6000 controller is already updated:
http://www.virtualdj.com/addons/12744/DN-MC6000_Ch_3_1_L-R_2_4_Mapper.html

You will be able to activate SLIP_MODE directly off the controller along with triggering several Loop Roll measures.

If you are using this skin with other controllers and want the Slip Mode/Loop Roll buttons on the actual skin, I am not sure when I'll get around doing it. Could be a few weeks...

---
Posted Mon 25 Mar 13 @ 6:36 pm
What would be great on the skin or incorporated into the controller is a button for the clone function? That would make this skin totally kick a** complete. If you could even explain how to do it send me a PM. I use the clone function fairly often. Thanks in advance.
---
Posted Thu 05 Sep 13 @ 10:49 am
---
Posted Thu 03 Jul 14 @ 3:50 am
im excited.. hopefully it will get approved today :-)
---
Posted Thu 03 Jul 14 @ 8:49 am
I know they are busy but I have been checking all day.... :)
---
Posted Thu 03 Jul 14 @ 5:35 pm
Skin is approved.

Note. I dont see the mixer changing channel order with the Mixer Options menu. If your skin doesnt offer this, better remove those options from the menu.
---
Posted Fri 04 Jul 14 @ 6:03 am