Playlist Itunes not showed
This is common problem. Sometimes the iTunes playlists are not shown.

Why?

Because VirtualDJ uses the file \"Itunes Music Library.xml\".
If the user changes the home folder of iTunes, then (for some unknown reason) it renames the library to \"iTunes Library.xml\". VirtualDJ can\'t recognize this library.

To fix follow this steps:

For Pro Full Users




Make a backup of the file iTunes Library.itl (stored on the home folder of iTunes).


Ensure that iTunes is closed, then rename the file ITunes Library.itl to iTunes Music Library.itl


Now it\'s the time to select the correct database:

If you are using Windows, hold down the SHIFT key and open iTunes. Then click on \"Choose Library\" and select the file: iTunes Music Library.itl


If you are using the Mac, hold down the OPTION key and open iTunes. Then click on \"Choose Library\" and select the file:
iTunes Music Library.itl

Close iTunes. The file \"iTunes Music Library.xml\" will be generated automatically and VirtualDJ will recognize the playlist.


If not, use the Registry Tool and check that the home folder of iTunes is correct and it's selected what you chose in the previous steps, as shown in the image below.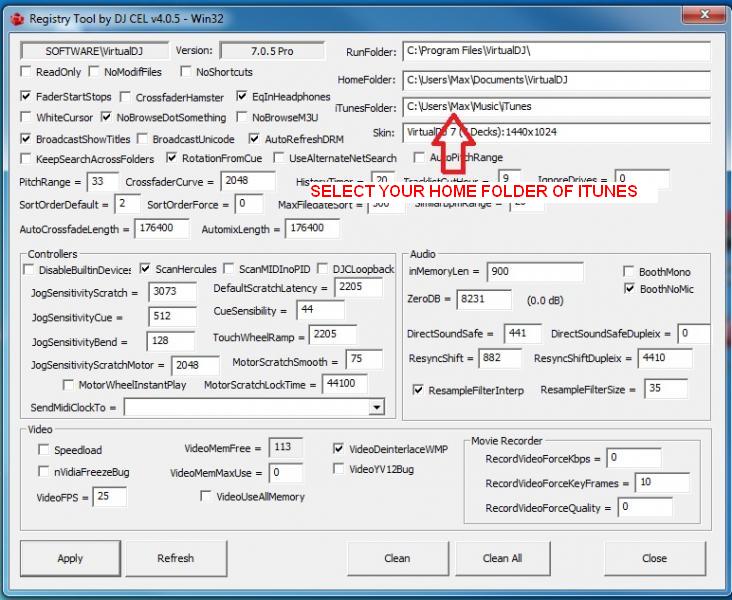 For LE (Limited Edition) Users

For LE users, the path for the iTunes Library can not be changed. VirtualDJ LE will always look for the library.xml file in the default position.

To fix that ...

1. Copy the iTunes music library.itl file and paste it on to Users\Music\itunes folder
2. Holding down OPTION (for Macs) or SHIFT (for Windows) open iTunes. Choose Library and select the itl file from the Users\Music\iTunes folder.
3. Close iTunes
4. Open VirtualDJ LE. Your iTunes folder and your iTunes playlists should be there now.


Return to Frequently Asked Questions (FAQ)...