Add-On
Downloads this month: 175
Total downloads : 6 528
Popularity: 518
Rating: 4.3

2 Deck skin but you can swap it to use 4 decks, Please keep on mind this skin is for external mixer use
Denon
HC4500
Skin
for
virtual
dj
8
Date added: Fri 20 Nov 15 @ 9:46 pm
Last update: Tue 24 Nov 15 @ 6:28 pm
1.0
Comments
Downloads this month: 166
Total downloads : 12 009
Popularity: 19
Rating: 4.2

For Those who love Old school turntables but with a touch of new school,includes interchangable records and album art on some records
Date added: Tue 25 Nov 14 @ 2:38 am
Last update: Mon 25 May 15 @ 9:22 am
5.0
Comments
LE&PLUS&PRO
Downloads this month: 154
Total downloads : 5 642
Popularity: 384
Rating: 4.2

this skin based on 'Controller by DennYo' and supports VDJ 8.2. It brings new gfx, new additional features and the brand new browser split mode. You are able to show browserparts as sampler, automix, playlist, karaoke.... separatly above the main browser.
8.2
2Deck
4Deck
Video
waitlist
splitmode
Date added: Wed 07 Jan 15 @ 8:27 am
Last update: Wed 28 Feb 18 @ 2:10 am
3.7
Comments
Downloads this month: 153
Total downloads : 3 735
Popularity: 295
Rating: 4.4

CrokPlay is an optimized skin for dj's and dj's remixer's personally I love this design, I love the ease and optimization, enjoy it.
Date added: Mon 07 Nov 16 @ 10:04 pm
Last update: Mon 21 Nov 16 @ 12:56 pm
2.0
Comments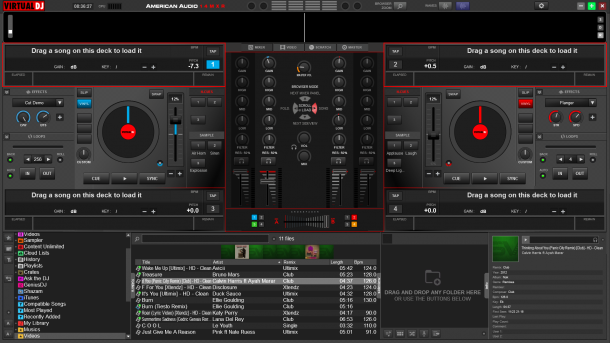 No full screen previews
Downloads this month: 149
Total downloads : 3 149
Popularity: 299
Rating: 4.4

Tailored skin for American Audio 14MXR (installed with VirtualDJ 8 LE)
Date added: Thu 01 Dec 16 @ 6:41 am
Last update: Thu 01 Dec 16 @ 6:41 am
1.0
Comments
LE&PLUS&PRO
Downloads this month: 143
Total downloads : 6 313
Popularity: 726
Rating: 4.2

Official skin for the Pioneer DDJ-WeGO and VirtualDJ 8
Date added: Fri 21 Nov 14 @ 9:24 pm
Last update: Fri 21 Nov 14 @ 9:29 pm
1.0
Comments