Forum: VirtualDJ Skins


About skins, skin development and communicate with other skin developers.
Topic: Challenge: Can someone make me custom 4 deck 3-1-2-4 skin? - Page: 1
This part of topic is old and might contain outdated or incorrect information

Challenge: (I would be willing to pay someone something to do this, read below)

First, I know about the various 4 deck skins, as well as the 3-1-2-4 skins available currently, unless I missed something. I have looked through the skins pretty thoroughly on this site however, and haven't really found what I need.

What I am looking for isn't for fancy, but for functionality. I want a multideck skin based on the VDJ 4 deck skin that was modified for 3-1-2-4 channel assignment.

Things I need:
1. To be able to see the status of the loops and effects without cycling on the "player-loops-effects" thing.
2. I want all the stuff I don't need to see because I am using a controller... GONE. Well, almost.
3. I want to be able to know INSTANTLY, without any question in the world, which deck I am in control of, when using two deck controllers with a VDJ 4 deck setup, swapping controls.
4. I don't want a skin that takes any more realestate up on the deck side vs. database, than the standard VDJ 4 deck skins do. The standard VDJ 4 deck skin is a good balance for me.
5. I don't want the decks really any smaller than the standard VDJ 4 deck, I'm not looking for uber small.
6. I am not looking for anything fancy, just functional for what I need. Simplicity is great for me.

So on #1, I want to achieve this idea without clutter, hence, point #2, with a few exceptions. I do want the play button on all decks, so I can push play/pause if I am just previewing a track on a deck, but don't want to switch midi control to that deck. I also want the spinning discs left there, as it is a solid indication as to which decks are actively playing.

On #3, I have seen the "Swap deck" skins, and they do NOT work for me. Maybe it's the old school in me, but I like my decks to have consistent, physical conditions. When I was using 4 physical sources of audio (CD players, record players), I wasn't moving them around during the gig, and I don't want the decks on my screen to move around...LOL.. maybe I'm just too dumb to deal with it :P So, I really do want the decks to stay put, and I want a good consistent visual of all 4 decks all the time, but I also want a clear visual as to which decks are actively being controlled by the midi controller.

I don't know how to create skins, but I am decent with Microsoft Paint, and have created a "Mock-up" of what I would really like. I did actually download the skin creator tool, but have yet to figure it out, hence, I am looking for some help.

Here is the jpg I created. Is anyone up to the challenge of creating this? It would be worth paying someone if that would help? I don't have a lot I could pay, but make me an offer, and I will see what I can do?

myself. :)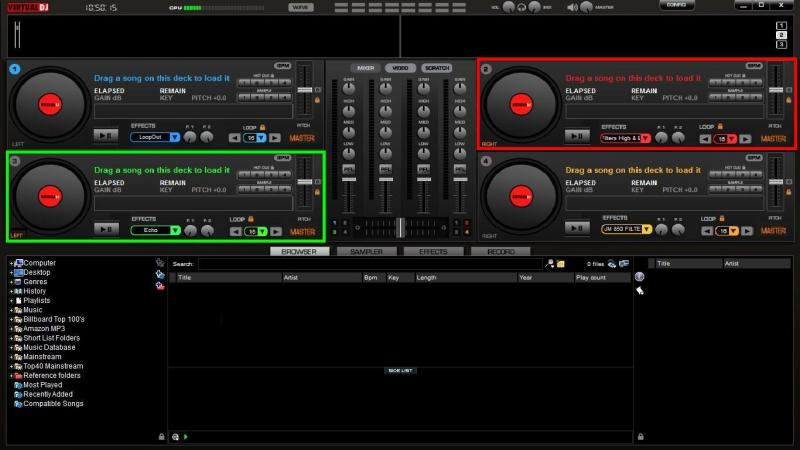 What I have done with this image, is you will see that the pause & sync buttons are gone, but the play button is there. The Loop in/out buttons are gone, but the loop length is there, as well as buttons to extend/shorten. Also, the effects section is there. Basically, stuff that I might need to see visual confirmation on the screen is there. All other missing visual controls are already on the midi controller. This would be a midi controller only skin, but not specific to any midi controller. Also, I have a very defined colored box around the "ACTIVE" deck, or the deck that the midi controller currently has control over. If it's a pain to make each box a different color for each deck, one simple color will do, maybe just red :)

Or alternatively, if anyone knows a great "from the ground up" "VDJ skinning for dummies" tutorial somewhere that I haven't found yet, I'd be willing to give it another try :)
---
Posted Mon 11 Feb 13 @ 5:45 pm

I have to agree that most of your requests make absolute sense.

I am about to create a modified skin that will look like this..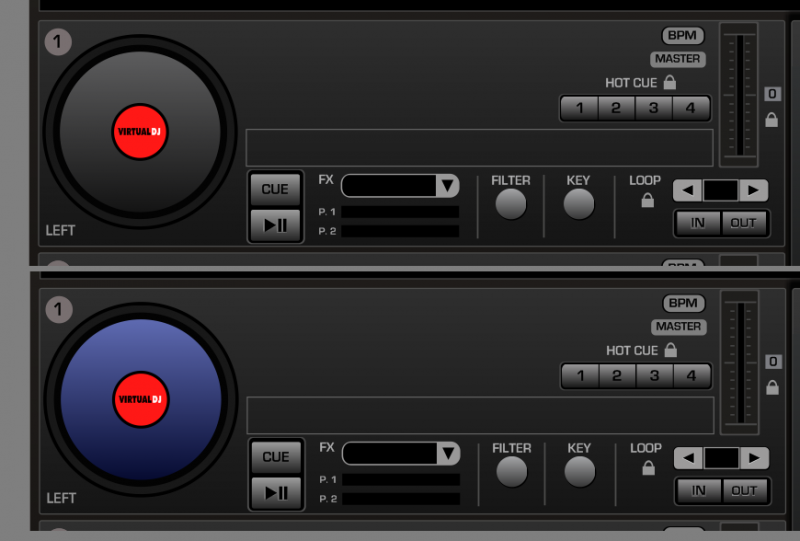 Ths Jogwheel will change color if the deck is left/right or not.
4 HotCue points. Most of the controllers have 4, not 3
All important info will be visible, no panels.
Names of the FX sliders will be visible too.
Filter with on/off button.
Key slider with the value below the slider, not in the textzones above.
Loop In/Out buttons too.
Added Cue buttons as well.

Reason adding some extra buttons compared to your suggestion, is because i need to skin to work without a controller as well. E.g.SYNC function will be a rightclick action on the MASTER button.

The only thing that i have to disagree with your suggestion is the Sampler part.
I would rather add an optional panel on the bottom of the browser, like i did with the Swap 4 Decks Skin. Some controllers have samplers 1...4 mapped to the same side, some have 1..4 to the left and 5..8 to the right side. So having a particular order/layout will not cover all needs. Besides, Sampler is outputted to Master, so having the Sampler on decks makes no sense to me, unless you use them to record from a specific deck.
---
Posted Mon 11 Feb 13 @ 8:20 pm

Actually, we don't disagree about the samples, and I like the 4 cue points idea. I just didn't think to do anything about the sampler buttons <shrug> and it does make more sense for the sampler to be its own panel, and not on the decks...you dont have samplers on regular source channels on a club mixer, its always its own separate panel. So totally agree there as well :-)

I personally prefer the knobs over the bars for the two parameter knobs, partially because I use a 3rd party filter, that uses one parameter for low pass, the other for high pass, and I think sounds better...but that's more personal preference.
---
Posted Mon 11 Feb 13 @ 9:45 pm

Update



---
Posted Mon 11 Feb 13 @ 10:32 pm

That looks really good! Will the disc still light up to indicate which deck is actively being controlled by the midi controller? and 4 full decks? If so, that would pretty much get me what I need too :)

I like the new look of the loop and effect windows too. A bit smoother looking, very nice.
---
Posted Tue 12 Feb 13 @ 12:21 am

Yeap, the jogwheel will light up if left or right



---
Posted Tue 12 Feb 13 @ 12:26 am

Oh man, that is looking terrific! You've done a few other things I've thought about at gigs that bug me, like how you made the "TIME REMAINING" much larger than the rest of the info. Something I've wanted to see, but didn't think about when I was playing with paint last night making my mockup...:) Also like the pitch percentage indicator. Are the little corner send buttons at the bottom of the disc for cloning?

Yeah, when you get this done, I want it? Do I need to donate to the djdad fund?
---
Posted Tue 12 Feb 13 @ 12:37 am

Skin will be ready by the end of the week. No need to donate anything. The skin will be available for all registered users.


---
Posted Tue 12 Feb 13 @ 11:38 am

Thank you! I look forward to seeing it :) I've been waiting for a skin like this a long time :) It will be yet another piece of a puzzle I am putting together for a mixer setup I've been working on for a while now.

Using a VMS4.1, but have remapped half of the functions, and just changed how other functions work more to my liking. Just finally getting all the LED's mapped. Built a rack around it, that has small LED strips to light up the areas on the mixer that are harder to see (specifically the front). Working on a skin from Styleflip, that will have the functions relabeled. Also replacing a few components on the headphone output (I am a repair tech by day) to try to clean up the headphone output. The main output is quite good. I was surprised how well it compared to a Native Instruments Audio 8, but for some reason the headphone output is not as clean as I'd like. If I can't get that to work like I want, I'll be using an Native Instruments Audio 2 for the headphone output :) I really like the VMS4.1 as a midi, so it's been worth working around the few things I don't like :) Anyway, lots of tinkering...HAHA!

Thanks again :)
---
Posted Tue 12 Feb 13 @ 12:43 pm

---
Posted Tue 12 Feb 13 @ 3:36 pm

Very COOL! Better than I had in mind!
---
Posted Tue 12 Feb 13 @ 10:31 pm

Yup he can work miracles and he's fast!!
---
Posted Tue 12 Feb 13 @ 10:43 pm

1440x900 por favor gracias
---
Posted Tue 12 Feb 13 @ 11:15 pm

my max screen res is 1366x768... so as long as it fits in that :) I'm going to love this skin :)
---
Posted Wed 13 Feb 13 @ 1:41 am

Can hardly wait till this one is posted for download :) But I will be patient...LOL... waited a long time for a skin like this, can wait a few more days for sure :)
---
Posted Wed 13 Feb 13 @ 1:51 am

Hey djdad,

I have a cosmetic suggestion, but it's just a very humble suggestion. As the skin is now, it is fantastic, and more than what I was looking for, so if you don't agree with this idea, or if it just wouldn't be worth the extra hassle, or maybe even just add more clutter as a result, then I totally understand.

As I stated before, I have really been looking for a "functional" skin, not so much cosmetic, but... this is just a thought I had this morning, that might make a nice cosmetic touch, and you can let me know what you think? Crap idea, or good, or not worth the time....LOL... either is fine...LOL... just thought I would through this idea out there.

The top panel with all the text, such as track title, artist, time, bpm and so forth, what if you framed that in a window similar to the windows that you put the effects & loop length in? With the visual idea, of like a display on a deck? basically just blacker background inside the "information dispay" window, which actually might add just a little more contrast to the text as well. Maybe that's good, maybe not. I really like the revised windows you made for the loop length and effects selection and just got me thinking, it might be a nice frame for the information panel as well. Again, if it's a dumb idea, I'm good...LOL...

Here is a pic emphasizing what I am suggestion:




In short then, what do you think about framing the area I've made a red box around, in a similar fashion to the frame you made around the loop & effect areas, which I have also circled? If it's a dumb idea, I'm good as it stands...LOL... I realize this is a skin for lots of users, not just me, and I've had dumb ideas before :)

---
Posted Wed 13 Feb 13 @ 11:58 am

Hmm, doesnt look bad at all :)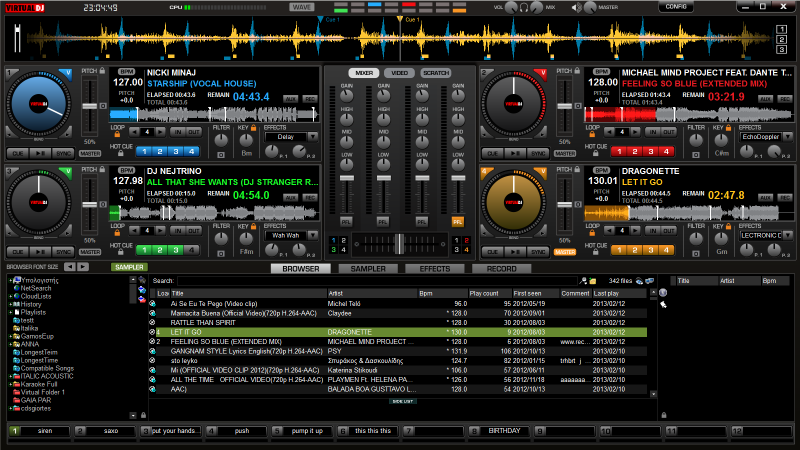 ---
Posted Wed 13 Feb 13 @ 3:05 pm

Gain values on mixer



---
Posted Wed 13 Feb 13 @ 4:38 pm

The Scratch panel will show all 4 decks, and the decks that are not left or right will be faded.
I removed Timecode actions. Beatlock will be a rightclick action on SYNC (decks)
Gain values present.
The Scratch panel will also have both deck orders available (1234 & 3124) like the mixer, with rightclick on the SCRATCH panel button



---
Posted Wed 13 Feb 13 @ 6:45 pm