Forum: Old versions


For older version, like VirtualDJ 7.
---


NOTE: VirtualDJ 7 is not maintained anymore.
Topic: OS X Lion & VirtualDJ - Page: 1
This part of topic is old and might contain outdated or incorrect information

OS X Lion coming in July to the Mac App Store. I wonder how well does It run with VirtualDJ Pro 7 Mac. I wonder If there are improvements In the video department for third party apps.


http://www.apple.com/macosx/
---
Posted Tue 07 Jun 11 @ 12:04 am

We tested the developer preview version number 2. Number 4 came out yesterday we had no issues with number 2 number 4 is currently in testing.



---
Posted Tue 07 Jun 11 @ 7:28 am

Thank you for the update. I hope that we will see some more improvements from both VirtualDJ Pro Mac and Apple In running videos more lean on the Mac machines.
---
Posted Wed 08 Jun 11 @ 9:07 am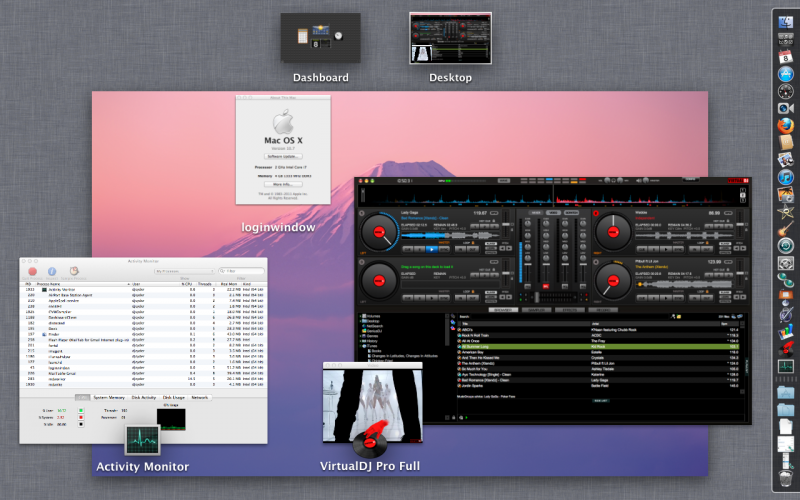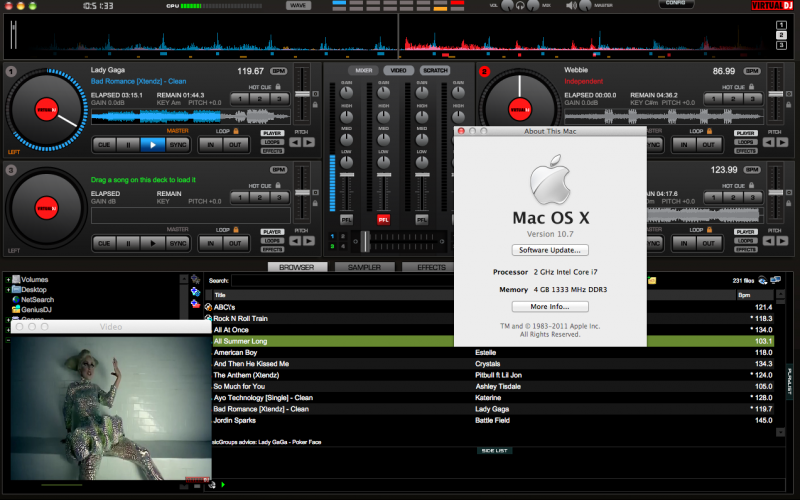 Couple of screen shots from my early testing with Lion and Virtualdj
---
Posted Wed 08 Jun 11 @ 9:55 am

Works for me. Just installed it and it seem to be working alright (DP4). Why did they have to reverse the scrolling ?
---
Posted Sat 11 Jun 11 @ 11:16 am

you can change that in the track pad settings, just uncheck that in the top box. They did it to make it more like ios. Were running d4 and having no issues either.
---
Posted Sun 12 Jun 11 @ 12:39 pm

Hi,

I was just about to install Mac OSX so... do you recommend me to install it, or wait till you make it official that VDJ works fine on OSX?
---
Posted Mon 11 Jul 11 @ 11:49 am

Cyder,

whats the update on VDJ's performance. If i'm not mistaken, devs should have the GM, correct?
---
Posted Mon 11 Jul 11 @ 7:51 pm

We have the Gm which you guys will get very soon. In our testing we didn't find any major problems with VDJ.
---
Posted Tue 12 Jul 11 @ 11:11 am

So are there any problems? You mentioned no major problems. Any minor problems we should be expecting?
---
Posted Tue 19 Jul 11 @ 7:43 pm

I'm told lion releases Wednesday July 20th at 8:30 am eastern time!!!
---
Posted Tue 19 Jul 11 @ 7:50 pm

Lion is nice but I think there is room for improvement, Apple still doesn't have a hardware acceleration we can use for video, however this i7 has no problems in my testing. The core audio part is still buggy even in the golden master, however the way i've been testing it 99% of you guys won't be aggregating 5 sounds cards together anytime soon. Also there is a strange bug in wifi when you wake from sleep. I'm sure they will be fixed before the release. I'd be shocked if it comes out tomorrow.
---
Posted Tue 19 Jul 11 @ 10:23 pm

So better, same or worse than Snow Leopard for vdj?
---
Posted Wed 20 Jul 11 @ 7:53 am

So its out today! anyone brave enough to test?

---
Posted Wed 20 Jul 11 @ 12:09 pm

been testing for months...good to go
---
Posted Wed 20 Jul 11 @ 4:43 pm

Nice. Thanks Cyder.
---
Posted Wed 20 Jul 11 @ 4:49 pm

I have to note one thing here guys. When we say we are compatible we mean our software works with Lion. However some hardware may not so be sure and check with the respective hardware manufactures for updates there.


---
Posted Thu 21 Jul 11 @ 12:28 pm

I just finally Installed the Lion on a backup drive for my Macbook. My gig drive will stay Intact for a bit. I am not stubborn like I used to be. I now keep many backups on a backup system.

I am about to try OS X Lion now with My two Denon DN-S1200s and Virtual DJ and see how they do together.
---
Posted Thu 21 Jul 11 @ 7:32 pm