Add-On
Downloads this month: 2 091
Total downloads : 29 308
Rating: 4.3

My Library - the essential music collection tool for your VirtualDJ 8 database, with smart folders to quickly locate tracks in your collection by different parameters, as well as tools for managing files in database.
Date added: Sat 31 May 14 @ 4:10 pm
Last update: Sun 12 Aug 18 @ 12:07 am
1
Comments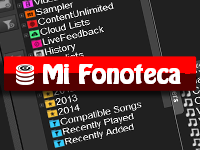 LE&PLUS&PRO
Downloads this month: 127
Total downloads : 1 379
Rating: 4.4

Es la versión en Español de "My Library". Es una herramienta esencial para manjear tu colección musical en VirtualDJ 8, con filtros y ordenamientos inteligentes para localizar rápidamente tus tracks en tu fonoteca!.
Date added: Wed 05 Oct 16 @ 12:49 pm
Last update: Fri 15 Jun 18 @ 8:37 pm
1.2
Comments