Hardware Manuals
PADS - LOOPS
Hold
SHIFT
down and then press the
PAD FX1
mode button to set the PADs to Loop mode.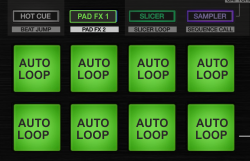 Loop mode – Pioneer DDJ-RR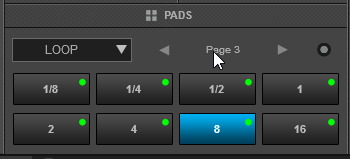 Loop Pads page – VirtualDJ GUI
Press one of the pads to
trigger an Auto Loop
of a different size in beats, depending on the selected page. There are 6 different pages available with sizes starting from 1/32 up to 128 beats.
Use the
PARAMETER
buttons to
select
the previous/next
page
with the desired Loop sizes
Hold
SHIFT
and then use the PARAMETER buttons to change the behavior of the Loop pads, by selecting the
On/Off
(toggle),
Hold
(momentary – while pad is pressed) or the
Roll
mode (track will resume to the position it would have been once the pad is released)
Read further details about Pads in the
VirtualDJ 8 manual
Slicer