Hardware Manuals
OTHER SETTINGS
The DDJ-400 offers a few additional settings to choose/set from a special DDJ400-SETTINGS Pads page, which can be selected from any Deck, only when the DDJ-400 is connected.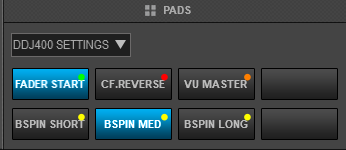 FADER START Use Pad 1 to enable/disable Fader Start/Stop mode (default is off). When enabled, hold SHIFT and then use Crossfader and/or Volume faders to start/stop the decks when the faders move from the minimum position to a higher one (or vice versa)


CF REVERSE. Use Pad 2 to enable/disable Reversed Crossfader (default is off). When enabled, the crossfader will blend audio in reverse (Right decks at the left position, left decks at the right position)


VU MASTER. Use Pad 3 to select what the VU Meters on the DDJ-400 will show. When disabled (default), the VU meters will indicate the output level of the Master Output (in Stereo Left/Right). When enabled, the left series of the Vu meter leds will indicate the pre-fader audio signal level of the Left assigned deck and the right series of the VU meter leds will indicate the pre-fader output level of the Right assigned deck.


BACKSPIN LEN Use Pads 5,6 and 7 to select the length of the Backspin performed from jogwheel and jog-touch is released.

---
For further Technical features and specifications, visit
Pioneer DDJ-400

Product's Page
---

Hardware Integration Department
2018 - ATOMIX PRODUCTIONS
Reproduction of this manual in full or in part without written permission from Atomix Productions is prohibited.