Forum: Old versions


For older version, like VirtualDJ 7.
---


NOTE: VirtualDJ 7 is not maintained anymore.
This topic is old and might contain outdated or incorrect information.

I get this error everytime I try to run vdj. What causes it and how do I get rid of it?

here is the screenshot: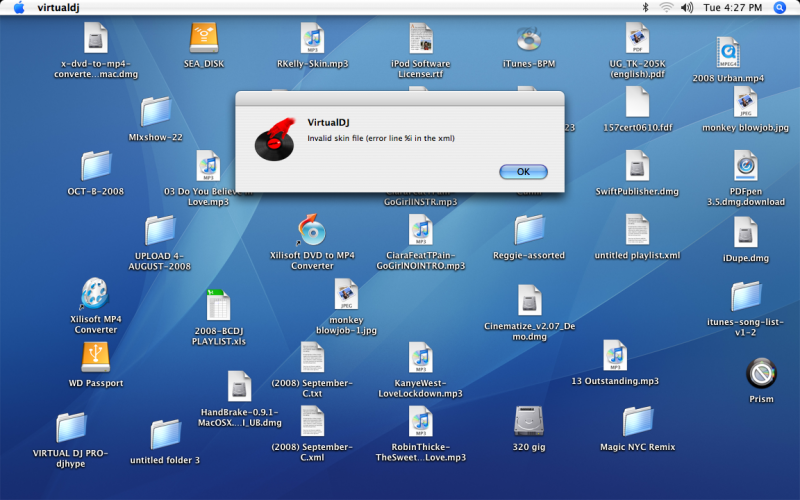 ---
Posted Tue 11 Nov 08 @ 3:33 pm

It's because VirtualDJ can not find the default skin file.

Recommend you re-download the installer from the Download Center and re-install.
---
Posted Tue 11 Nov 08 @ 3:54 pm

I have this issue as well reinstalling does not work.

---
Posted Fri 14 Nov 08 @ 7:31 am

thehumangerm wrote :

I have this issue as well reinstalling does not work.




Hi, prior to reinstalling, it is best to delete ur preferences files first.
---
Posted Fri 14 Nov 08 @ 10:05 am

Please provide a list of all the skin .zip files that are in your Documents/VirtualDJ/Skins folder ...
---
Posted Fri 14 Nov 08 @ 5:26 pm

Mine is doing the same exact thing. Didn't at first but I recently bought the "new" MacBook and when I do a clean install and attempt to run the dmz file VirtualDJ gives me the "error line %i in xml." Even if I completely delete the skins folder and do another install it won't work.

There really wasn't much in my preference folder that pertained to virtualdj. Just a plist that was dated today, due to reinstalling.

The following files are in my skins folder:

mixlabv3.1
vmix5.4
virtualdj_mac
virtualdj5
virtualdj

As mentioned, when I delete the folder entirely and click "virtualdj" it gives the same error (even with no skins.)

Any input would be splendid....

Thanks,

Jason G


---
Posted Sat 15 Nov 08 @ 8:42 pm

permissions....


set the vdj folder to read & write then reinstall...
---
Posted Sat 15 Nov 08 @ 11:11 pm

Delete all of the files listed below before install. Have your serial handy it will ask for it again. Make sure you have the current 5.2.1 installer as well. If you are a licensed user you can find this file on this site. THis will remove all of your changed settings so you will have to re-setup all of your preferences.

/library/receipts/virtualdj.pkg
/library/prefrences/com.automixproductions.virtualdj.plist
/applications/virtualdj.app

Or I suggest you pick up a app uninstall software there are freeware ones out there I recommend AppCleaner. This is how I found these files. This solved all current issues with skin errors I had. They neglected to tell you there are a files in multiple places.

Hope this helps.
Let us know if it worked for the others with this issue.
---
Posted Sun 16 Nov 08 @ 5:27 pm

the key is that you deleted the plist - which is what was suggested above. The plist file is the configuration file for the application.


---
Posted Sun 16 Nov 08 @ 6:25 pm

Yes Thank you. I'm novice on the mac side but yes indeed it was the p.list file.

Thanks for the help.



---
Posted Thu 27 Nov 08 @ 3:44 pm

I am having this problem and have deleted everything on my computer that has anything to do with vdj. I can not find any of the files that people were having problems with. I am still getting this message after installing. Any more suggestions?
---
Posted Tue 20 Sep 11 @ 9:21 pm

Guys, i went through all the steps prescribed and still get the same message on my laptops...while not on my iMac where its seems to be working
---
Posted Sat 31 Dec 11 @ 8:19 am

Hey all, I am having the same problem and doing everything that is said in here. Even downloaded app cleaner.

Nothing is working and still same issue.

Please anyone have any solution!!


---
Posted Mon 02 Jan 12 @ 10:29 pm

I have the same problem, i have deleted all files with appcleaner and manual, then i re-installed the lastest virtual dj...and the problem persist. i followed the instruction for cleaner and reinstall and dont work. i don´t know what is the problem. Help.
Thanks.
---
Posted Fri 06 Jan 12 @ 6:00 am

Thanks!!!! Works!! !I've solved the problem and everything works 100%. The problem is you have to find the Library folder, But is hidden. In the top menu of the finder, if you click on GO and hold down the ALT key appears, look for it there, you have to delete the folder VirtualDJ. In the Preferences folder you have to delete a file called com.atomix .......... to. Then you have to delete all the icons, application, and VirtualDJ folder created in Documents. When no VirtualDJ files on the computer ... reboots. And then reinstall from the page of virtualdj. Works! Thanks
---
Posted Fri 06 Jan 12 @ 1:20 pm

Sometime it shows Error . Also the sync don't work..

And the skin of Virtualdj Home is very old.

What to do please suggest...
---
Posted Sat 06 Apr 13 @ 11:54 am

i did all that registered my key and still ow something pops up even to fast to read ;(

---
Posted Fri 07 Jun 13 @ 5:06 pm
(Old topics and forums are automatically closed)