Forum: VirtualDJ Technical Support
Topic: need to find songs from one genre out of my entire collection
i suddenly got a gig, and they want me to play 90s hip hop. which i have tons of. i used to know of a way to just click or search on vdj for "rap" and most of the hiphop would come to the screen in one big list

i have 70 folders. each with 500 tunes. mostly house and techno. but some hiphop.

i know i can make my own "rap" folder. but there much be an easy way to just pull up one genre on my screen?
---
Posted Thu 12 May 22 @ 6:01 pm
Filterordner, nehme ich auch dafür.
So z.B. für "Eurodance" s. Foto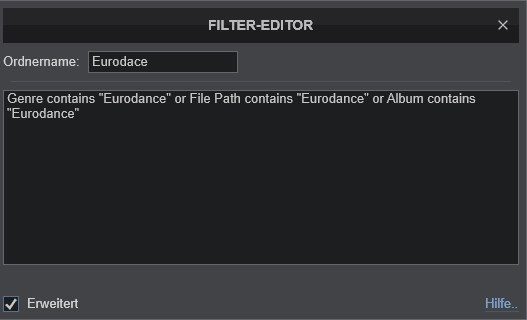 ---
Posted Fri 13 May 22 @ 11:49 am
---
Posted Fri 13 May 22 @ 12:13 pm