Forum: General Discussion


About VirtualDJ and DJing in general

---
If you need extended support, contact our Support Team.
Forum Guidelines  (*) The moderators hold the rights to move or modify posts in order to keep the discussions clear or to facilitate the search.
Topic: How do I add a song to mix with start and end points

Hi. I'm a basic user. Virtual DJ is awesome, but seems a little complex for me. Basically, I want to add another song to an existing playlist. But I want all of the existing songs, plus the new one, to start and stop where I want. I don't want all of the intro and outro stuff in my songs. Thank you.
---
Posted Wed 17 Oct 18 @ 5:04 pm

Change the automix type. Click on the small dot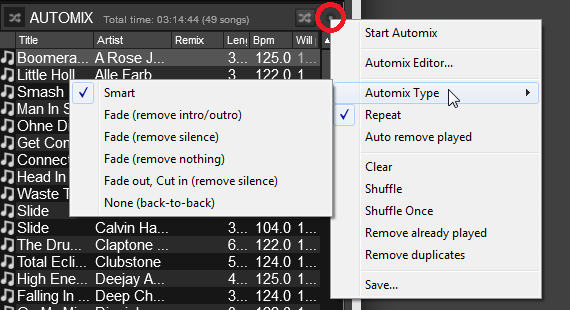 ---
Posted Thu 18 Oct 18 @ 9:22 am