Forum: General Discussion


About VirtualDJ and DJing in general

---
If you need extended support, contact our Support Team.
Forum Guidelines  (*) The moderators hold the rights to move or modify posts in order to keep the discussions clear or to facilitate the search.
Topic: how to custom map loops like old controller

So, Ive been using a Numark Mixtrack 3 for a few years now and I have the controller down to a tee. When I press the out key, the track starts looping from the beginning of the song. I have just upgraded to a Pioneer SB2 controller and when I attempt to do the same thing in both manual, and auto loop mode, I cannot achieve the same result. It starts the loop from the time I press the button rather than from the beginning of the track. Maybe I do not truly understand looping since I pretty much taught myself a simple way to connect songs by looping the beginning of the song by pressing the out key, but is there a way to do this on my new controller? Creating cues at the beginning of the songs seems to work, but once again, I cannot loop that once it starts playing from the cue point. I'm attempting to automatically have it start at the beginning of the track and loop either 16 or 32 beats. Help?
---
Posted Tue 05 Dec 17 @ 9:26 am

djlooseone wrote :

So, Ive been using a Numark Mixtrack 3 for a few years now and I have the controller down to a tee. When I press the out key, the track starts looping from the beginning of the song. I have just upgraded to a Pioneer SB2 controller and when I attempt to do the same thing in both manual, and auto loop mode, I cannot achieve the same result. It starts the loop from the time I press the button rather than from the beginning of the track. Maybe I do not truly understand looping since I pretty much taught myself a simple way to connect songs by looping the beginning of the song by pressing the out key, but is there a way to do this on my new controller? Creating cues at the beginning of the songs seems to work, but once again, I cannot loop that once it starts playing from the cue point. I'm attempting to automatically have it start at the beginning of the track and loop either 16 or 32 beats. Help?



You can actually see in the controller mappings what your old controller used to do: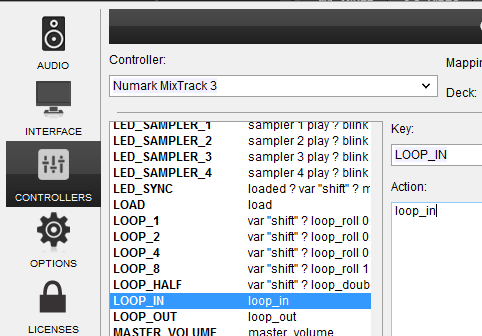 It says the the 2 loop buttons are simply mapped as:
loop_in
and
loop_out

So that's how your old controller worked

This does however not always start from the start of the track if you click loop_out instead of loop in. It instead start from where you hit play to start the track, which may be from the cue point

I've illustreted it in this example, where I map 2 custom buttons to loop_in and loop_out, and then only use loop_out, both from the beginning of the track and from a hot cue

---
Posted Tue 05 Dec 17 @ 11:45 am