Forum: VirtualDJ Plugins


Questions about plugins development, talks with other developers etc
Topic: Milkdrop and EQ10 Issue

Hi,

does anybody have this problem, setting the EQ GUI ,changes the Milkdrop GUI setting and viceversa
i had reinstalled, but the problem stills

Thank You

GK


---
Posted Mon 13 Nov 17 @ 7:34 pm

Hi,

I'm having the exact same problem.
Searched the forum. Looked at the comments at EQ10 and Milkdrop.
Did a complete new reinstall of VirtualDJ 8.2 and the plugins.
Did a installation of a earlier version of VirtualDJ.
Non of that helped.
Have no idea what causes it, VirtualDJ or one of the plugins.

Suggestions are welcome.
---
Posted Mon 13 Nov 17 @ 9:59 pm

Hi Don,

Thanks for the link.
However is this not the solution for me, since I use the default skin.
Until a week ago all worked fine.
I am installing new plugins, but that should be a problem.
The other thing was that there was a major update of Windows 10 Home 64bit from Microsoft. After this update I had to reinstall/update several drivers.

Thx.

---
Posted Tue 14 Nov 17 @ 11:06 am

The skin of the main VDJ does not matter, It happens when 2 or more plugins are displaying their user interface, There are 3 ways for a plugin to display it's user interface. One is the use the default VDJ display. Another is the plugin can design a custom skin user interface. The bug does not occur if the plugins are using the default VDJ display. (the plugin default display). The main skin does does not seem to have anything to do with it. When 2 or more plugins are using a custom interface and are being displayed, then that is when it goes hay wire.

There was no solution offered at the other link.

That's the way it happened for me when I reported the problem and have not tested it again since.
---
Posted Tue 14 Nov 17 @ 2:08 pm

By the way, the image you are showing is exactly the case I am describing. Plugins that use a custom user interface tend to be a little bit fancier. The plugin default user interface is plain, like that used in SlideShow and some others. Bug does not occur with plugin default user interface. Bug does occur when 2 or more plugins are using a custom user interface and are being shown. Just like in the above image.
---
Posted Tue 14 Nov 17 @ 5:22 pm

Looks like I missed the earlier report.
Will be fixed in next update.
---
Posted Tue 14 Nov 17 @ 6:32 pm

Thanks, Don Moir,
Thanks Adion

GK


---
Posted Tue 14 Nov 17 @ 7:53 pm

Thanks all.
---
Posted Tue 14 Nov 17 @ 8:13 pm

Thank VDJ Team, on the new build , problem solved.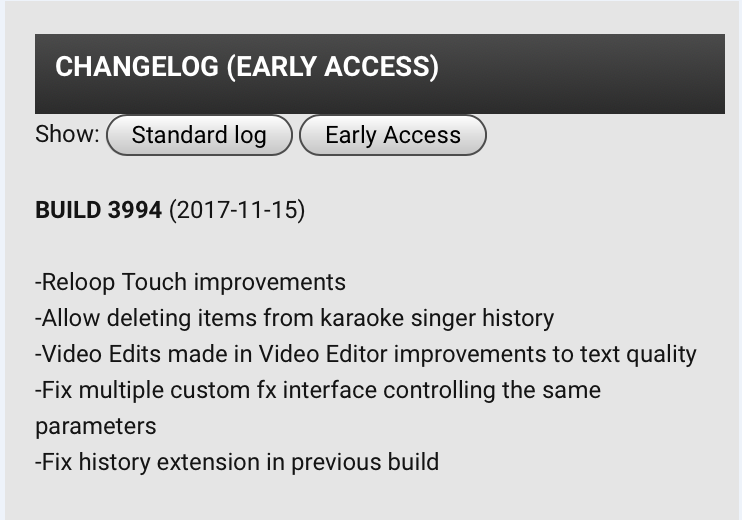 ---
Posted Wed 15 Nov 17 @ 9:06 pm

I'll check it out. Thanks!
---
Posted Wed 15 Nov 17 @ 11:42 pm