Forum: Wishes and new features


Features you would like to see in VirtualDJ
Topic: [Remote 8] Wishes and new features - Page: 4

I've read everything there is for VNC just don't know how to do what. Do I setup my PC at home and then use my PC at my gig? It's a field in computer networking that I never looked into. The reason for doing this would be to be able to control it on a longer distance where wifi doesn't reach. (Big Venues). I don't think the latency would be that bad... As long as the connection is fast.
---
Posted Mon 20 Feb 17 @ 2:50 pm

If you want a simple setup and remote control solution then TeamViewer is very good.
---
Posted Mon 20 Feb 17 @ 4:04 pm

I already have TeamViewer.. I'm interested in using the remote app. Before it came out, I was already using TeamViewer. I like the remote a lot better as you're able to see the decks better than TeamViewer.
---
Posted Mon 20 Feb 17 @ 4:17 pm

Hello,

I downloaded the remote app for my Android Smartphone (because I used Windows Mobile before).
The app Looks nice for the first Moment. It works very good and fast. So you do a good Job.

But I want to use this app also for changing Songs in the Playlist in automix mode.
The Folder sections Looks not integrated, it had another look like the other sides of the app.

So I wish some changes for this app:

- Change the look of the files side like in the same gray then the other sides
- add 2 Buttons to move the selected song up and down (browser_move +1 / browser_move -1)
- add one button to delete the selected file (browser_remove)

I make a screenshot of my Smartphone in the app and use paint to show you how it can look like: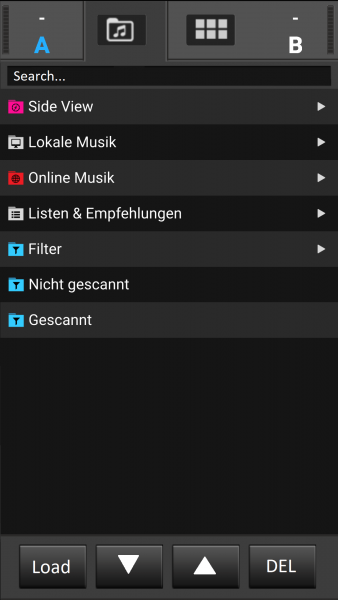 I hope you can add this Feature to the remote app.
If this is not possible, with wich program i can add this funktions?

Best regards from Germany
Kevin
---
Posted Sat 24 Jun 17 @ 2:50 pm

You can already access the folders from the app - when you first open the browser there is a help image showing you how. Essentially swipe left/right to move between the folder view and file view.
---
Posted Thu 29 Jun 17 @ 8:17 am

Yes, I know how to change Folders and to load tracks on deck A or B.

But I want to change the order of the tracks in the Playlist. I think the Picture is not right... it must be with songs like this Picture: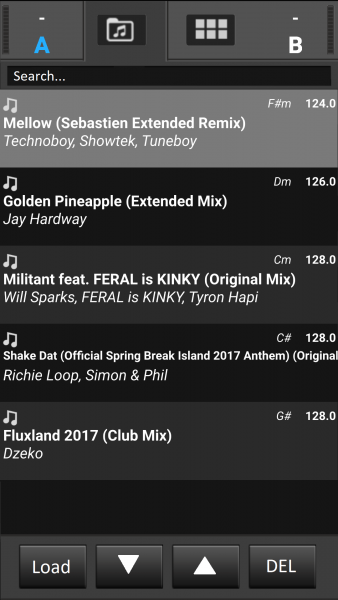 There I need buttons to change the order of the tracks and a delete button to delete one track.

You know what I mean?
---
Posted Sun 02 Jul 17 @ 11:51 am

worst part of it is that, if there are more than 10 songs in your playlist or side list you can't scroll to see past those 10 songs.

An issue that still remains .......
---
Posted Mon 03 Jul 17 @ 6:02 pm

Are some Infos here for new Features in the Remote8 app?
What about "add song next at Playlist" or Change the song order in the Playlist?

The Problem with more than 10 Songs in the Playlist or the side list I can't see? It works fine with 20 or 30 Songs in both lists...
I use the Android Version of Remote8 app on a BQ Aquaris X Pro... no Problems!
---
Posted Sun 13 Aug 17 @ 10:16 am

I like to have headphones support in the remote app,
listen the second audio in the remote app via headphones
---
Posted Sun 15 Oct 17 @ 1:33 am

I am currently using Remote on an iPad mini and interested in the new Reloop Touch. In doing my research, I noted both the iPad mini and Reloop Touch had about a seven inch screen, so I thought it would be great to have a skin for remote that replicated the touchscreen portion of the Reloop Touch. From the images at http://www.reloop.com/reloop-touch, it seems to be exactly what I would want in the Remote app. Thanks for your great products!
---
Posted Wed 15 Nov 17 @ 1:19 pm

You can download other Skins for Remote :
http://www.virtualdj.com/plugins/index.html?search=Remote

Iself have not test this, at the Moment i use the Remote App on a Galaxy S5 for my Toshiba Notebook and Asus Netbook.

With my Galaxy Tab 3 will Tests IT later.

Other Tip:
Iself use A HP Stream 7" Win Tablet with install of VDJ 7.4.7 Pro Full and VDJ 8 Pro Infinity Software to Work with my AA VMS 2.
That is nice Too for Backup Equipment.
Man There give A Reloop Touch Skin in Download section for use with VDJ 8 Software.

Greatings,Dirk
---
Posted Thu 08 Feb 18 @ 2:44 pm

GonzaloJ-69 wrote :

I like to have headphones support in the remote app,
listen the second audio in the remote app via headphones



this would help a lot i think.
---
Posted Sun 22 Apr 18 @ 8:19 pm

I'd like to request an enhancement to the Ask the DJ function.
Have some kind of notification if I don't have the folder open that a new request came in. Maybe on the folder show a bubble like on phone apps or something, not sure what would work best. Also allow this feature to be turned on or off
---
Posted Sun 29 Jul 18 @ 8:15 pm

I think I can do ^that^
---
Posted Mon 30 Jul 18 @ 5:19 am