Forum: VirtualDJ Skins


About skins, skin development and communicate with other skin developers.
Topic: [NEW] "Virtually Pioneer" (Pioneer / XDJ-RX skin) - Page: 2
This part of topic is old and might contain outdated or incorrect information

Doh! How did I miss that? Back soon.....
---
Posted Thu 25 Jun 15 @ 2:05 am

Songpos cues now included, and you can turn off colorFX by right clicking FX button.






Now to work on some panels. MASTER, EQ CROSSFADER and OPTIONS I think..... and some custom buttons on the XDJ shell for user tweaking :-)
---
Posted Thu 25 Jun 15 @ 8:28 am

Oh sorry i post in the wrong toppic.
Ok is a Little better now , but Tooltipps nor say (Tooltip here) not the Funktion from the Bottons.
Ok and I hve seen that the Master Button not for select the Deck as Masterdeck , this is only for select Deck as workdeck.
No my mapping is ok , Funktion with all Skins , but when I drop the Sync there is nothing by your Skin .
Wich Funktion has the big Yellow Button under the Beateffects?
I post my massage in the real Topic now.
Greatings Dani
And thats Nevertheless a good work. ;-)
---
Posted Fri 26 Jun 15 @ 7:18 am

I will investigate the master deck and sync issues further. Tooltips will be updated soon (doing them as we speak!).
The big yellow button under the Beat FX panel is to activate / inactivate the currently selected BeatFX on the currently selected channel. The Beat FX only allows one effect at a time per channel, but you can have an effect on left, right and master all at once. You can also apply Beat FX in addition to and Coror FX you have applied.
---
Posted Fri 26 Jun 15 @ 9:50 am

Ok Thank you Friend :-)
---
Posted Fri 26 Jun 15 @ 11:49 am

hahaha.. DOH! I just love the RX what can I say :D
---
Posted Fri 26 Jun 15 @ 5:16 pm

More upgrading going on... following requests for panels I have created two panel areas with navigation at the center. The top panel has the option of masters, video preview and three wave types.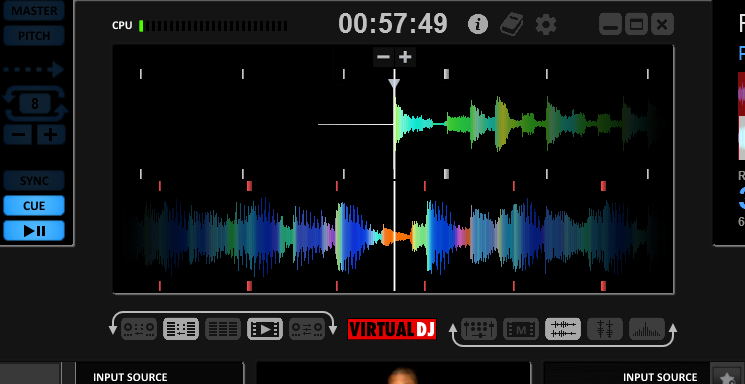 ---
Posted Sun 28 Jun 15 @ 7:04 pm

Version 1.3 has been submitted....... enjoy!
---
Posted Mon 29 Jun 15 @ 10:52 am

Your "Play/Pause" is not Play Pause. Also can you add the ability to click on the vid preview window on the deck to auto transition the video to that deck??
---
Posted Thu 02 Jul 15 @ 9:13 pm

Hi Brian. The play/pause function of the button is set in the configuration page: Options>Options>playMode. This needs to be set to play-pause not play-stutter.

The other feature you request sounds very useful. I will incorporate it into my next update.....although there IS another update already pending which adds a lot more functionality with more panels and video options.
---
Posted Fri 03 Jul 15 @ 5:59 am

Rhythm waveform now an option alongside horizontal and vertical scratch waves :-)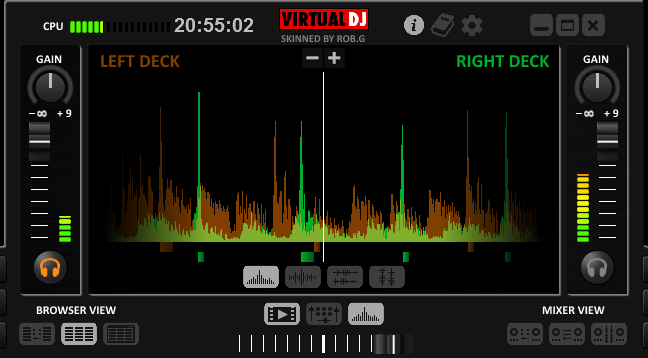 ---
Posted Sun 05 Jul 15 @ 2:59 pm

I think another update is on the cards... added loads of new stuff!

a) All 4 wave panel views work: default, mirror, horizontal scratch, vertical scratch.
b) Added 12 custom buttons.
c) Added Virtual DJ style FX for master and decks
d) Added mixer features to top panel so it can be used with full browser on
e) Added a settings/option panel

still in the planning stages are a main mixer section featuring crossfaders for low, mid and high; kill buttons and an option to use the crossfaders to control FX parameters..
..and a main mixer with large vertical scratch waves integrated.... the grass needs cutting though :-/



---
Posted Wed 08 Jul 15 @ 7:37 pm

Great job! Skin looks and performs amazingly!
---
Posted Wed 08 Jul 15 @ 8:59 pm

Thank you :-) it's improving all the time, version 1.4 is currently 'pending review' so you should be able to try out the new options soon.
---
Posted Thu 09 Jul 15 @ 6:14 am

Moving on..... we now have 16 beat phrase graphics on the top shell and round the center of the decks. The phrase graphic on the top can be hidden in the settings panel.

Also added for ease of synchronising the phrases is the '+' and '-' by the play-pause button. Click to jump forward/backward 1 bar, and right click to jump forward/backward 1 beat.
This navigation also works on the decks 'search' buttons....Thank you to DJdad for the help with the phrase code!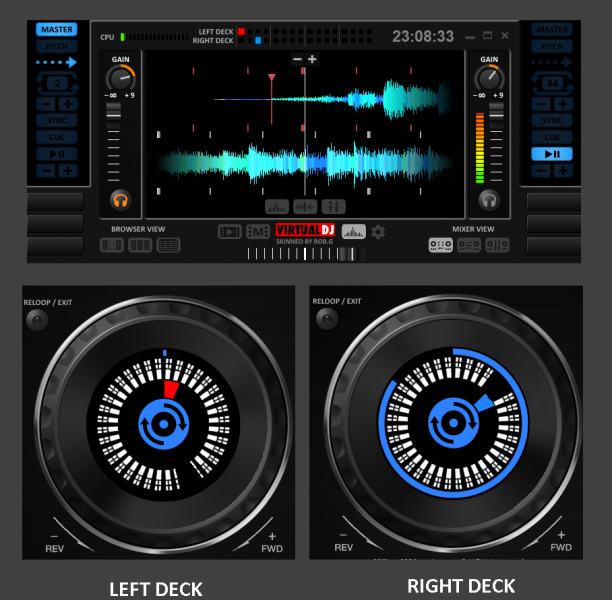 ---
Posted Tue 14 Jul 15 @ 5:23 pm

enjoying the skin, any chance you will be adding different controller in, as i use a pioneer ddj sx2 and was hoping we could have a setting to change the 4 pads at the bottom to 8?
Thanks.
---
Posted Wed 15 Jul 15 @ 7:21 am

Ah but looking at the layout and position of each element, how would you get those extra four pads in? :-)

Assuming you'd want them the same size, it'd mean moving the buttons above the pads up - which means moving the entire jog wheel up - which means it would encroach on the video display area and the orange loop buttons would need to move.

That's OK if you don't use video, but it's still a lot of moving around.


---
Posted Wed 15 Jul 15 @ 8:05 am

I am not going to change the layout because it is based on the RX.... however 8 pads should be standard and I'm looking at options to display various decks/platters/mixers once the skin is finished properly. Users could then choose to change between them without leaving the skin, depending on their requirements at the time.

Hope this helps!
---
Posted Wed 15 Jul 15 @ 10:10 am