Forum: VirtualDJ Skins


About skins, skin development and communicate with other skin developers.
Topic: MixLab 3.1 skin updated for VDJ 8 - Page: 1
This part of topic is old and might contain outdated or incorrect information

Based on the popularity of this skin, I decided to update the XML code so that the skin would function in VDJ 8.

The main functions of the skin now work under VDJ 8. The resolution is still 1280 x 800.

Parts of the original skin were unfinished, and I have actually added functions to some of those.

Bear in mind that some operational aspects have changed in VDJ 8, so certain things which would've worked up to & inc. VDJ 7 are now redundant.

I have left these things in place because it's possible that the operation of VDJ 8 may be altered in future.

DJ Format has now granted me permission to upload the skin, and will post here to confirm.


---
Posted Fri 05 Sep 14 @ 6:40 am

Cool....
---
Posted Sat 06 Sep 14 @ 5:52 pm

groovindj wrote :

will post here to confirm.





....hopefully at some point in the not too distant future!


---
Posted Tue 09 Sep 14 @ 6:12 am

Hi guys hope you all doing well.
This is to give permission to the creator of this post to adapt one of my skins. Like to thank him for keeping mix lab 3.1 a life.

Keep Virtual DJ alive Keep up the great work Skinners
---
Posted Fri 12 Sep 14 @ 12:00 pm

Your skin is probably one of the most popular ever.

Good to see you around Matt

Keith
---
Posted Fri 12 Sep 14 @ 1:28 pm

Nice to see you.
Mixlab was one reason for me to start skinning ;o)
---
Posted Fri 12 Sep 14 @ 7:14 pm

I am always in the background i will ever give up on this site. This place is part of my family And changed my life in many ways. But unfortunately I worked extremely long hours and had very little time to work on skins It's great to see that people are still trying to keep my work A life.
---
Posted Sat 13 Sep 14 @ 7:33 am

Now uploaded and awaiting approval.

Staff please note that it uploaded before I had the chance to add the link to this thread (fingers slipped). Please add the link for me. :-)
---
Posted Tue 16 Sep 14 @ 5:09 am

good work
---
Posted Tue 16 Sep 14 @ 1:49 pm

This what i get when i maximize the skin at 1920x1080 screen. Something is wrong there with the resize.
Can you check ?

I think you have to get rid of the elements on the right side of the browser, as those dont let the browser (skin) to get resized properly.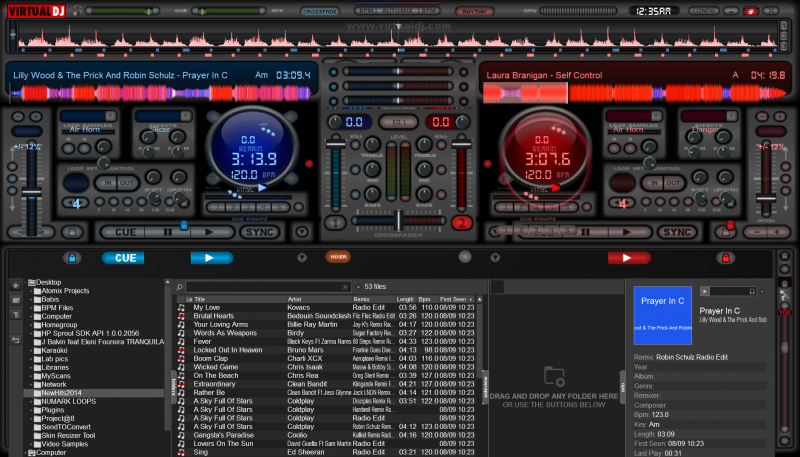 ---
Posted Thu 18 Sep 14 @ 4:37 pm

Yes I know about this. I had the same problem.

However, the skin is only 1280 x 800 (not widescreen) and works fine at that resolution in VDJ 8 or when it's dragged to resize, so IMO the flaw is with VDJ 8 not the skin.

If there was a way to force skins to run only at their intended resolution then I would have done it.
---
Posted Thu 18 Sep 14 @ 5:09 pm

No, there is no way to force a resolution or a ration. This is exactly the point, version 8 can use any kind of resolution and ratio and projects the skin at the best way , resizing the browser.
We cant really approve a skin that doesnt look properly on all screens.

I just made a quick edit.. instead of 2 breaklines, have only ..
breakline="435"
I am sure it will work that way. give it a try and update your upload.
---
Posted Thu 18 Sep 14 @ 8:09 pm

Done!
---
Posted Fri 19 Sep 14 @ 5:15 am

Size of VDJ-Logo must be changed. On Mac (1440/900 pix) I got this:





Greets
Music234
---
Posted Sat 20 Sep 14 @ 11:30 am

Possibly because there's no specific os="mac" instruction in the XML for Mac logo size, only os="pc".

Perhaps because VDJ does not see the Mac instruction, it shows the logo at a set size instead of using the size stated for PC.

I can certainly add the os="mac" part if it will fix the issue.

You could also try adding it yourself. Just copy the logo code for PC and change the os= part.
---
Posted Sat 20 Sep 14 @ 11:52 am

The logo needs to be a certain size, as you know. But this changes dependant on screen resolution.

Basically so you can have a good sized logo on all resolutions rather than a tiny one or an extremely large.
IF you look at TaylaMade then you will see that the size I used is a happy medium for most resolutions.

If the resolution does not meet the requirement then you will get a default one which is usually too big.
---
Posted Sun 21 Sep 14 @ 1:24 pm

UPDATE

I have just uploaded version 1.2 which now contains the os= code for PC and Mac.

Also modified is the large waveform display which was broken on Mac ( <rhythm> code didn't display properly but was fine on PC ).

So both the rhythm waves and the logo should now be OK on Macs. Mac owners please confirm.

Thanks
---
Posted Tue 07 Oct 14 @ 5:42 am

Nice job Groovin!! Is there a way to make the video windows transition the video, would make it awesome for touch screen users to simply touch the vid previews to transition??
---
Posted Sat 11 Oct 14 @ 6:00 pm

Could well be possible. Maybe one of the more experienced skinners could confirm?
---
Posted Sat 11 Oct 14 @ 6:24 pm