Forum: Old versions


Use this forum if you are still using an old version like VirtualDJ 7.
---


NOTE: VirtualDJ 7 is not maintained anymore.
Topic: Numark NS6 - Page: 1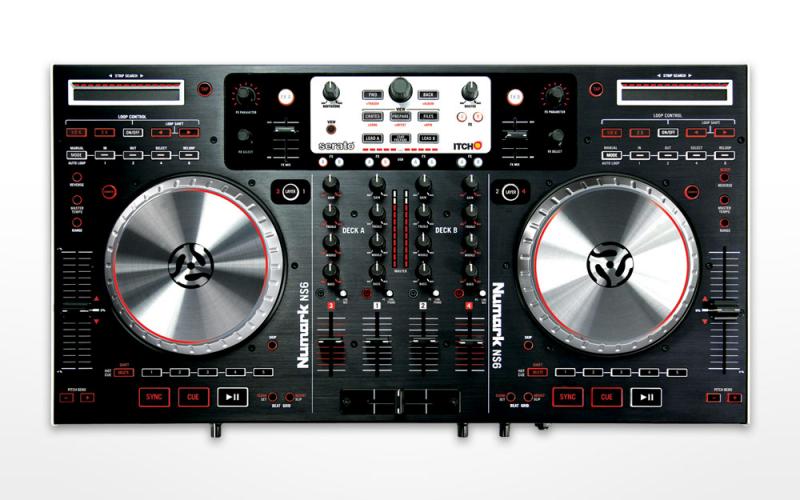 AVAILABLE NOW - Download the VirtualDJ supporting files for use with the NUMARK NS6

RECOMMENDED SKIN - VirtualDJ 4 deck skin with mixer section of deck order 3L-2L-1R-4R

NS6 is a 4-channel controller & mixer, that also works as a standalone mixer. Dual-platter, with high-resolution touch-activated jogs. Built-in 24-bit audio interface, inputs for line, turntables, microphones etc.

See what all the hype is about at -- http://numarkns6.com/


---
Posted Tue 31 May 11 @ 5:32 pm

i downloaded it and have the ns6 hooked up but how do i assign that mapper to it?

---
Posted Wed 01 Jun 11 @ 5:17 pm

You downloaded the install file. Did you run it so the files install for you ? -- Need to do this with VirtualDJ closed. --
---
Posted Wed 01 Jun 11 @ 6:47 pm

yes it installed..... its an option.. But with ns6 plugged in the only option that comes up is midi mapper generic thing an wants me to make map.... also how do i setup the sound to work with ns6 soundcard?
---
Posted Wed 01 Jun 11 @ 9:35 pm

Did you install the itch software so the drivers are loaded for the unit ?
---
Posted Wed 01 Jun 11 @ 10:08 pm

yes
---
Posted Wed 01 Jun 11 @ 10:18 pm

Is this a Mac setup ?

Remove Itch all together and install just the drivers.

Drivers are available here - http://www.numarkns6.com/support



---
Posted Thu 02 Jun 11 @ 2:23 pm

my crossfaders & channels not working sound just comin out.
---
Posted Thu 02 Jun 11 @ 4:30 pm

cant get this ns6 2 act rite please dont make me use serato not my thing!
---
Posted Thu 02 Jun 11 @ 4:50 pm

i did everything u noted still the same results i guess serato it is thanks 4 the help..
---
Posted Fri 03 Jun 11 @ 12:37 am

Could you at least answer the questions posted ?

And do you have Itch running at the same time you try to run VirtualDJ? If so, you can't. Itch takes control of the controller and it will not be recognized by VirtualDJ.
---
Posted Fri 03 Jun 11 @ 1:57 pm

Ok, hopefully I'll have better luck than that user. And regardless, I'll be using VDJ or the unit will be returned, Itch is useless to me.
So... when this thing is unboxed, ( this time next week or sooner ) update to 7.04 & don't install the 4 deck Itch that I'm assuming comes with it or from the site?
Then follow instructions you've posted above... Windows 7 user btw.
---
Posted Fri 03 Jun 11 @ 3:57 pm

Yes.

And we have had over 600 downloads of the device mappings and I have only seen the posting by the people above having any 'issues??'

So, I would suspect they are very unique situations and the vast majority are having no problems at all.
---
Posted Fri 03 Jun 11 @ 6:24 pm

so i cant use both itch and vDJ on the same laptop (as in have both software installed not running at the same time.) with the ns6
---
Posted Tue 07 Jun 11 @ 1:07 pm

Got my Numark NS6 today and I having trouble with the main output coming out of the headphone jack.

I hit the headphone cue button on the NS6 but it does nothing. It doesn't turn the cue on or off.

What am I doing wrong?

All mappers are installed correctly.

Many thanks!

Scott
---
Posted Tue 07 Jun 11 @ 3:57 pm

Let me explain it better... the volume sliders control volume in the headphone. The headphone cue buttons do nothing.
---
Posted Tue 07 Jun 11 @ 4:21 pm

I also just unpacked a new NS6 and am having a problem with the sound. I can't seem to get the crossfader on the left deck to work. The right deck works great. Sound only comes out at all if I set the advanced config to "master", but it seems it should probably be "left deck channel 1&2, right deck channel 3&4" as in previous controllers/soundcards I've used. Can somebody with a working NS6 post the exact soundcard configuration? If it helps, I'm using a macbook pro with the latest OS updates, and the latest version of VDJ. I followed all the instructions listed above (driver install, mapper, etc).

Many Thanks!

Sara G.


---
Posted Tue 07 Jun 11 @ 7:02 pm

Un-boxed mine today, installed Itch, drivers from Numark & 7.04 and master volume & headphone volumes don't do anything in VDJ but obviously work in Itch. Through headphones I can hear music, but try to turn up master through powered speakers and its only noise.
I'm also not sure how to configure sound card, tried every way possible.


---
Posted Tue 07 Jun 11 @ 7:28 pm