VDJPedia
Last edit by jpboggis, VIP Member on Sat 19 Jun 10 @ 12:27 pm
Synq DMC.1000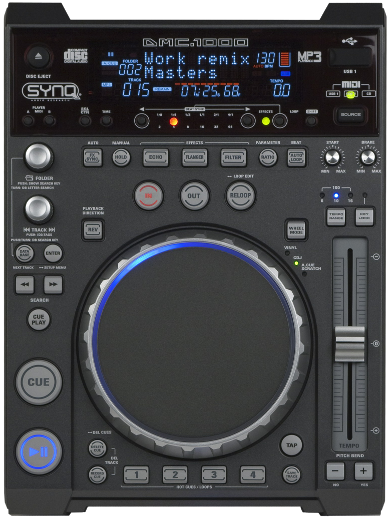 Description

This professional digital media controller will even satisfy the most demanding DJs! You can play and scratch music from different sources, including CDs (audio+MP3) and MP3 from FAT32 USB-drives. With its MIDI features the DMC.1000 can control VirtualDJ.

Manufacturer's website: http://www.beglec.com/#product=dmc-1000



Specification/features



USB-link: Simultaneous playback from one USB-drive on 2 decks!

Q-DBase system: Smart, fully featured database lookup system to find your tracks very easily, even on big hard disks!

Manual and beat synchronized loops with real-time loop edit and divide/extend functions.

For each track up to 4 cue points and seamless loops can be stored/recalled at any moment.

High precision scratch function and pitch bend, thanks to the touch-sensitive jog wheel.

2x 10 character alphanumeric VFD-display shows information, including ID3-tags & CD-text (CD & USB media only - Text display in MIDI mode may be supported in a future firmware update.)

Fully customizable setup menu for MIDI and other functions.

Pitch control (+/-6%, 10%, 16%, 100%) also on MP3.

Pitch lock (Master Tempo)

Reliable slot-in CD-mechanism.

Instant reverse playback.

Headphones output with adjustable volume (CD & USB media only.)

Relay play allows consecutive playback on two decks.

Fader start/stop (back cue), compatible with most professional DJ-brands.

S/PDIF digital audio RCA coaxial.


Dimensions: 296 (D) x 218 (W) x 103.5 (H) mm

Weight: 2.5kg



How to enable MIDI mode for use with VirtualDJ

To enable X-control for video crossfading with the Denon X500 or X900 mixer, you will need to do the following:



Connect each DCM.1000 to your computer.


Hold down the ENTER button on the DCM.1000 for 3 seconds to enter its setup menu.


Turn the FOLDER knob to choose B.MIDI Setup


Turn the TRACK knob to choose USB = LINK (This should be selected already.)


Turn the jogwheel to change it to USB = MIDI


Turn the FOLDER knob to choose G.Exit&Save


Press the TRACK knob to save.

How to put the DMC.1000 into MIDI mode


Hold down the SOURCE button on each DCM.1000 for 3 seconds.


Press the A button on the left player and B on the right player. If you only have one player, you can use these buttons to toggle between the two decks.


Press SOURCE to exit MIDI mode.

NOTE: If you do this with VitualDJ running (E.g: To play a CD) and then go back to MIDI mode again, you will need to go to CONFIG -> Mappers, click on the button to the right of the drop-down list and choose Rescan for new devices.