Fighting the war on drugs, not telling which war I'm fighting nor what drugs I'm on XD
(Bill Hicks joke)
My soundcloud likes
Built my own HID controller, I thought it would save money XD
My Releases
Once you figure out that everything you see or do in vdj is because of scripts, you're thinking like a 21st century DJ.
If you want a custom plugin writing or help mapping drop me a pm.
How to; Make A Pads Index Page
Fri 05 Aug 16 @ 3:54 pm
How to; Make A Pads Index Page
This is a step by step tutorial on how to make a pads index page.
Wait, why do I need a index page? There's only one reason, it's quicker, quicker than selecting your pad page by scrolling through the pages and much quicker than using the mouse.
Step by step
1 Go to open the pad page drop down menu, click edit.
2 Click the 'New Page' button and give the new page the name 'Index'

3 Edit each of the pads to link to the page of your choice, by typing
pad_page 'Whatever pad page you want on this button'
and then give that pad a name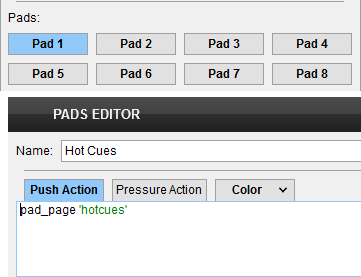 4 Do that until you have linked all the buttons or linked to all the pad pages you want to access quickly.
5 Now you have a Index page; how do you access that quickly? Easy, go into your controller mapping and find a button you don't use or find a button that by default links to a pad page and remap the button to this.
pad_page 'index'
I would choose a button that already links to a pad page [maybe one you don't use as regular] as that way you keep all the original function.
That's all there is to it. you've now made your own pad page and customised your controller to your needs.
Any questions or comments please ask in the thread linked here
http://www.virtualdj.com/forums/211607/General_Discussion/_How_to__Make_A_Pads_Index_Page__Tutorial.html