At last, an digital scratching solution that meets all of your expectations.
VirtualDJ used with timecode vinyl or CDs can scratch
digital music directly on your traditional turntable
. Using VirtualDJ's own timecode vinyl/CDs or your favorite timecode of choice, and everything goes as if you had "downloaded" your music right onto the vinyl or CD.
Timecode solutions are common among several DJ softwares, but VirtualDJ is the only solution to offer:
An anti-skip engine that automatically corrects any jumps the needle might do on the groove if you were to scratch too heavy.
An algorithm very robust against mass-wire problems.
Native integration within VirtualDJ's sound engine, allowing access to all VirtualDJ features, whether you use timecoded records or not
Possibility to play seamless loops on your turntable
Automatic loading at the right pitch
Use of Master Tempo pitch
Access to an infinite number of CUE points saved per songs
Compatibility with music videos (smoothly scratch music videos using your turntable)
Vinyl Solutions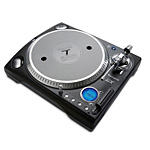 Numark TTX turntable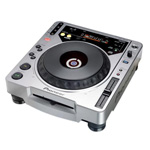 Pioneer CDJ 800
Video Demonstration
Dj GetDown on timecode vinyl