VirtualDJ - the only software providing all the tools you need for your next mobile event.
Multi-format audio database, don't carry around heavy record cases anymore
Fully automated playlist mixing, while you are busy entertaining the audience
Hardware Controller support for gear from Pioneer, Denon, Numark, Vestax, and more ...
Music Video and Karaoke support
Plus, participate in our active forums' life, exchanging advice, event ideas, etc... VirtualDJ is committed to making your DJ life much easier and more fun.
Karaoke: Do not restrict yourself on yesterday's tools
VirtualDJ brings all its technology to the service of karaoke.
It lets you easily play karaoke files in DVD format (.vob, .avi, .mpg, etc), and/or in CDG format (MP3+G, WAV+G, WMA+G, ZIP, etc). Its preview windows let you cue your next track without interrupting the current singer. Video and audio effects will let you spice up your overall show presentation.
If the event continues into a regular party, VirtualDJ will be there to help you mix all your selections with perfection.
Mobile DJ Gear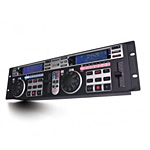 Numark DMC-2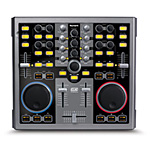 Numark TotalControl
Video Presentation
Video for Inspiration
Numark presentation of TotalControl with Cue/VirtualDJ


Courtesy of Sonicstate.com