Forum: VirtualDJ Plugins


Questions about plugins development, talks with other developers etc
Topic: RMX 6+6 buttons config v1.0 by DJCel for Virtual DJ 5.2 - Page: 1
This part of topic is old and might contain outdated or incorrect information

A mapper for the rmx would be great , heared about some one is on it yet.
Thanks .
J
---
Posted Tue 16 Sep 08 @ 1:56 pm


I think alot of people are waiting for a mapper


---
Posted Tue 16 Sep 08 @ 2:16 pm

i the mac version coming also ?!
---
Posted Wed 17 Sep 08 @ 6:20 pm


For give me for being abit thick Cioce, but say if I want to change 4 button action, then I have to have 4 plugins.

The decriptive is not all that clear, thanks.

---
Posted Wed 17 Sep 08 @ 6:27 pm

Thats what it looks like to me from the description :)
---
Posted Fri 19 Sep 08 @ 7:41 am

RMX config v1.0 by DJCel
Compatibie VirtualDJ 5.2.1

Attention: This TOOL is an audio effect and it require a skin with dedicated slot multibuttons like for example:

Vinyl Scratch variations (Scratch5:Basic_Gray(1280x800) v2) http://it.virtualdj.com/addons/4369/Vinyl_Scratch_variations.html
or latest Hercules RMX http://it.virtualdj.com/addons/4554/Hercules_RMX_variations.html

Follow this procedure to map the buttons:

1) Download and install RMX1.exe

2) enter into the folder C:\Documents and Settings\Digital\Documenti\VirtualDJ\Plugins\SoundEffect
copy for 12 times the dll and rename like:
RMX1.DLL
RMX2.DLL
RMX3.DLL
......
RMX12.DLL

3) open Virtualdj and enter in the effects zone, click on RMX1 and select the action (shortcut):





4) load the effect into the slot (right click and select)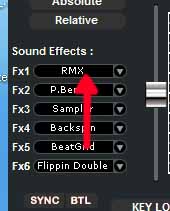 Fx1= button 1 RMX
Fx2= button 2 RMX
Fx3= button 3 RMX
Fx4= button 4 RMX
Fx5= button 5 RMX
Fx6= button 6 RMX

5) Follow the same procedure for the other deck.

Download -> http://www.virtualdj.com/addons/4830/RMX_config_.html



raynordinho wrote :

i the mac version coming also ?!


I don't know.

@ jimmy b
Waiting for a beer :))))


Thanks to DJCel for the tool and to Moramax for the print screen ;)
---
Posted Fri 19 Sep 08 @ 7:52 am

cioce wrote :

@ jimmy b
Waiting for a beer :))))



It's in the post mate ;)

Thanks Cioce, I undersatnd now mate.

I will try it out after the weekend.

---
Posted Fri 19 Sep 08 @ 8:53 am

Yes the code is MAC compatible that's why I used this solution.
I have started a new version of this plugin which is easier to use and avoids to copy the dll.
As soon as i can do it, I will finish and compile it for PC & MAC.
---
Posted Fri 19 Sep 08 @ 7:13 pm

Hey There i didn't quiet figured it out how to put the effects in to my rmx ??
cause i don't quiet understand the discription ....
I Followed all of the steps and got stuck on the 3rd one, because i can't open the slots
to put in any of the FX ....

Can someone help me out?
Thnx


---
Posted Wed 24 Sep 08 @ 3:34 pm

jje vna pregvnta se pveden descargar los efectos?

Please don't SPAM, otherwise your account will be LOCKED!
---
Posted Sun 28 Sep 08 @ 12:04 am

hello

so thanks a lot for this plugin. My buttons work great with the new Version.

A big thanks to Dj Cel who made the Plugin and to Cioce for the nice explantation.

Ps: Armin and i will make a german explantation for our forum users :-)
---
Posted Tue 30 Sep 08 @ 7:37 am

Hey, could you make your plugin that it works like the "RMX Button Configurator" from moramax??

I dont want to use an other skin to make this work. Ill just use the "Internal Mixer" Skin. The RMX Button Configurator doesnt work with newer Versions than 5.1 ;-((

cu
pOpY
---
Posted Fri 31 Oct 08 @ 1:45 pm

tell me a license code, please. i can't download plugins from this site


---
Posted Tue 04 Nov 08 @ 3:03 am

thank you, cioce!
---
Posted Wed 05 Nov 08 @ 1:41 am

Hi i'm able to map the buttons but when i close VDJ the mappings are lost. Is this the case for everyone or am i doing something wrong??

Cheers
---
Posted Thu 06 Nov 08 @ 3:18 pm

Thats not good news ;-(

The RMX Hardware works very well, but it seems nobody would write a REALLY mapper ;-(

cu
pOpY
---
Posted Fri 07 Nov 08 @ 1:04 pm

For what I know the best "mapper" teamer (Moramax) is at work to release a mapper ;)
---
Posted Fri 14 Nov 08 @ 1:31 am

thank you cioce!;)
yes, i'm working on an optimized mapper for the Hercules RMX.

---
Posted Fri 14 Nov 08 @ 9:04 am