Forum: Music discussion


Music, broadcast, podcast, playlists and more
Topic: The Ultimate Guide to Broadcasting With Virtual Dj - Page: 8
This topic is old and might contain outdated or incorrect information.

Maybe this will help you!
http://www.youtube.com/watch?v=ffZPusl0AxM

You have to ADJUST BUTT in a propper manner.
VDJ in that combination is not more like a Windows media Player or a CD Player!

BUTT grab the audio signal and broadcast it to a server!
So select inside BUTT the same soundcard like you use inside VDJ and select also the right channel as the master signal.

---
Posted Fri 02 Nov 12 @ 6:56 am

need help starting up this online broadcasting. Everytime i give people the web address that virtual provides, it keep saying error, can someone please help


---
Posted Wed 09 Jan 13 @ 3:42 pm

How Can I Talk Live During My Sets?
---
Posted Mon 25 Feb 13 @ 2:43 pm

why my radio does not appear on http://www.shoutcast.com/
???
normaly when i enter my ditail's and stuff i appear on http://www.shoutcast.com/ (my radio) and when i work with vdj nothing appears can't even find my radio on it .
i had never this problem with other software . anny help ?

i cant even see shoutcast mp3 only function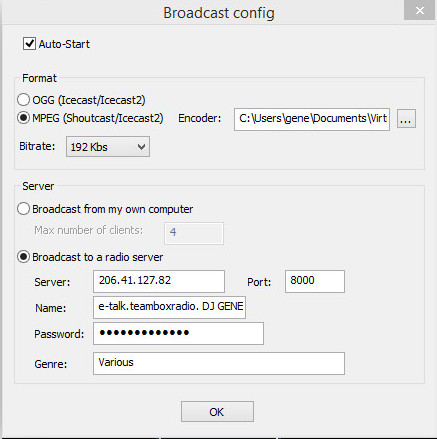 Grtz DJ Gene
---
Posted Sun 02 Feb 14 @ 6:47 pm

Not sure if this is the right forum to post to or not, if not, i hope that the moderators will move my post to the correct space or tell me exactly where to post it.
i am fairly new to using VDJ PRO.. So i am asking my question here, hoping that its the right forum.

Anyhow, i am a DJ on Second Life, and use the SHX System to broadcast my stream to SL at my own club as well as other clubs that i work at.
My question is, with a little bit of info before hand..
On Second Life there is what's known as the "GRID TOP 40". The maker of the SHX Systems has created whats called a CSR-2XX board, that allows the guests of a club event, to vote on the songs. While the info for the songs shows up on the SHX-SRC-F210 at my club, the CSR continues to say "waiting for song info" instead of going to the 5 star rating system that it usually shows when i broadcast using SAM 4 PRO.

What am i missing in my VDJ 7 Pro to allow for the CSR to get the data that's needed for it to work like it does when i use SAM?
---
Posted Fri 02 May 14 @ 1:37 pm

At this time is it recommended to broadcast with VDJ 8?
---
Posted Mon 12 May 14 @ 8:50 am
(Old topics and forums are automatically closed)