Forum: Wishes and new features
Topic: HOW CAN WE ADD (Hz) IN TO THE LIBRARY BAR ? - Page: 1
This part of topic is old and might contain outdated or incorrect information
How can we add (Hz) in to the library bar ?
Cause the Bitrate is not the better way to have the "exactly" quality of each and all song
---
Posted Sat 03 Nov 18 @ 2:19 am
It's already there. Right click in the browser header and select "bitrate"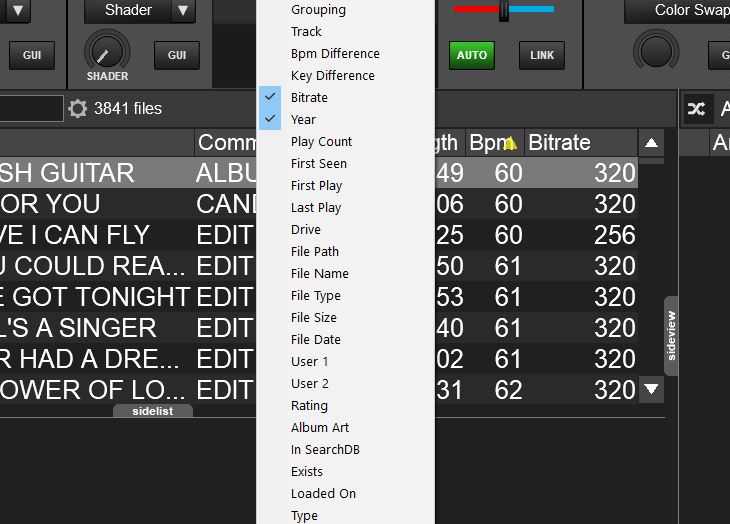 ---
Posted Sat 03 Nov 18 @ 11:43 am
I think he means samplerate.
Unless your music comes from poor choices or you made some mistakes in the past when ripping music from vinyl/cd yourself, 99.9% of the music will be recorded at 44100 or 48000 Hz though, so I doubt it will offer you any additional insight.
---
Posted Sat 03 Nov 18 @ 12:05 pm
If you see in the "Spek" program in the left bar you can see the quality of a song, if it's least then 16khz it's a too compressed like 160 or 128kb
if it's more then 18khz it's a better quality like 192, 256, 320, more then 22khz it's a wave or a flac

i need this for a batch of all song in the same time for delete or change all poor quality, more faster then one by one with Spek program
---
Posted Sat 24 Nov 18 @ 12:09 am
sometime we put a 320kp in a spec program to see the real quality, but it's at 15khz, so it's not a real 320kp, it's a 128kbps compresed
---
Posted Sat 24 Nov 18 @ 12:18 am
Just because a recording doesn't have high frequency content up to 20kHz or beyond does not mean it's a low bitrate / low quality recording.

Adults generally can't hear that high anyway, so those freqs would go unheard. The older the recording, the less likely it is to have very high freqs. Even the very latest tracks don't necessarily have content that high. It depends on the production, the instruments used, mastering and various other factors.

The best way to judge is to use your ears and listen. Why do you need to do this anyway? It seems like you're using illegal downloads.
---
Posted Sat 24 Nov 18 @ 8:02 am
In the pass near 2008 we have not the same capablility to have a lot music in a HD cause we have juste least then 60 Go and we have to put the musique in a 128kbps after i did a mistake, i decompres them, in 192 or 320, now i have to detect all of them to delete all poor quality to buy it in better quality, and yes this the unic way to detect wrong bitrate, It's not a low quality recording, it's a Compressed Quality, it's not the same
---
Posted Sun 25 Nov 18 @ 2:33 am
From the Hydrogen Audio wiki:

"The amount of high-frequency content in an MP3 cannot be used to reliably predict the quality of the MP3"

I would recommend that you read all of that web page. :-)
---
Posted Sun 25 Nov 18 @ 1:03 pm
Ok i Got one, after 8 years, i found a program to be able to do what i whant,
thank you for your "help" I'knocked on the wrong door, sorry if you don't understand,
you can look at this site if you wanth more specification
How to Check the True Bitrate of Your Audio Files => https://www.maketecheasier.com/check-true-bitrate-audio-files/
---
Posted Sun 25 Nov 18 @ 2:39 pm
I can not play music with a bitrate lower than 192kbps in a sound system for Club because the sound is horrible, cybals are infernal,

plus each false bitrate readjusted the right way will also decrease the disk space, if I have an album indicating 320kb but it's only 192kb, once converted the right way, my album will take up less space
---
Posted Sun 25 Nov 18 @ 3:07 pm
DJIDMix wrote :

sorry if you don't understand



It's not me that doesn't understand.

I've given you the information. If you choose to ignore it or believe that you're right, then I guess there's nothing more I can do here.


---
Posted Sun 25 Nov 18 @ 3:20 pm
We do not talk about the same thing, I do not want more frequency,

The bitrate between 192 and 320 it's just perfect,

my post was not to know the maximum frequence auditive,

but juste to detect false bitrates
---
Posted Sun 25 Nov 18 @ 7:15 pm
I don't think you understand this properly.

In my experience the bitrate isn't the whole story. Some tracks are badly produced in the studio and sound bad irrespective of the bitrate, however I have some 128kps files that sound just fine. Also it depends on the codec used to originally compress them.

Use your ears to decide what's good or not, or maybe you should just re-download the tracks from a trusted source where you can be assured of the quality.
---
Posted Sun 25 Nov 18 @ 7:55 pm
I know, but if i have a batch like a 5000 songs, I bought in 10 years but i did a mistake with a lot of them, i can't do it one by one,
if we have a programe to detect each song, it's will be faster, after i will look with listen the poorest and delete them to change it
we know the 320 is near 20,800khz, 256 near 20,100khz, 192khz near 18khz, 160 near 16khz and 128 least then 15khz
i will listen and juge after that with a less big quantity
i think Virtual DJ can to it with a simple scan juste to add it
---
Posted Sun 25 Nov 18 @ 8:51 pm
But a higher upper frequency isn't really an indication of the quality.
---
Posted Sun 25 Nov 18 @ 9:02 pm
Maybe Rune (dj-in-norway) can do it with "My Library"
A range between 0khz to 22khz in the add-on
---
Posted Sun 25 Nov 18 @ 9:58 pm
Nothing in VDJ measures frequencies in a track.
---
Posted Sun 25 Nov 18 @ 10:12 pm
ok it just scan to see what is already written in the file
---
Posted Sun 25 Nov 18 @ 10:23 pm
---
Posted Mon 26 Nov 18 @ 12:50 am
I've just had a look at my copy of Jeopardy in Adobe Audition, and it's got frequencies in it up to 19kHz.

Guess what the bitrate is?

[later] I downloaded an uncompressed WAV file of the track,and OK it's got content up to 22kHz (according to the Audition graph) - but no human being can hear 22kHz.

Adults generally wouldn't even be able to hear the upper range of my compressed file, so what's the point of having freqs above 19kHz when most people won't even be able to hear that high?

For the umpteenth time, you can't seriously judge quality purely by how much HF is in the track.
---
Posted Mon 26 Nov 18 @ 5:44 pm