Forum: Old versions


For older version, like VirtualDJ 7.
---


NOTE: VirtualDJ 7 is not maintained anymore.
Topic: Headphones cue for GEMINI G2V & VDJ8Pro

Finally have everything working with the mentioned equipment except for one thing...the headphones. I use the the G2V soundcard for everything, meaning the master and headphones, so there is only the usb cord from the pc to the controller and the 2 XLR outputs to my powered speakers. There are no connections from the pc soundcard to the G2V.
As it is, my headphones can only monitor what's actually playing out to the speakers, and I'm unable to listen to what I intend on playing next. The headphone buttons on the controller light up and switch on the pc screen but has no effect on the output to the headphones. ANYONE?
---
Posted Sat 20 Dec 14 @ 9:45 am

Ive got this problem too... An Answer please!!!
---
Posted Wed 19 Aug 15 @ 9:21 pm

Can you check in the output conguration in vdj options that you have channels 1 & 2 set for master out and 3 & 4 set for headphone/monitor. Key is that the headphones are configed on separate channels to master out.

I assume you are using the asio drivers from gemini.

Sorry if the description is a little off - i am recalling from memory - can post a screenshot later today if you are still having issues.
---
Posted Thu 20 Aug 15 @ 10:18 pm

I've got the function "single outpout" And "headphones" for the master oui .I am anxious to specify that I do not possess an amplifier and that my gemini is directly bound with my Pc and however I am a greenhorn in the sector!
---
Posted Thu 27 Aug 15 @ 3:31 pm

I am having the same problem as everybody else that you can only hear what's playing on the controller through the headphones
---
Posted Mon 23 Oct 17 @ 2:16 pm

Sound Setup: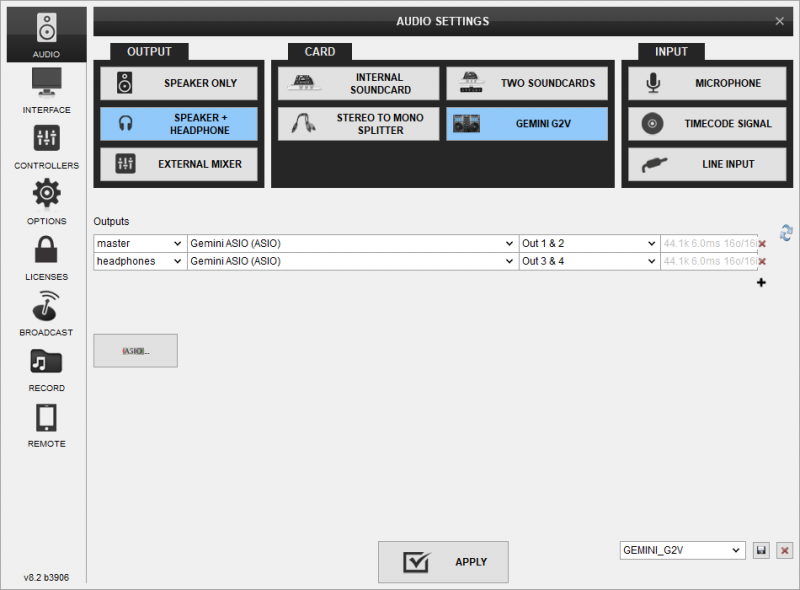 Knob Number 12
HEADPHONES MIXING: Adjust how the Channels and the Master Output blend at the Headphones Channel
Turn it all way to the left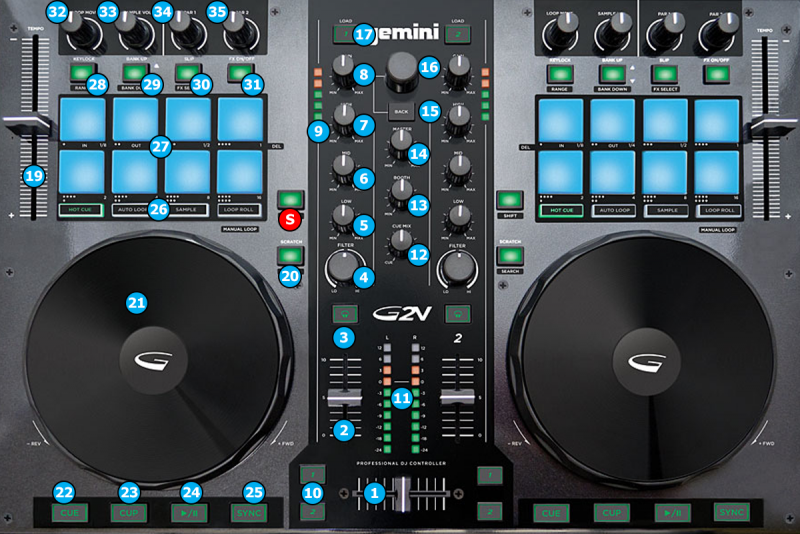 Controller Quick Guide:
http://www.virtualdj.com/manuals/hardware/gemini/g2v/

---
Posted Mon 23 Oct 17 @ 4:02 pm