Forum: Addons
Discussion about NI Kontrol X1


!! VirtualDJ.ncc file is inside the ZIP Download !!

Definition/Mapper Version: v1.2


First of all: Thank you fgeibel, i have used your definition file and added the leds!


English:

This Mapper is for Traktor Kontrol X1 using its own device definition file.
Also the Leds are working :-)

Installation:

* Download & Install the Traktor X1 Driver from the NI Homepage
* Download & Install the Controller Editor and load/upload the configuration file "Virtual DJ.ncc"
* Set LED Off State (Dim): You could set the off state brigthness for all LEDs in the Controller Editor
ToDo so, start the controller editor goto File -> Preferences -> Controller -> Select the X1 and set the values (sliders) to your needs

Hint: To save the brightness (also after reboot) you must use a workaround (for that NI bug). Just leave the window with the silders
opened and reboot windows! Now the brightness state should be saved and loaded every time you plug in the X1 ;-)
(It looks really cool)

* Don't forget to activate midi mode on your control X1 by pressing Shift+Hotcue, the Hotcue button has to light up green
* Open/Restart VDJ and goto Setup -> Mappers - There should now be a entry "Traktor Kontrol X1"
* Now you could setup the mapper to your needs (or just use mine :-).

Deutsch:

Dieser Mapper für Traktor Kontrol X1 benutzt eine eigene definitions-datei.
Außerdem funktionieren alle LEDs :-)

Installation:
* Laden & Installieren Sie den neuesten Traktor X1 Treiber von der NI Homepage
* Laden & Installieren Sie den neuesten Controller Editor und laden Sie die KonfigurationsDatei "Virtual DJ.ncc"
* LED Auszustandshelligkeit (dimmen): Mit dem Controller Editor können Sie die Helligkeit der LEDs im Auszustand einstellen.
Starten Sie den Controller Editor und wählen im Menü File -> Preferences -> Controller -> Wählen Sie den X1 und stellen Sie alles wie gewünscht ein.

Tipp: Um die Helligkeit zu speichern (auch nach einem Neustart) müssen Sie einen kleinen NI Bug umgehen. Lassen Sie das Fenster offen und
starten Sie Windows neu. Nach dem Neustart sollten die vorher eingestellten Werte wieder geladen werden :-)

* Vergessen Sie nicht den MIDI Mode am X1 zu aktivieren, um die zu tun drücken Sie Shift+Hotcue, der Hotcue button muss grün leuchten
* Öffnen/Starten Sie VDJ und gehen Sie zu Setup -> Mappers - Dort sollte nun der Eintrag "Traktor Kontrol X1" stehen
* Nun können SIe den Mapper nach Ihren Wünschen anpassen (oder Sie benutzen einfach meinen :-)


**********************************************************
Changelog
**********************************************************

v1.0: initial version
v1.1: Added Potis of effect section 1/2 in SHIFT mode
v1.2: Removed X1 identification (midiname) - made problems on MAC and if more than one X1 are used in windows. There is no sysex id from the X1, hope there is another way to identify the controller soon...


Have fun
DJ pOpY
---
Posted Fri 08 Aug 14 @ 4:43 pm
This is good work.

In the zip file, there are two xml files.

I think he's one for the DEVICE and the other for Mappers file, but what?


---
Posted Fri 10 Oct 14 @ 3:01 am
Hey, i noticed a huge issue here. When i press the "Bend - key" on the 2nd unit it does not stop bending when i unpress it. When i press "Bend +" it disengages. Can you fix it and update it for us. Thanks!
---
Posted Fri 28 Nov 14 @ 12:20 pm
WHERE IS THE ZIP FILE WITH THE NCC FILE?? ALL I GET IS AN EXE THAT DOIESNT WORK

---
Posted Fri 11 Mar 22 @ 6:24 am
Lehara wrote :

WHERE IS THE ZIP FILE WITH THE NCC FILE?? ALL I GET IS AN EXE THAT DOIESNT WORK




Run the EXE and install the zip file to VirtualDJ directory.
This mapper is very old, almost 10 years old. But I tried it just for fun here, and it shows up fine
(i dont have the controller to test the mapper, but probably works fine)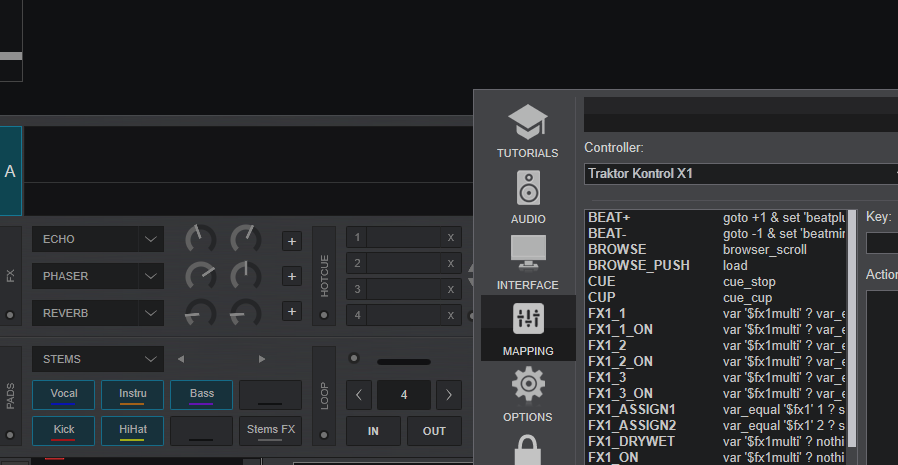 ---
Posted Fri 11 Mar 22 @ 7:45 am
And read the instructions in the first post about how to make it work
---
Posted Fri 11 Mar 22 @ 7:45 am