Forum: Old versions


Use this forum if you are still using an old version like VirtualDJ 7.
---


NOTE: VirtualDJ 7 is not maintained anymore.
Topic: Macbook Pro Problems

My main set-up is a Denon HD-2500, X-500 mixer and VDJ 7 running on a Windows 7 laptop. Works flawlessly. I also have the latest version of VDJ for mac on a MBP (osx v.10.6.6). I have never been able to get VDJ to work with this hardware.

Yesterday, I tried again. When I opened up the Audio Midi set-up (followed my the Midi window), this is what I see: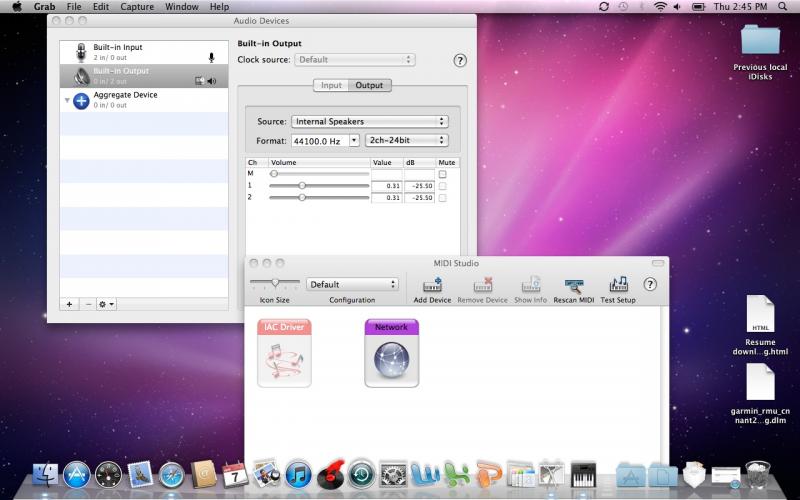 . Clearly, this does not resemble the screen illustrated on the Denon website as there are no external sound card options.

Now, the HD 2500 knows that it is connected to a computer because it allows me to go into Midi mode. But, the MBP does not recognize the HD-2500 I unplugged and re-plugged the USB cable, I restarted both the 2500 and the MBP, and I rescanned for midi components, all with no luck.

I really want to switch to the MBP for my primary gig machine, but I need some help getting this problem corrected. Do we have any volunteers?

Thanks.
---
Posted Thu 07 Apr 11 @ 2:21 pm

I realize that this question is probably best addressed on the Denon forum (and I did), but the only suggestion was to disable the iSight camera. So far, I have been unable to find out how to do that. I realize that with PCs, the web cam can conflict with midi functions. But, with as many Mac DJs out there (many of whom use Denon midi controllers), I would think that finding an iSight camera disabling technique would be easy.

So, any of you Denon folks out there ever disable your iSight camera? Personally, I'm thinking that it is probably something other than the iSight. But I will investigate any and all suggestions in order to get the MBP operational with VDJ and my HD 2500.
---
Posted Fri 08 Apr 11 @ 5:11 pm

The problem may be in the midi controller naming. If the name is not done properly, then the controller won't be recognized. I would go to Denon's website and look at the mac midi configuration page. If you are still having problems, then call Denon while you are sitting in front of your MBP and Denon controller and it will probably be a 5 minute phone call.

I looked at your screen shot and didn't even see the Denon controller in your midi devices.
---
Posted Mon 11 Apr 11 @ 4:03 pm