How do i download and install new Addons for VirtualDJ 8
Back to FAQ
Q: How do I download and install new Add-ons for VirtualDJ 8 ?
---


Add-ons (Skins, Effects, Tools, Custom Mappers, Sample Packs etc) compatible for VirtualDJ 8 can be downloaded from the Add-on download section of the website.

Add-ons are created by talented VirtualDJ users and staff members for additional functionality and customization of the software and offered for free providing that you are logged in, and your License level* grants you access to the specific Add-on(s) you wish to download and install.

*Note :The Author of the Add-On determines the License Level required to access it when submitted for approval or when it is updated. Pro Infinity users have access to ALL Add-ons.


How to :
Most add-ons come as an installation package that will automatically install the add-on for you.




Click on the Windows/Mac download button depending on your Operating system to download it.

Double-click to install the Add-on once its downloaded

A confirmation window appears verifying proper installation. Click OK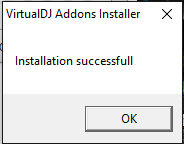 In most cases, you will need to restart VirtualDJ for it to appear in the list.


Some Add-ons may offer just generic Download button. Those Add-ons usually offer a custom installer, or a zip container file with the necessary files and instructions (included in the zip file) to install.


Notes:


Please check that the Add-on is compatible with your Operating system. Some Add-ons only come for one Operating system (usually Windows only). For a Mac version of the Add-on, you will need to contact and ask the author to provide one (assuming that he will be able to convert his code on the requested OS).


Further instructions on how to use the Add-on may be offered from the author in the Comments section

Related Topics:
---

FAQ I want to report something about an Add-on or contact the author
FAQ I have VirtualDJ LE that came with the MIDI controller or other hardware that I purchased. Why can't I download and/or use the plugins ?
FAQ Can I share or sell the plugins available on the website ?
FAQ I have created a VirtualDJ Add-on. How can I upload and share it?




Navigation

---
Back to FAQ
Knowledge Database
Wiki HOME