User Manual
INTERFACE
The Interface tab of Settings offers the available Graphical User Interfaces (also referred to as a GUI or Skin). Moving the mouse over a selection will preview an image and some details will be shown on the lower right side. Click to choose and load the desired Interface layout. The default GUI offers Starter, Essentials an Pro Layout versions.
Additional Skins (and other plugins) can be downloaded from the
Extensions Tab
of the
Settings
menu.
An additional option available in the upper right of the menu gives you the ability to export the skin for editing. Clicking on the Edit this skin text will export the skin to the folder Documents/VirtualDJ/Skins so that they can later be altered.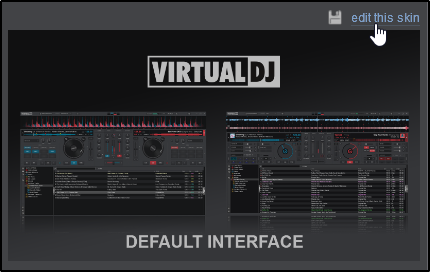 Custom skins can also be created. To learn more, visit
http://www.virtualdj.com/wiki/Skin%20SDK%20
Video Skins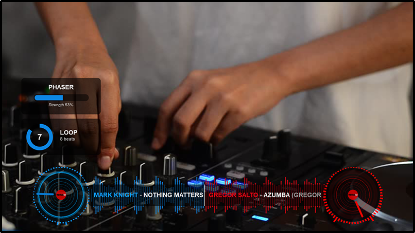 Video Skins are a layover element that allows your audience to see your workflow and other features on the video output when it is activated. This is a great tool for VJs and broadcasters who want to engage their audience with more than just video and sound.
On the lower left side of the Interface tab you can select the type of Video Skin that you'd like to display on your output. Of course, if you don't wish to show this feature, you can always select None

If you wish to turn video skins on or off for any reason quickly, right click on the video preview window in the video mixer and click Use videoSkin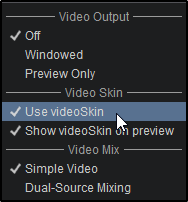 Mapping