User Manual
RECORD LOOPBACK
Using an audio setup with master output, the recording is performed internally, so no special connection or audio setup is required. With an external mixer setup, the recording cannot be performed internally as the external mixer is not capable to control the internal mixer of the software. In this case an additional connection and a Record Line in the audio setup is required.

The connections are the same as an External Mixer configuration with the addition of one more connection. The mixer's Record Out or Booth Out jacks need to be connected to the input of your computer's built-in line-in jack or a multi channel soundcard in order to route the audio back into the computer.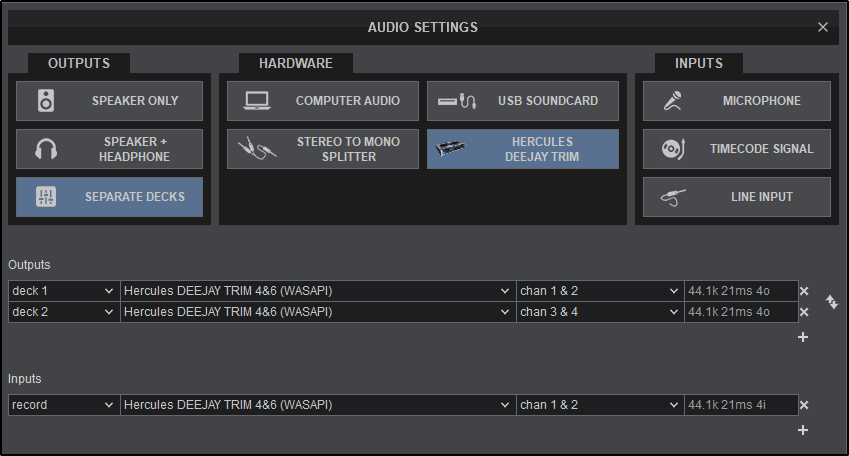 Select
SEPARATE DECKS
from the
OUTPUT
options and the multi-channel soundcard to be used from the
HARDWARE
options. Not all cards will be detected in the
HARDWARE
options by VirtualDJ, but can still be used. If this is the case, use
COMPUTER AUDIO
from the
HARDWARE
Options. Once the audio setup is created select the multi-channel USB soundcard from the soundcard field instead.
VirtualDJ will then route each of the available decks to a separated stereo channel of your USB soundcard. Once the audio setup is created (with decks 1 to 2 or 4 depending on the decks used), create an additional source by choosing clicking on the
LINE INPUT
button in the
INPUTS
option menu and selecting Record from the Source List. VirtualDJ will then record the specified input. Click
APPLY
to save these changes.
For more information on recording and recording formats, please see the
Recording section
of the user manual.
Microphone