User Manual
SIDE TOOLBAR
The Side Toolbar on the left vertical side of the Browser offers global Folder Operations and Browser features.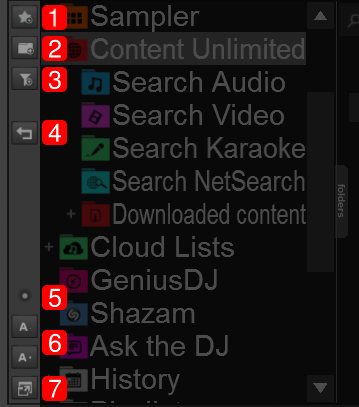 Favorite Folder - Mark a specific Folder as Favorite and add it to the Folder list for quick access (monitored)


Virtual Folder - Creates a Virtual Folder (unmonitored)


Filter Folder - Creates a Filter folder (monitored)


Goto Last Folder - Goes to the last used folder


Browser Options - Displays a menu with the following options:

Show Only - Shows or hides Music, Video or Karaoke files.

Display List as - Choose between the List View (default) and Grid View with large icons (for Touchscreens)

Reset Root Folders - Displays any folders that have been hidden.

Database - Choose "Remove missing files from Search DB" to clean the Search Database from files that no longer exist.

Export browser view - Exports what is currently displayed in the browser (including fields) to a .csv file (that can be opened as a spreadsheet in softwares that support it) or a .html file (for web use).



Font Resizer - Increase or decrease the size of the Browser font with the buttons.


Browser Zoom - Increases the size of the Browser and reduces the size of the decks (See Mini Decks).

File list