Hardware Manuals
EFFECTS & BROWSER CONTROLS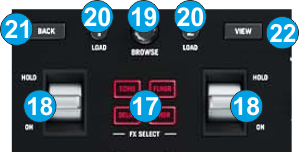 FX SELECT Select an Effect for both Left/Right Decks. Pre-defined Effects are Echo, Flanger, Delay and Phaser. Led will blink when the Effect is enabled on any of the Left/Right decks. Only one Effect can be selected each time.


FX HOLD/ON : Triggers the selected Effect. Move the paddle triggers up (for toggle) or down for momentary. No Effect is applied when at middle position.

Note: The Effect Parameters (Wet/Dry, Beats etc) can be adjusted from VirtualDJ GUI or the device screen.


BROWSE : Turn this encoder to scroll through Tracks or Folders, depending on the selected Browser list. Push the encoder to cycle through the lists of Browser (Folders, Songs and Sideview)

Hold SHIFT down and then turn this encoder to Zoom the Deck Waveforms In/Out


LOAD : Load the selected track from the Browser to the Left/Right Deck. Double/fast press to clone the track of Left/Right Deck to the other Deck.
Hold SHIFT down and then press this button to unload the track from the same Left/Right Deck


BACK : Set focus to the Folders list of Browser. If focus is on Folders list, expand/collapse sub-folders.


VIEW : Toggle between the Decks and Browser views on the Screen skin.
Hold SHIFT down and then press this button to show/hide the Pads section on the Screen skin.

Output Controls