Hardware Manuals
DISPLAY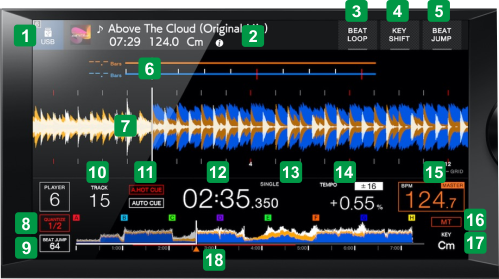 Pioneer CDJ-3000 - Deck (Scratch) view
DISPLAY
ACTION/INFO
1

SOURCE
Indicates the selected Source.
2

TRACK INFO
Displays Track's Album Art, Title, original length and Key. Tap to get a small pop-up display with additional Track's info
3

BEAT LOOP
Tap to show/hide a panel with quick Loop buttons on the screen
4

KEY SHIFT
Tap to show/hide a panel with Key move/shift and Key reset buttons on the screen
5

BEAT JUMP
Tap to show/hide a panel with quick Beat Jump buttons on the screen
6

BEAT COUNTER
Displays the Beats remaining to the next Hotcue (upper text for Master Deck, lower text for Device's Deck)
The Phase/Wave graphics are not available in USB Control mode
7

WAVEFORM
Displays the Scratch waveform of the loaded track. Use the Library/Browse rotary to zoom in/out.
8

QUANTIZE
If quantize is enabled, will indicate the quantize beats value (set from VirtualDJ Settings->OPTIONS tab->globalQuantize setting).
9

BEATJUMP
Displays the beats value the BEAT JUMP buttons will use to jump the track backwards/forward..
10

TRACK
When the assigned Deck is in Automix mode, will display the current number of the Automix list's track
11

AUTOCUE
Indicates if the AUTOCUE mode is enabled (using long press of TIME MODE button). When enabled, tracks will be loaded at the first Hotcue position.
12

TIME
Displays Track's remain or elapsed Time. Tap to toggle between the 2 values
13

SINGLE/CONTINUE
Displays if the assigned Deck is in Automix mode (CONTINUE) or not (SINGLE)
14

TEMPO
Displays the currently selected Pitch range and the current Track's Pitch percentage. If the Pitch fader is un-linked (e.g. SYNC is pressed), it will display the BPM value in gray color, as an aid to link the Pitch fader again.
15

BPM
Displays the Track's BPM value (in orange frame if Deck is Master)
16

BPM
Master Tempo indication
17

KEY
Displays the current Key of the Track
18

PROGRESS WAVE
Displays the Track's progress wave along with the Hotcue markers
DISPLAY SETTINGS

A few settings are available in VirtualDJ->Settings->OPTIONS tab->Controller sub-category.
NeedleLock : When set Yes, touching the Progress wave on the Display will not have move the track if the Deck is audible

jogOnairDisplay : When set to Yes, the ring of the CDJ-3000 platter will change color if the Deck is audible.

screenAutoScratchview : When enabled the screen view will automatically change to the Decks (Scratch) view when a new track is loaded from the Browser view

---
For further Technical features and specifications, visit
Pioneer CDJ-3000

Product's Page
---

Hardware Integration Department
2020 - ATOMIX PRODUCTIONS
Reproduction of this manual in full or in part without written permission from Atomix Productions is prohibited.