Hardware Manuals
INPUTS & RECORDING
The Reloop Beatmix 2 does not offer any Input Channels for the built-in audio interface. Even though a
Microphone
Socket is offered at the front side of the unit, the signal
is directly routed though the Master Output
of the unit, therefore no Microphone line can be added in the audio configuration and the internal recording of VirtualDJ will not be able to record that.
If you still need to
record
or broadcast
both your mix and the Microphone
, the Master Output of the Beatmix 2 needs to be also routed to an Input of a different sound card (using apparently a Splitter Cable), and manually create the following audio setup.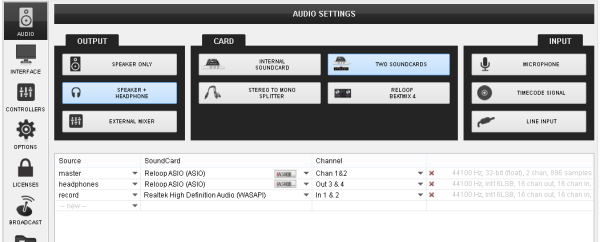 ---

Hardware Integration Department
2016 - ATOMIX PRODUCTIONS
Reproduction of this manual in full or in part without written permission from Atomix Productions is prohibited.