Hardware Manuals
BROWSER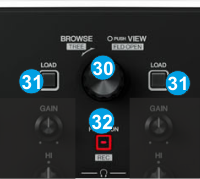 BROWSE. Use the encoder to scroll through files or folders depending on the focused window of Browser.
Push the Encoder to set focus to the next visible Browser Window. Will cycle through Folder, Songs and Sideview Lists. If Sideview is not visible, it will only cycle though Folders and Songs List.

Hold SHIFT and then push the encoder to either open/close subfolders (if the focus is set to the Folders List) or cycle through the views of Sideview (if the focus is set to the Sideview).


LOAD. Press this button to load the selected track from Browser to the left (A or C) or right (B or D) deck (depending on the Deck select buttons 9). Hold the same button for more than 2 seconds to unload the left or right deck.


PREVIEW/REC. Use this button to cycle through the available center panels of the default VirtualDJ skins (MIXER, VIDEO, SCRATCH and MASTER). Hold SHIFT down and then use this button to start/stop recording.


Mixer