Hardware Manuals
EQUALIZER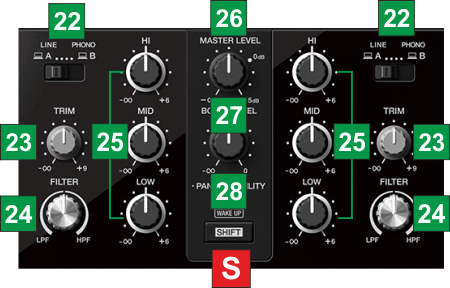 KEY
ACTION
SHIFT (SECONDARY) ACTION
22

SOURCE SEL
Select the source for the Left/Right mixer channel. Set to USB A/B (depending on the USB connection at the rear panel, to control the Left/Right VirtualDJ Deck.
23

TRIM
Adjust the Pre-fader Output level (Gain) of the selected Left/Right deck
24

FILTER
Apply a Hardware Color FX to the selected Left/Right Channel. By default Filter Color FX is selected. A different Color FX can be chosen via the DJM-S7 Utilities
25

3-BAND EQ
Adjust the High (Treble), Mid (Middle) and Low (Bass) frequencies of the Left/Right assigned Channels
26

MASTER VOL
Adjust the Level of the Master Output
27

BOOTH VOL
Adjust the Level of the Booth Output (connection at the rear panel)
28

PANEL UTILITY
Use this button to cycle through the 4 available center Panels of VirtualDJ default GUI (Mixer, Video, Scratch and Master)
Hold for more than 2 seconds to enter the Utilities menu of the unit.
Toggle between normal and Browser Zoom (with Mini decks) modes
Additional note
The entire Equalizer, Filter and Master section of the unit is Hardware operated. The VirtualDJ Equalizer (including Stems) and Filter are not used, even thought the knobs on the GUI follow the actual ones (fake mode)
Browser & Loop