Hardware Manuals
SETUP
Firmware & Drivers
Firmware:
No firmware update is available at the time this manual was written, but always make sure your device is on the latest firmware. Check availability at
https://www.pioneerdj.com/en/support/software/DDJ-400/
Drivers
There is
no driver
to install for both Windows and Mac OSX. The DDJ-400 is a USB Class Compliant device and your Operating System (Windows/mac OS) will install and use the standard audio driver when the device is connected to your Mac/PC with a USB cable
VirtualDJ Setup
Download and install VirtualDJ 8 from http://www.virtualdj.com/download/index.html (in case you have not done already)

Once VirtualDJ 8 is launched, a Login Window will appear. Login with your virtualdj.com account.

A Pro Infinity, a Subscriber or a PLUS License is required to fully use the Pioneer DDJ-400. Without any of the above Licenses, the controller will operate for 10 minutes each time you restart VirtualDJ.
http://www.virtualdj.com/buy/index.html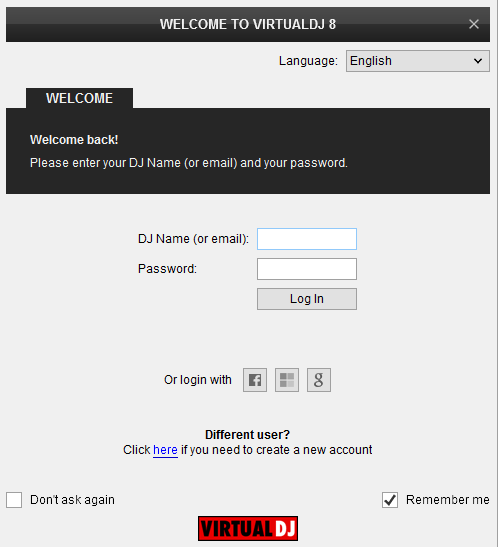 A detection window will appear next asking to use or not the pre-defined audio setup with the built-in sound card of the DDJ-400.

Click on the "Use Soundcard" button if speakers are connected to the Master Output of the DDJ-400. You can still change that from Settings->AUDIO tab.

Click to OK.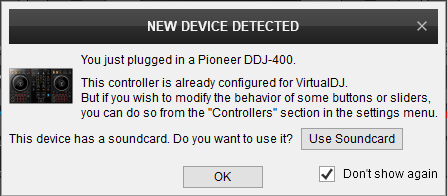 The unit is now ready to operate with VirtualDJ.
MIDI Operation
The unit should be visible in the CONTROLLERS tab of Config and the "
factory default
" available/selected from the Mappings drop-down list. The factory default Mapping offers the functions described in this Manual, however those can be adjusted to your needs via VDJ Script actions.

Find more details at
http://www.virtualdj.com/wiki/VDJ8script.html
AUDIO Setup
The unit has a pre-defined Audio setup and a special button in the AUDIO tab of Config to provide that.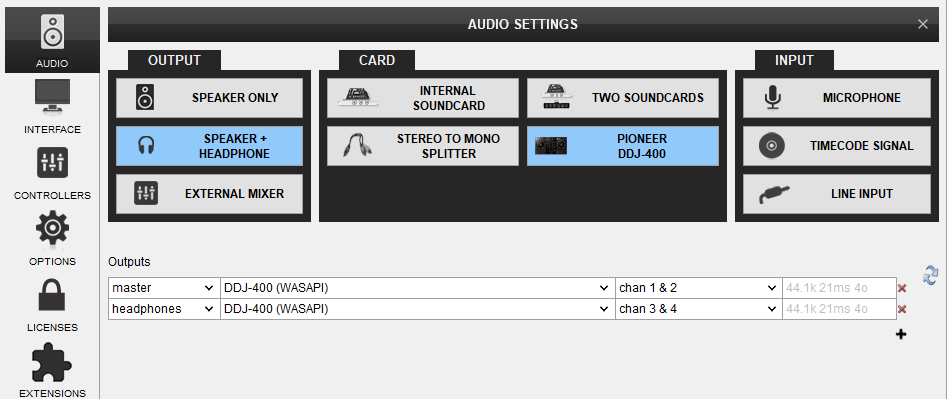 Please read the manual of DDJ-400 for further functionality
https://www.pioneerdj.com/en/support/documents/ddj-400/
For further software settings please refer to the User Guides of VirtualDJ 8.
http://www.virtualdj.com/manuals/virtualdj8/index.html
Controls