Hardware Manuals
Basic Controls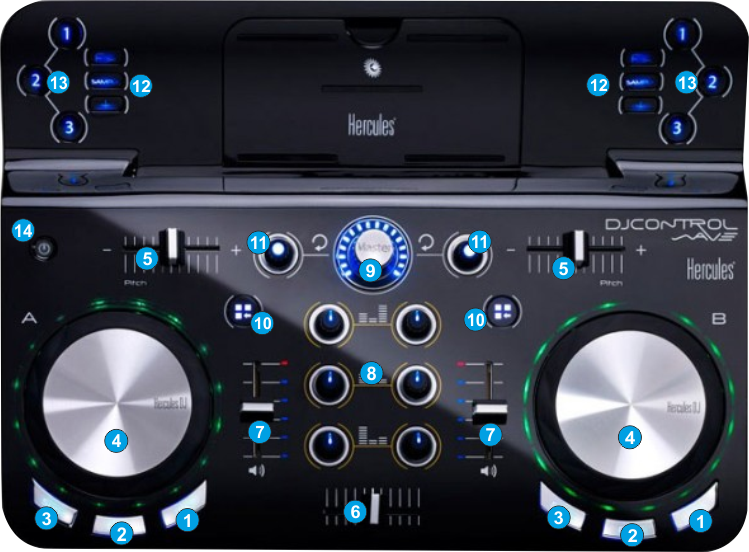 PLAY/PAUSE. Use this button to play/pause the loaded track on each deck.


CUE. When a Deck is paused, you can set a temporary Cue Point by moving the Platter to place the Audio Pointer at the desired location and then pressing the Cue Button. The Cue point can be stored using one of the 3 Top buttons (13).See HotCues

During playback, you can press the Cue Button to return the track to this Cue Point. (If you did not set a Cue Point, then it will return to the beginning of the track.).

If the Deck is paused, you can press and hold the Cue Button to play the track from the Temporary Cue Point. Releasing the Cue Button will return the track to the temporary Cue Point and pause it. To continue playback without returning to the Temporary Cue Point, press and hold the Cue Button, then press and hold the Play Button, and then release both buttons.


SYNC. Press this button to automatically match the tempo of the track with the opposite deck.


JOGWHEEL. Touch sensitive platter for scratching or bending depending on the Vinyl mode (button available in the VirtualDJ GUI). In Vinyl mode bending can be performed using the outer side of the platter.

The platter also offers Loop and Effect Parameters control. See Effects and Loops.


PITCH. Adjust the track's playback tempo.


CROSSFADER. Blends audio and video between the left and right decks.


VOLUME. Adjust the Volume of left/right decks.


EQ. Adjust the Low (Bass), Mid (Middle) and High (Treble) frequencies for each deck.


MASTER VOLUME. Adjust the level of the Master Output.


PARAMETER MODE. Use these buttons to set the Parameter Encoders (11) to Loop, Browser or Mixer mode.

Advanced Controls