Hardware Manuals
PADS - LOOP ROLL
While the Auto Loop mode is selected, press the same
AUTO mode button again
to set the PADs to
Loop Roll mode
(led will blink). The Pads section of the default VirtualDJ GUI on the corresponding deck will be also set to the Loop Roll pad page.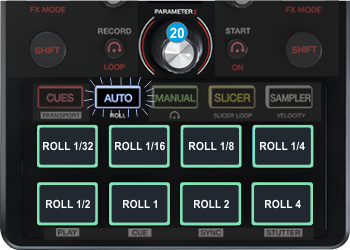 Loop Roll mode - AFX
Each one of the 8 Pad triggers a
momentary Loop Roll
(while pressed) of a size as shown in the image above. Once the Pad is released, the track will resume playing from the position it would have been, if the Loop was never triggered.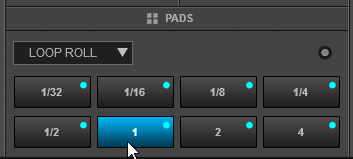 Loop Roll PADS page - VirtualDJ GUI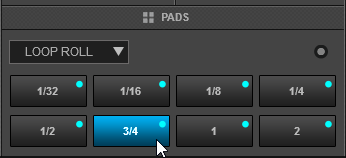 Loop Roll PADS page when SHIFT is pressed on the AFX
Hold
SHIFT
to access a secondary Loop Roll page with
3/4
, 1 and 2 beats instead of 1, 2 and 4 for the last 3 Pads, as per the image above.
By default, Loop Rolls will not apply to the Video. If you wish Loop Rolls to also apply and loop the Video, select that from the Menu of the Loop Roll page.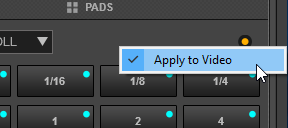 Loop Roll Pads Menu
In this mode the PARAMETER (20) encoder controls and trigger normal loops.
The LCD display will indicate the size of the applied Loop Roll when triggered and the size of the selected Loop if no Loop Roll is triggered.
The dot displayed after the digits indicates that the selected loop size is 1/x beats.
Manual Loop