Forum: Wishes and new features


Features you would like to see in VirtualDJ

Talking about the default pro 2021 skin. Basically, have an option to add custom buttons. Maybe our own?
---
Posted Sat 27 Jun 20 @ 9:51 am

You have unlimited amount of custom buttons.. . :)

First each custom button can be layered to have multiple buttons per button...

And secondly you can add as many custom buttons as your heart desire at the pads ;-)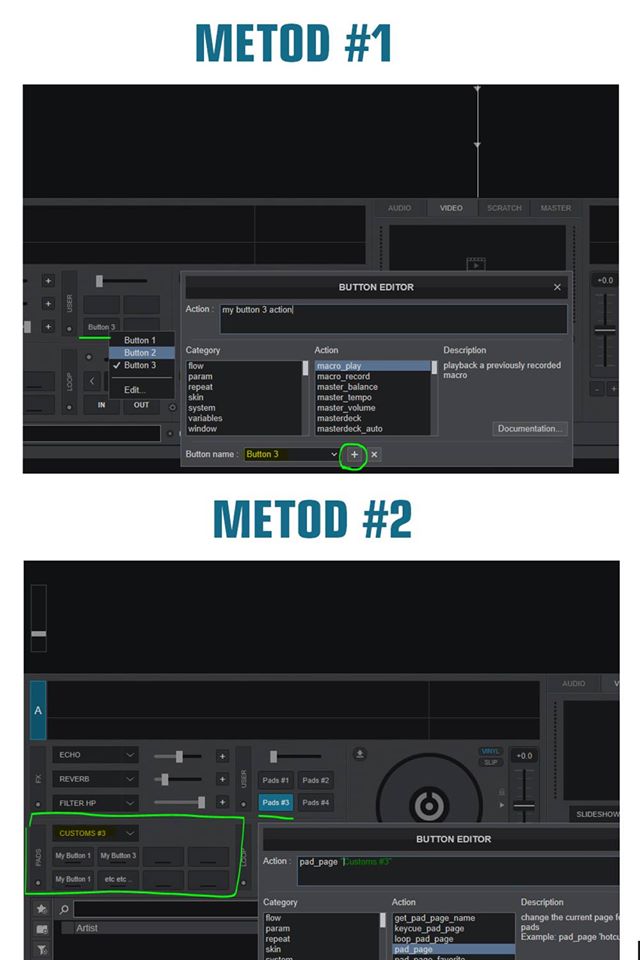 ---
(not 2021 thing, custom button been 4 on deck last half a decade or more, ever since feature was added in version 8)
---
Posted Sat 27 Jun 20 @ 11:04 am

It would be nice to have a few options/variations of custom controls for the 'user' panel on the default skin.

Right now, it's just a fixed single horizontal fader and four buttons. What if the users wants two faders? Or four knobs instead of buttons?

I know there is at least one skin which offers users a choice of knob, fader or button, and the ability to add more. I can't remember which skin.
---
Posted Sat 27 Jun 20 @ 11:28 am

Rune, visually at the same time you can only see 8 custom buttons and i still have to edit the XML of the skin to make them act as a custom button per deck. Maybe the skin can have an option to add more custom buttons on the top bar which is empty so it doesn't clutter? Another thing i still don't like is how big the waveform is. It would be nice to have an option for it to be a bit smaller and have more browser information. Or if you wanna to guide me of how to change that myself I'm willing to do it.

@Groove,
Fruit skin has options like that. That's why i still use it. 6 years now and i still use that skin and I'll still use probably in 2021.
---
Posted Sat 27 Jun 20 @ 4:33 pm