Forum: VirtualDJ Technical Support
Topic: VDJ immediately shuts down when I plug in my Denon DN-HC4500 Controller on latest builds - Page: 1
This part of topic is old and might contain outdated or incorrect information
The last few VDJ updates have not been compatible with my controller that I use (Denon DN-HC4500) & it has been causing VDJ to shut down immediately as I plug in my controller.
Everything has been working fine with it right up to the build v8.3 b4787 (which is the version I am currently using with no problems) but any builds/updates since then (I have tried each one), I've had to roll back to the b4787 one to get VDJ to accept & not shutdown as soon as I plug my controller in.

I've ensured all my drivers are upto date, so I'm not sure what is causing this to happen, anyone else had this problem or does anyone know what it could be or better still anything I could do to resolve it going forward, as at the moment I'm destined to be forever stuck on b4787

---
Posted Sun 12 May 19 @ 12:00 pm
Is there any particular reason why you're plugging in your controller when your computer is on and VDJ is running?

IMO it's always best to plug in any USB devices before you start your computer, and certainly before running the software. Have you tried that?

You haven't mentioned your computer at all. Windows? Mac? Operating system? Have you tried on another computer?
---
Posted Sun 12 May 19 @ 12:06 pm
Hi

Sorry I probably didn't explain it very well, I've already plugged in the controller before I switch on the laptop and as soon as I try to click/load up VDJ, it simply won't. However, if I unplug the controller & click to load up VDJ it will load up fine, then as soon as I try & to plug in the controller, VDJ then suddenly shuts down.
It doesn't matter what order I try this in, as I have tried different combinations, they're simply not compatible together (well not on any build since 4787)

MSI laptop core i7 16gb ram running windows 10 64x
I've had the laptop a few years, never had any problems with it, always kept it updated etc and then with the build after 4787 it then started with this problem. I did catch something on here about the build after the 4787 having some issues with some users and it was corrected/updated in some way, so I thought it was that? I have tried latest build 4918 and the problem still persists, so I have rolled back to 4787 again with no problems.


---
Posted Sun 12 May 19 @ 1:05 pm
I just dug out my HC4500 and tried it here. It works fine. No problems on the latest build (4918) on Windows 10 64 bit.

I tried on both the 64 and 32 bit versions of VDJ and neither crash.

One odd thing though. Although the Denon ASIO driver installed, and seems to be functioning according to its control panel, it doesn't show ASIO in VDJ - only WASAPI.

It might need a reboot though...

[EDIT] It all works fine on my laptop too (Windows 8.1)

You really should try on another computer, as maybe there's an issue with the USB side of things.
---
Posted Sun 12 May 19 @ 1:40 pm
Or try to rename settings.xml to see if it's a particular setting that triggers it perhaps.
---
Posted Sun 12 May 19 @ 3:46 pm
I am having the same issue. As soon as I connect the Denon as the music output VDJ just shutsdown.... I have reinstalled the ASIO driver and then uninstalled it. If I connect to the WASPI connections everything runs, but I get no music. Once I install the ASIO drivers and try using them Virtual DJ still crashes.
---
Posted Fri 17 May 19 @ 9:20 pm
I too am having the same issue. How do I roll back to the previous update?
---
Posted Sat 18 May 19 @ 9:03 pm
---
Posted Sat 18 May 19 @ 9:08 pm
Just adding a "me too" to this - denon sc2900 and hc4500 both crash VDJ when applying sound settings in ASIO mode

Not an issue for the sc2900s as you can use these OK in WASAPI mode , but I get silence with the HC4500 in WASAPI mode both channels
---
Posted Mon 20 May 19 @ 4:50 pm
Fro those who had issues with the Denon ASIO (HC4500 and other old devices), please try with latest Early Access* 4973

*to get the Early Access Build, enable the setting EarlyAccessUpdates from VirtualDJ Options and restart
---
Posted Tue 21 May 19 @ 12:32 pm
I had similar issues with the last update. I have a Dell XPS with Windows 10 and 64 bit OS. I had to roll back to a previous version. Today, I updated to the 4973 and the issued still occurred as mentioned above with the HC 4500. I updated the ASIO driver with the latest driver (https://denon-dj-asio-driver.software.informer.com/download/) and rebooted. This solved the crash on my 64 bit OS. My backup Dell Widows 10 32 bit computer was using the WASPI connection and I get no music, yet all the functions work. I downloaded the new ASIO driver for the 32 bit and VDJ see's it but does not allow selection and crashes. This has not been a problem previously.
---
Posted Fri 24 May 19 @ 6:56 pm
Futuresound- I posted a solution to the WASAPI silent problem on this thread , but I think someone at virtual DJ either hid or deleted it for some reason when they posted about the new update. Not sure if they can restore it as it took me a while to write it out ?
---
Posted Fri 24 May 19 @ 7:07 pm
Yes I have same issue with hc4500, running fine until latest update, now either virtual so won't launch of hc4500 connected or shuts down it you try and connect it after virtual dj launches. Does the same on the early release that someone suggested trying. It looks like it doesn't pick up the right channels to row audio to on the hc4500, as it normally shows usb channel 01, USB channel 02 in the audio options page, but once upgraded it just show channel 1, channel 2 as options to row the decks to. Have just rolled back to the release that works for moment, and choose not to look for upgrades in options, but would like to resolve the issue, so if anyone has any suggestions?? Running Windows 10 pro on Dell i7 inspiron 7773 laptop.
---
Posted Sat 01 Jun 19 @ 6:37 pm
Have posted ticket to support, will advise if they come back with anything
---
Posted Sun 02 Jun 19 @ 10:28 am
Got the following reply from support tea, regards the issue

This is a known issue with older ASIO drivers units like the 4500 You could disable automatic updates in options for now so it doesn't prompt you for updates until there is a fix in a future build (When/if the developers can provide a fix, as they are currently investigating).

Guess we'll have to wait and see if they resolve it
---
Posted Tue 04 Jun 19 @ 8:09 am
alunwebb, I'll repost the below in the hope it doesn't get deleted again.

My HC4500, 3700s and SC-2900s all work in windows 10 64bit using the Denon ASIO drivers v2.2.2, but if you are having issues, you can configure the 4500 and the other older Denon units to work in WASAPI mode. The latency might be slightly higher in WASAPI than ASIO, but the sound quality is identical.

The problem you'll have with the HC4500 (possibly others too) is that with the default windows settings, you will get no sound in WASAPI mode, but this can be worked around by following the directions below:

I've just figured out why the 4500 doesn't work by default in WASAPI mode - it's because windows 10 (probably previous versions too) by default tries to set the Denon's internal sound card up in 48000hz mode, which they are not capable of (The sc2900 and s3700 are hence they work by default) . You can fix this by changing the default playback mode in windows.

First connect the 4500 and make sure Virtual DJ is closed.
Open the sound control panel (Start, type in SOUND and open the sound control panel)
All the installed sound cards in the system will be listed in the Playback tab, including the HC4500. Right click on the HC4500 and go to properties
Change the Default Format to "16bit 44000 Hz CD Quality" which is the maximum supported by the HC4500 sound cards. Also make sure that "Allow Applications To Take Exclusive Control" is ticked - we'll need this later!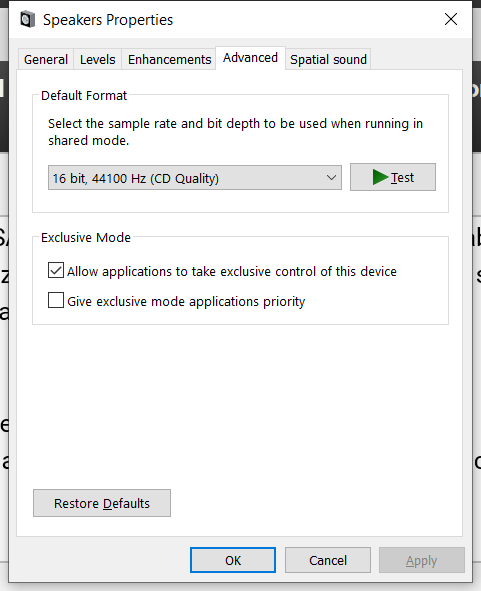 Click OK, open Virtual DJ,
Go to options, set EXCLUSIVEAUDIOACCESS to YES, to prevent windows from busying up any of the 4500's channels.
Now, set up the audio to use the 4500's in WASAPI mode, mine looks like this.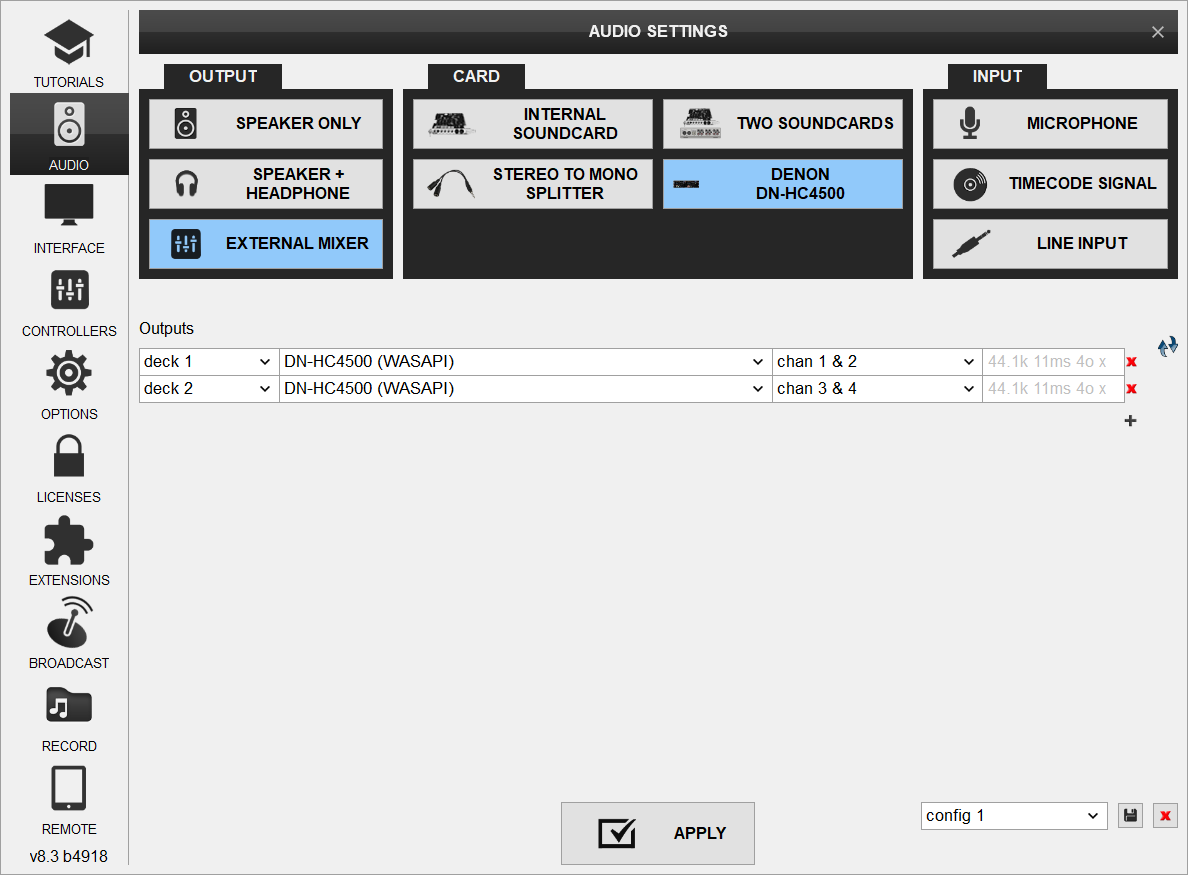 Click Apply, and you're done.

Personally, I'm more than happy to now be able to not use the problematic ASIO drivers any more, but since the recent fix, they do seem to work without crashing on both of my laptops.
Pete

---
Posted Tue 04 Jun 19 @ 12:25 pm
I am having the same issue. As soon as I connect the Denon ASIO as the music output VDJ just shutsdown.
I found a way to avoid the problem in my system with windows 10 64 bit!

You have to put the Denon ASIO driver and the VDJ program in compatibility mode for windows 7.
Follow this steps below:
Step 1: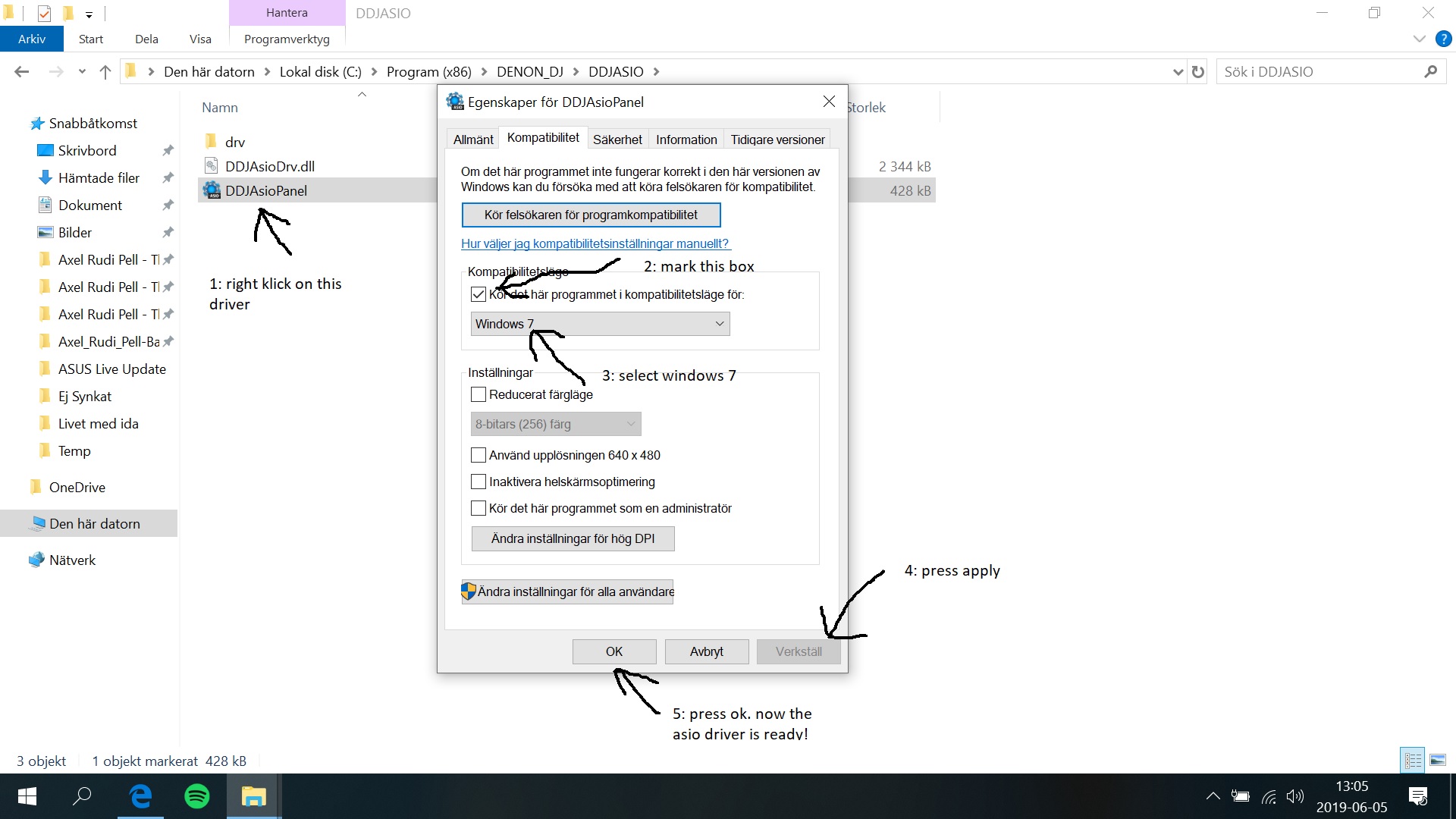 Step 2: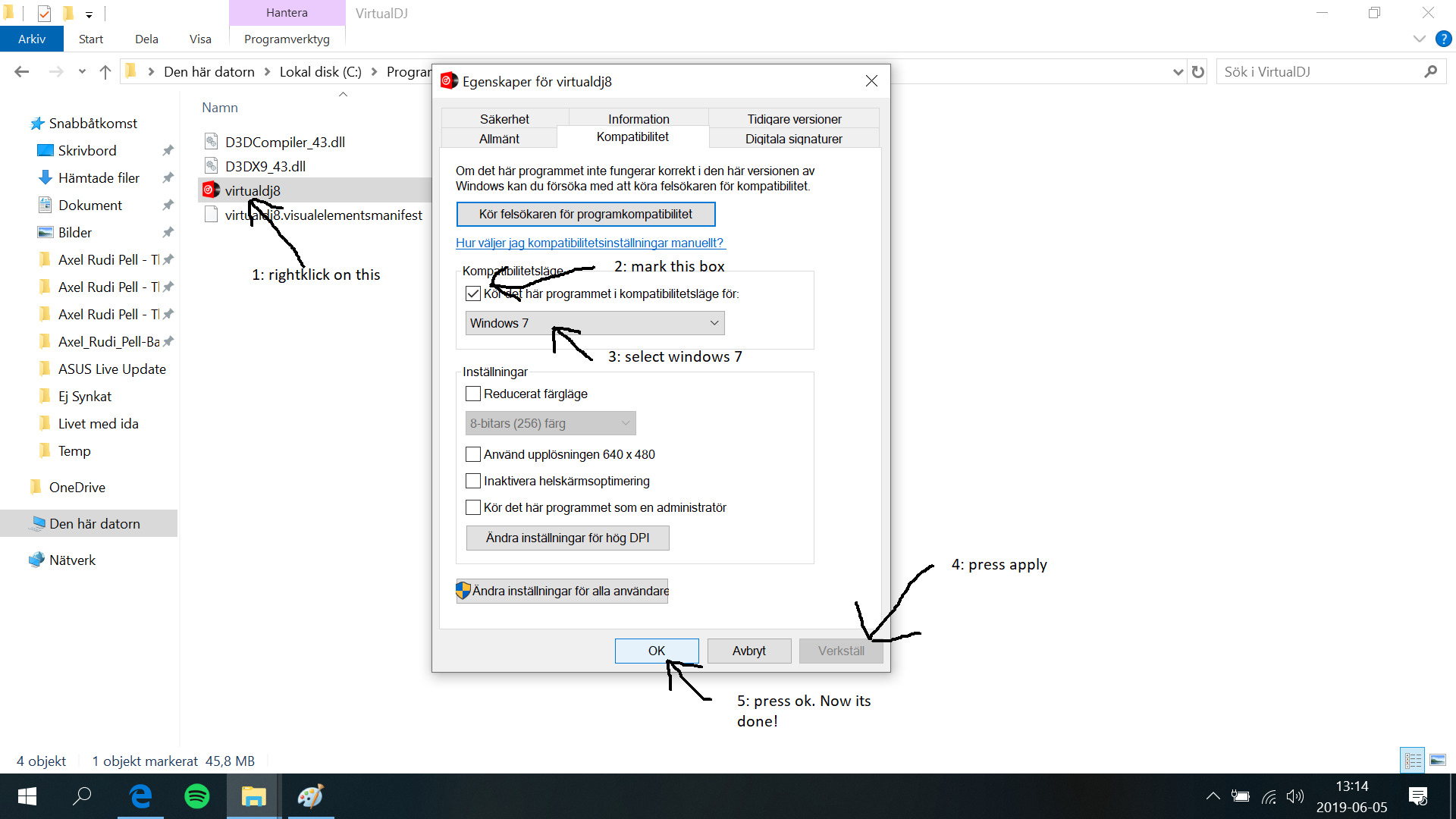 Now VDJ works perfect in Denon ASIO Mode.

Have a nice day

Best regards
Erik Backman
---
Posted Wed 05 Jun 19 @ 11:21 am
I understand you can use WASAPI drivers with the above instructions, however why when I revert to version 4787 everything is fine with the ASIO drivers. I've been using EA 4973 for the past few weeks fine as well but now the new EA build the issue with VDJ not opening is back.
---
Posted Thu 06 Jun 19 @ 2:22 am
I like to add some notes:

VirtualDJ 2018 32 & 64 bit works fine with the HC4500 in WASAPI mode up to 96KHz sample rate but in 16 bits only. HC-4500 can work in Stereo in 24 bits and Windows 10 set to be used this way and fails to open 4 channels in VirtualDJ as needed, so need to be set manually at 44.1, 48 or 96 KHz sample rate but in 16 bit in Windows Audio setup (Windows Panel Control --- Hardware --- Sound --- Playback Devices) this because a HC4500 limitation in its configuration.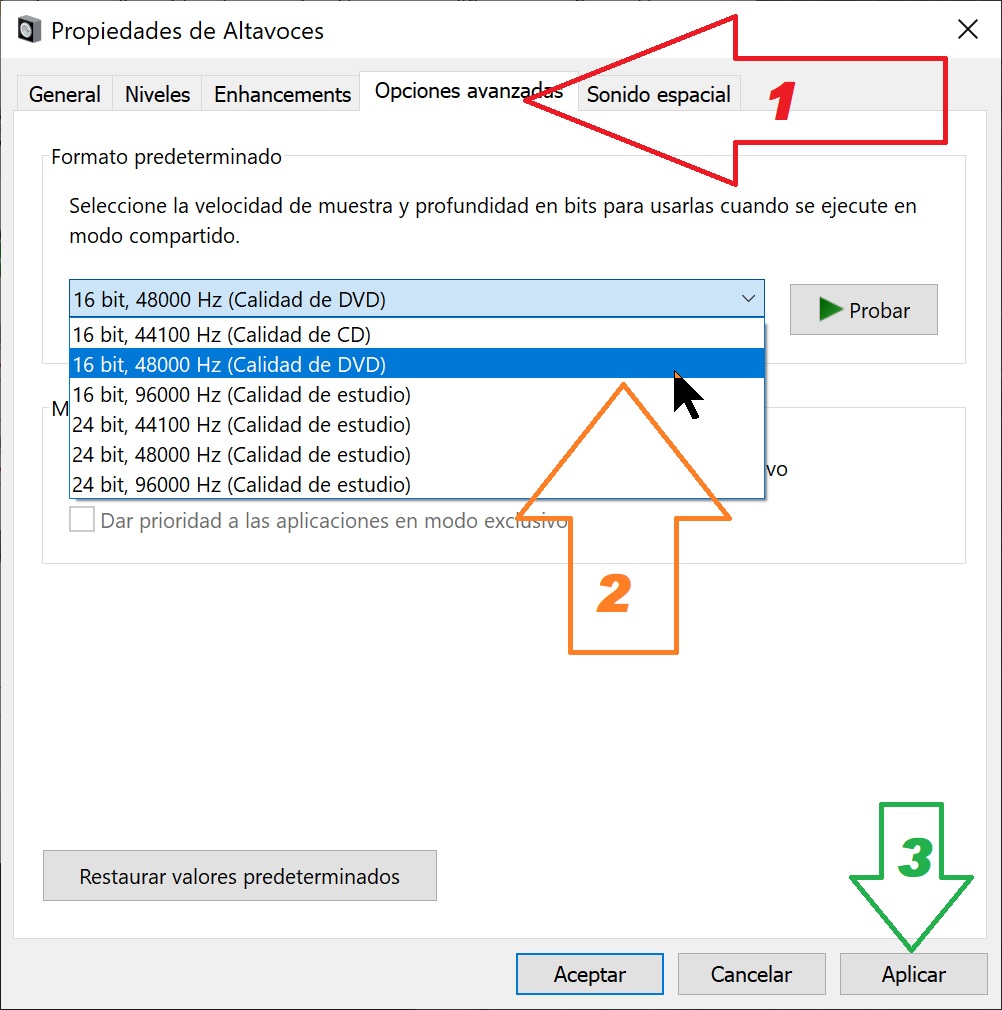 Then in Speaker Configuration, set it to work in 3.1 with full range speakers: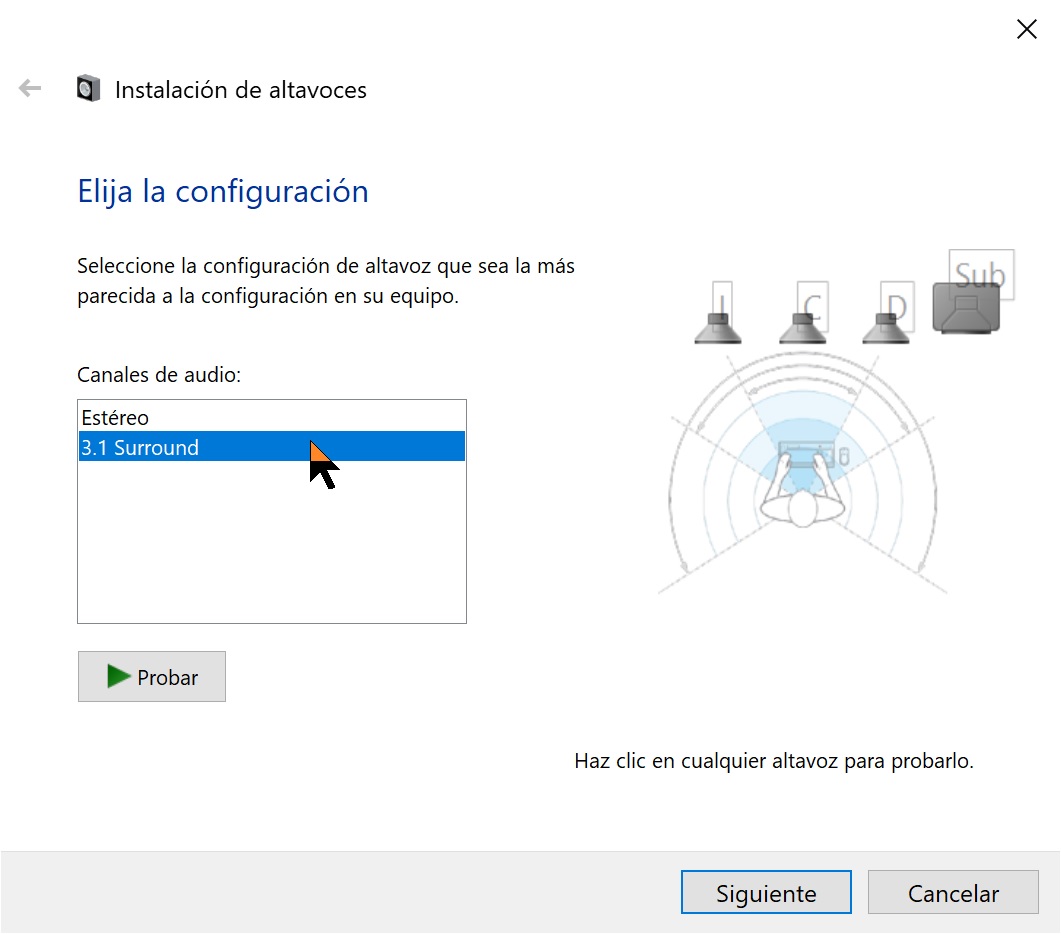 Denon ASIO 2.2.2 works perfect for any old Denon product (S3700, S1200, HC4500, MC6000, MC3000, etc) and works fine in VirtualDJ 32 bits only. VirtualDJ 64 bit need 64 bit drivers and some old Denon products may not had a 64 bit driver (like hc4500) and other may not work good (like MC6000 2015 Asio drivers). WASAPI setup works fine for all Denon products, so it could be use safety and in VirtualDJ 64 bit is the only way to make work HC4500.

If you plan to use Denon Asio 2.2.x with HC4500 just need to setup VirtualDJ8.exe with compatibility mode for Windows 8 or 7. ASIO Denon panel does not need to be changed.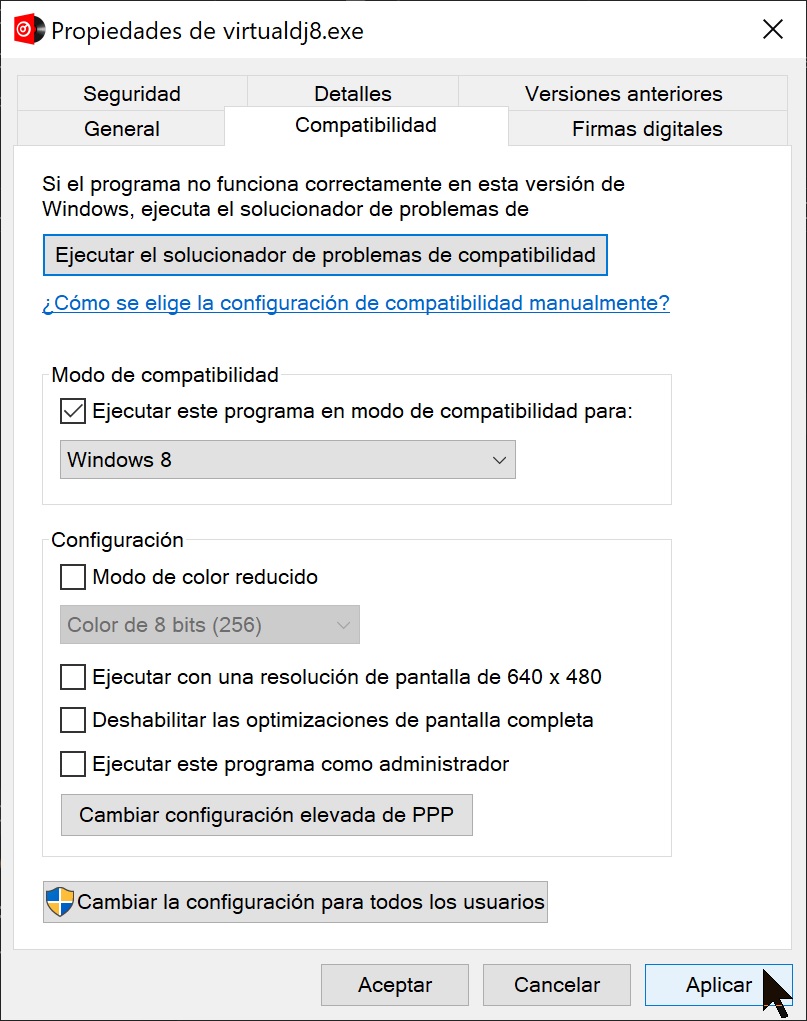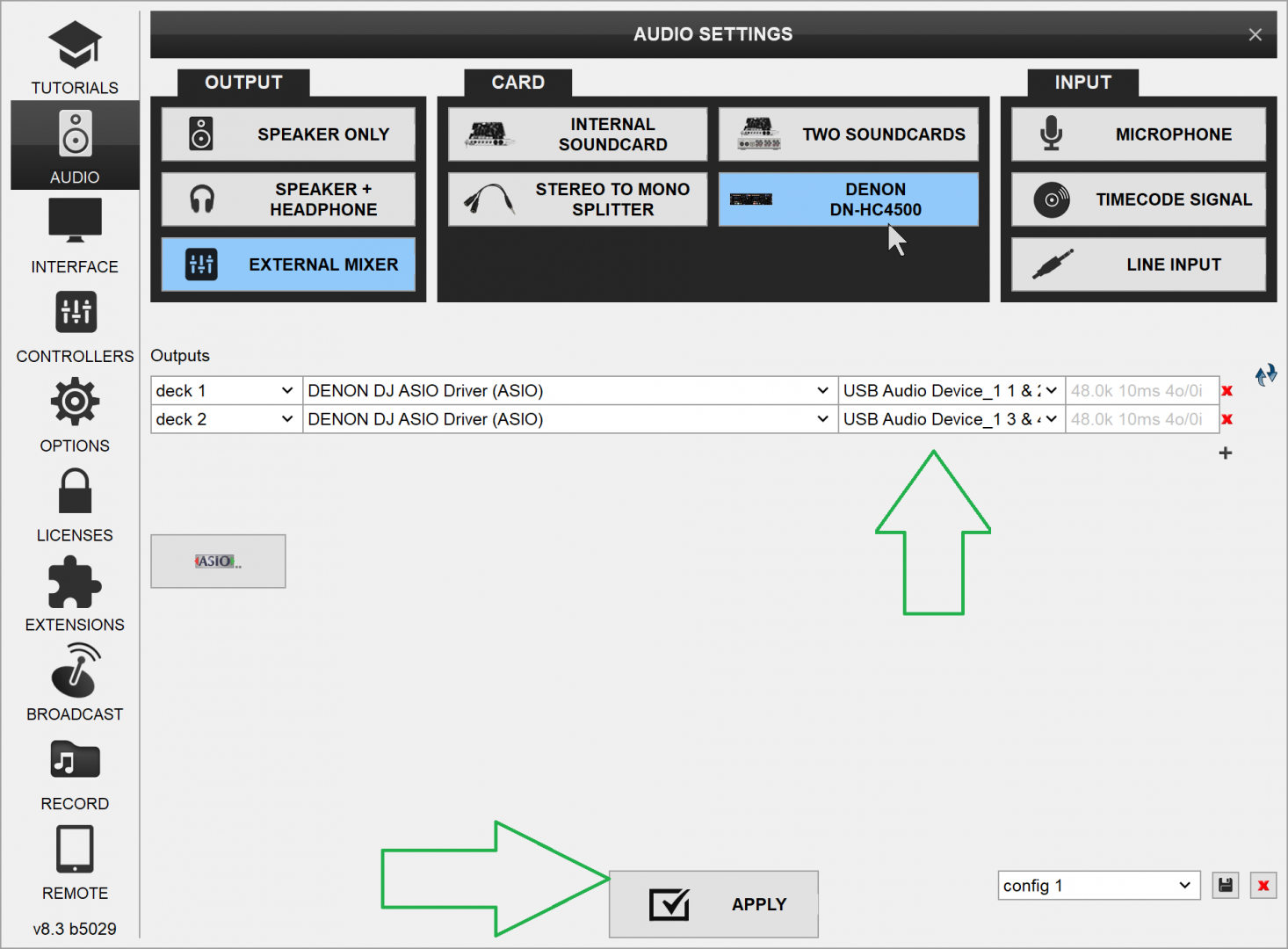 This problem is already under testing to get a solution in a future VirtualDJ build, Devs are working on this. So the workaround is a temporary solution.

---
Posted Mon 10 Jun 19 @ 2:31 pm
+1 for me also.
Denon DN-HC4500 trying to run VDJ with Denon Asio 2.2.2 crashes as soon as I turn on the power of the Denon unit. If I have the Denon unit on first, VDJ won't start at all.

Again, this came about with the more recent updates, as my Denon/vdj was working fine in Asio mode earlier in the year. (I use this as a back up unit, so I can't recall what build it last worked fine with).

Svarvarn's post about running the Asio 222 and VDJ 8 in Windows 7 compatibility mode does work. But hopefully VDJ finds a solution without having to set compatibility settings and work arounds. btw, Thanks Svarvarn for the temporary fix.
Thanks :)
---
Posted Sat 22 Jun 19 @ 8:59 pm