Forum: General Discussion


About VirtualDJ and DJing in general

---
If you need extended support, contact our Support Team.
Forum Guidelines  (*) The moderators hold the rights to move or modify posts in order to keep the discussions clear or to facilitate the search.
Topic: Roland DJ-202 controller - Page: 1

What a great looking entry level controller! Can't wait for it to be compatible with VDJ.
https://youtu.be/7egbc44dhS0
---
Posted Thu 07 Sep 17 @ 9:54 pm

Yes, and I don't fully get why they brand it as entry level
Of course it doesn't have the full sequencer part, but no other controllers than the DJ-505 and DJ-808 have that

It has trim and filter on each channel
It looks like the jog-wheels are the same as the Roland-505
It looks like the pad section is a real 8-pad pad section (not just 8 buttons for other functions, that is placed so they look like a pad section, like on a lot of entry level controllers)
Only the looping doesn't have dedicated buttons, and the effect sections is a little limited with only one knob

Still, this looks more like a mid-level / semi-pro controller to me...
And at that price level I may just get one to play with :)
---
Posted Sun 10 Sep 17 @ 10:12 am

They're a bait to get you started with the AIRA line.
---
Posted Mon 11 Sep 17 @ 1:36 pm

how long until roland 202 is compatible with virtual dj
---
Posted Thu 07 Dec 17 @ 4:06 am

The company never gives a date for any controller support. They have a lot on their plates, and can't give a time. I personally never buy a controller until support is available. I just bought a DDJ-SR2, and a Numark DJ2GO2. If these companies want to lock their controllers, that's fine by me, I only buy controllers that are supported by the software of my choice. You will have to be patient, just like the rest of us.
---
Posted Sun 10 Dec 17 @ 8:58 pm

Djdad wrote ETA at the end of the month in another thread
---
Posted Mon 11 Dec 17 @ 7:19 am

Got the 202 with full serato limited edition to try out serato.. its cool but very buggy.. need to go back to VDJ. 202 is dope tho

Make this happen VDJ! Soon I hope
---
Posted Wed 13 Dec 17 @ 6:10 pm

DJ True Flex wrote :

Make this happen VDJ! Soon I hope



End of the month they say

But it looks like you are using a free home license of VDJ. That won't work with a controller
---
Posted Wed 13 Dec 17 @ 7:59 pm

Yea man.. I had the one month full trial and liked it.
I will probably get the monthly.

Thx for the update. Hope it's true, serato driving me nuts right now haha I'm over here trying to see if I could get the 202 to work on rekordbox next smh if not, might have to upgrade my computer
---
Posted Thu 14 Dec 17 @ 10:38 pm

Any update on a release date?
---
Posted Fri 29 Dec 17 @ 10:55 pm

I hate when they say "coming soon" and you be waiting like smh ... give us a release date or something. I got projects on hold! Sorry guys, just venting
---
Posted Fri 02 Feb 18 @ 2:01 pm

Second that ! :-)

Bought mine over a month ago anticipating VDJ support. The serato freebie has long run out and my nice new controller is gathering dust :-( .

Please VDJ ?

I need to mix badly !
---
Posted Thu 08 Feb 18 @ 2:21 pm

You both (the last 2 posts) need to buy a license for it to work when the mapping is ready
Just making sure that you know this...
---
Posted Thu 08 Feb 18 @ 3:28 pm

Noted Klaus, Ill be getting a pro license,, though ill take a months subscription first to check if theres no major bugs.


---
Posted Fri 09 Feb 18 @ 11:25 am

It looks like the DJ-202 and DJ-505 is now supported in the current early access build (b4064):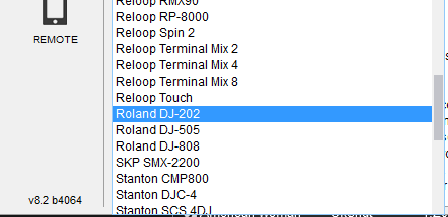 ---
Posted Sat 10 Feb 18 @ 4:45 pm

Ah YES! Thanks fellas!
---
Posted Wed 21 Feb 18 @ 9:26 pm

well my question is virtual dj also going to introduce the picth and time that the roland has

---
Posted Thu 22 Feb 18 @ 11:55 am

user17367352 wrote :

well my question is virtual dj also going to introduce the picth and time that the roland has




The functionality is already included in VDJ8

Pitch n time is a Serato plugin (not Roland) that mainly handles better time stretching used for pitch and key play
My guess is it's because the one included in Serato by default is of real bad quality

Virtual already have the better time stretching algoritm build in by default
It also already have key/pitch play, for instance using the KEYCUE pad page, and key sync functionality

It's all in the manual
But here is a quick demo showing key/pitch play with hot cue, with smart cue (hot cue in time with the beat) and without cueing (the key changes but the track keeps playing) on the key cue pad page:



On controllers with 8 pads pr deck it will usually be mapped to these pads in some way
---
Posted Thu 22 Feb 18 @ 12:29 pm