Hardware Manuals
PADS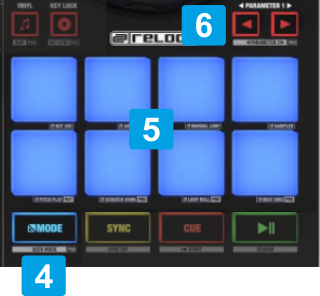 The Reloop Ready offers 8 main and 1 secondary Modes for the Pads.
To select one of the
8 main modes
, hold down the
MODE
button [4] and then press one of the
8 Pads
[5].
While the MODE button is pressed, the Pads section in default VirtualDJ GUI will display the available preset pages.
Use the
PARAMETER
buttons [6] to adjust the
1st Parameter
of the selected Pads mode. Hold
SHIFT
down and then use the PARAMETER buttons [6] to adjust the
2nd Parameter
of the selected Pads mode (if available)

Reloop Modes Page
By default the 8 Main Pad modes are assigned to
Hotcues
,
Loop
,
Manual Loop
,
Sampler
,
KeyCue
,
ScratchBank
,
Loop Roll
and
Stems
, but can be assigned to a different Page. See
https://www.virtualdj.com/manuals/virtualdj/interface/decks/decksadvanced/pads.html#controller
The
secondary
mode for Pads can be selected when holding
SHIFT
and pressing the
MODE
button. This mode has been assigned by default to the Touch FX Page
The
Touch FX
mode assigns Pads to a special Pads page (only available when the Reloop Ready is connected) and can apply pre-defined Effects to the Left/Right Decks. The Pads trigger the Effect temporary if pressed for more than 1 second, or toggle (on/off) if shortly pressed. The pre-defined Effects can be changed by editing the Touch FX Pads page.
Touch FX Pads Page
---
For further Technical features and specifications, visit
Reloop READY

Product's Page
---

Hardware Integration Department
2021 - ATOMIX PRODUCTIONS
Reproduction of this manual in full or in part without written permission from Atomix Productions is prohibited.